"Waiter? A glass of Bolly please!... What do you mean there's no Champagne?!"
Covid-19, Brexit, shortage of grape pickers and lorry drivers, high demand, and low yields… we now find ourselves in the middle of a Champagne crisis just in time for Christmas.
Thankfully, it's not 1960 anymore (although sometimes we wish it was: cool psychedelic clothes, the Beatles era, and no social media) and we have plenty of sparkling alternatives in the UK to quench our thirst for bubbles…
France: beyond the borders of the mighty Champagne
Champagne may still be king, but France produces plenty of great sparkling wine beyond the Champagne region too, and for a fraction of the price.
Each winemaking region has its own 'Champagne' version – called Crémant – using the regions' own varieties. Therefore, Crémant d'Alsace will use predominantly Pinot Blanc, Auxerrois and Pinot Gris, Crémant de Bourgogne, Chardonnay and Pinot Noir (just like Champagne) and Crémant de Loire (probably the most popular in the UK), Chenin Blanc.
In France, we say 'better to have a good Crémant than a bad Champagne'. Whilst Crémant might not have the same label prestige, there are some outstanding examples out there, waiting to be snapped up.
Charmat Method (used to make Prosecco) sparklers are also around. La Folie Sparkling Rosé from Mirabeau in Provence is the proof that France is capable of thinking 'outside the traditional box'. Gorgeous soft stone and summer fruit notes with great finesse and elegant bubbles in a glass. Delicious.
Italy: Prosecco (obvs), but not only
Of course, Prosecco needs no introduction. The Italian fizz has been flooding the market for the past fifteen years and is still going strong.
The newest exciting thing about it though this year was the release of the first vintage (2020) of Prosecco rosé. Still Charmat method and Glera grape variety, but with the addition of Pinot Nero, giving aromas of raspberry and strawberry, which works wonders alongside the soft fruit and floral notes of Glera. Very clever, and very delicious – and creating a new product keeps Prosecco on trend. Producers like Belstar and Bottega (very fancy shiny bottle) haven't missed a trick here.
Bisol - as well as nailing it on the rosé front - has also released a Prosecco Valdobiaddene Superiore Cartizze, which is the equivalent of a 'Grand Cru'. A great way to show that Prosecco can also be serious and premium.
Italy isn't solely about Prosecco though. Traditional method sparkling wines are also produced.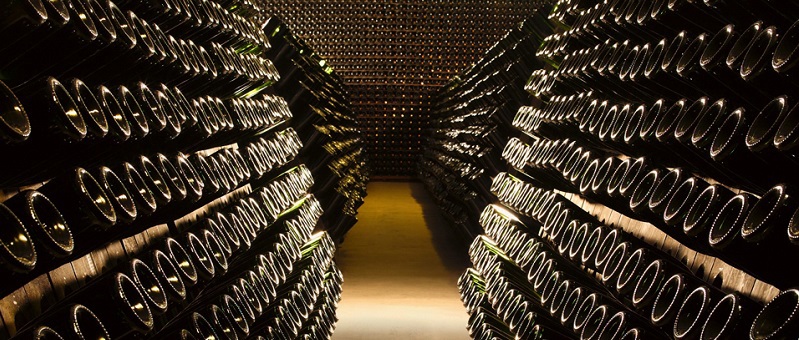 The cellar at Ferrari Trento
Franciacorta in Lombardy is the classic and there is also Trento DOC. A great example of which is Ferrari (nothing to do with the luxury car brand); founded in 1902 by Giulio Ferrari in Trentino, with the dream to compete with the best Champagnes. Today, the sparkling wine is highly acclaimed and most recently has been named 'the new official toast of Formula 1', the end of an era for Champagne on the F1 podiums.
Spain: Cava anyone?...
"Spain = Cava = thank you but no thank you."
A little harsh if you ask me. Some producers are very much quality-focused and make delicious Cava.
But let's be honest, long associated with bulk production and a cheap taste, Cava hasn't been in consumers' good books for a while.
Back in 2019, a group of nine producers (including our own Llopart) formally broke ties with the Cava DO to form their own EU-recognized body known as Corpinnat. The idea behind the radical decision was to focus on regionality, organic hand-picked grapes, longer lees ageing and no purchasing of bulk wine. In a nutshell: strict quality, leading to delicious fizz.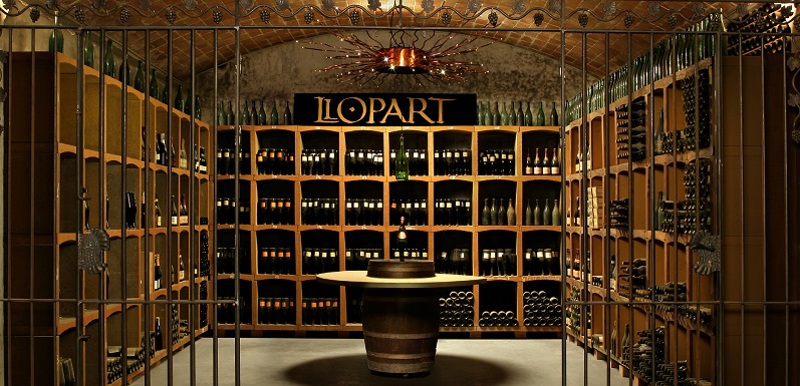 A display at the Llopart Winery
England: now we're talking!
Traditional method English sparkling should be the obvious top choice as a Champagne alternative, and for so many reasons: same grape varieties, winemaking, climate with the bonus of being a 'locally-sourced' product – always greatly appreciated.
Price tag-wise, quite like Champagne too. English sparkling is not cheap but it's understandable with so much else in common with Champagne.  
There are fantastic examples out there. Nyetimber, Chapel Down and Ridgeview are now well-established household names and there are lots of small and exciting new vineyards flourishing all over the country (well... at least in the South).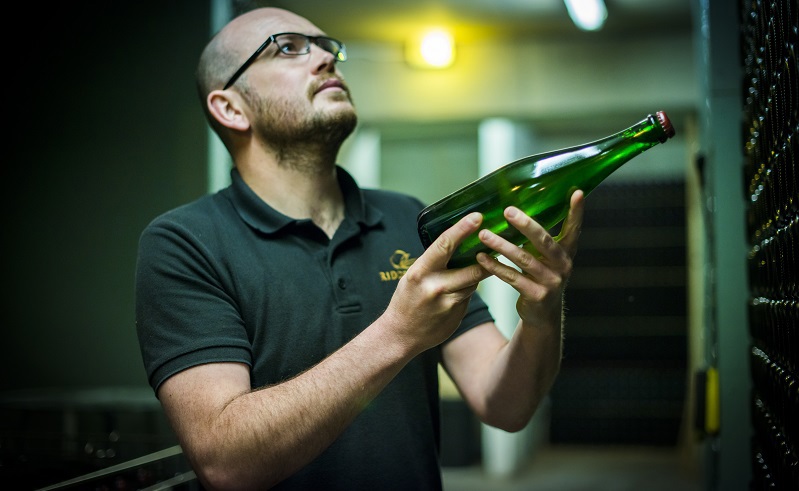 Behind the scenes at Ridgeview
Unlike Champagne - where rules are tight on pretty much everything - English sparkling can be whatever the winemaker wants it to be. Whilst the classic Champagne style is dominating the market, some producers such as Fitz or Flint Vineyard have gone down a different route, creating fresher and fruitier styles, using the Charmat method. There are styles to suit every palate.
So it's not so bad after all
The Champagne section may look bare on our supermarket shelves, but with all these other great fizzes available, we should have enough choice to make our Christmas 2021 a very merry one!
You may also like: