Looking for a special glass of fizz this Christmas?
Written by Sara Cranmer
The traditional choice would be to reach for the Champagne, but have you considered English sparkling wine as an alternative?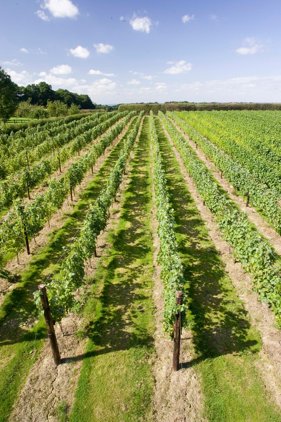 The selection of English fizz continues to get bigger and better as the industry flourishes and vineyards become a common site across the Southern part of the UK. And with good reason too…
Not only are English sparkling wines typically made using the same production methods and grape varieties as Champagne, but the same free draining chalk soils that influence the Champagne region continue under the Channel and reappear in southern England, enabling English producers to create quality fizz that can stand up amongst the finest Champagnes and has won multiple international awards.  
As the UK's cool climate is warmed by climate change, the vineyards are becoming better suited to grow these Champagne style grape varieties. So much so that Champagne houses including Taittinger and Pommery have been buying up land across the south coast to produce their own English made sparkling wines.
Why drink English sparkling wine?
There's no doubting the quality of English sparkling wine. It commands a similar price to Champagne, so why choose it for your celebration? Reasons that may sway your decision go beyond taste and into the social, environmental and economic sustainability credentials that lay in supporting local producers and in purchasing a product with a lower carbon footprint than its French rivals. Approximately 15% of the total carbon footprint of a finished bottle of wine comes from the greenhouse gas emissions associated with bottle distribution from the winery to the first point of sale, so the less distance travelled between winery and your glass the better!
Which one should I choose?
There are several styles of 'Traditional Method' English sparkling wine and Champagne. All of them will have rich autolytic notes of toasted bread, brioche and biscuit coming from the winemaking process where a second fermentation in the bottle creates bubbles and the wine ages for an extended period on its lees. You may have seen Blanc de Blancs, Blanc de Noirs or Classic Cuvée on labels, but what do these mean exactly, and which one should you choose?
Blanc de Blancs translates as 'White of Whites' and refers to the white juice from white grape varieties used to make the wine. In most cases, a Blanc de Blancs will be 100% Chardonnay which will typically be fresh and light in body, with crisp acidity and with aromas and flavours of citrus and apple. A good example of this would be Balfour Blanc de Blancs. This 100% Chardonnay would make a great aperitive or to accompany smoked salmon canapes.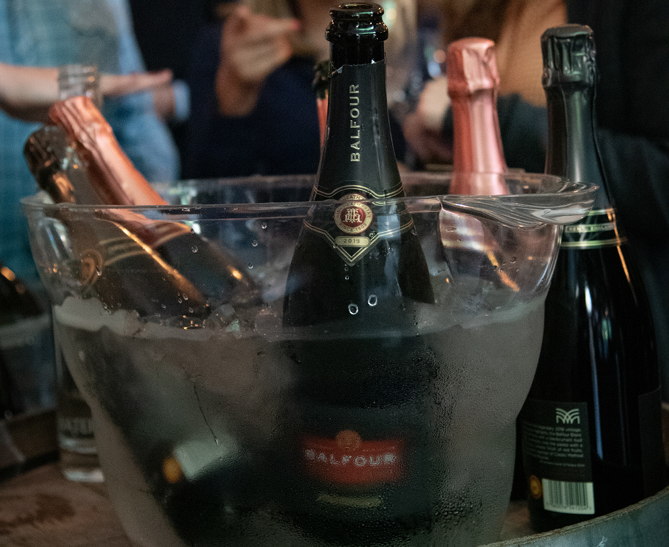 Blanc de Noirs translates as 'White of Blacks', but here the white juice is gently extracted from black grape varieties without picking up any colour from the black grape skins. The varieties are typically Pinot Noir and Pinot Meunier which create a richer style with more body and notes of red fruit. A great example would be Ridgeview Blanc de Noirs and would pair best with food such as duck, earthy mushrooms or roasted turkey and cranberry sauce.
In addition to these two styles, all three grape varieties might be blended to create a 'Cuvée or a 'Reserve' wine blend. This would typically be a more complex wine, balanced with hints of citrus and red berries. Nyetimber Classic Cuvée is a blend of 55-65% Chardonnay, 30-40% Pinot Noir and 5-15% Pinot Meunier and would match well with charcuterie, scallops and asparagus.
At the end of the day there are many variables beyond the grape variety that may determine what a wine tastes like but understanding the difference between Blanc de Blancs and Blanc de Noirs is a good start in choosing the perfect wine to share with friends and family during your Christmas holidays.