Why booze free days are not just for January
Written by Sara Cranmer
For many, moderating alcohol consumption has gone beyond the traditional post festive abstinence and become a lifelong habit of 'mindful drinking'. According to research, around 29% of alcohol drinkers now also semi-regularly drink no/low alcohol alternatives. The great news is there's no need to pack away the wine glasses just yet!
The growing demand for no and low alcoholic beverages has seen advancement in the technology used to make them and caused a boom in exciting offerings from winemakers around the world.  
How low is "low"?
The Department of Health and Social Care has very clear guidance on how low and no alcohol drinks must be labelled and marketed. This is set out over four categories: 
Low alcohol - 1.2% abv or below. 
Alcohol free – no more than 0.05% abv; and it can only be applied to a drink from which the alcohol has been extracted.  
De-alcoholised – no more than 0.5% abv. Again, this term can only be applied to a drink from which the alcohol has been extracted.  
Non-alcoholic – This term must not be used in conjunction with a name commonly associated with an alcoholic drink (such as wine or gin).  
How is alcohol free wine made?
Wine by its very definition is an alcoholic drink made from fermented grape juice. To create a wine without alcohol, a regular alcoholic base wine must be de-alcoholised. There are several methods that can be used, but the challenge is in not stripping away too much of the wine's character along with it.   
The most successful technique is called the spinning cone column. It is a complex distillation system which breaks apart the wine's multiple components using centrifugal forces and repeated evaporation and condensation. The wine components are then reassembled without the alcohol. It is a gentler and more efficient method than alternatives such as reverse osmosis or vacuum distillation and can be done at a comparatively low operating temperature, which helps to maintain the wine's quality.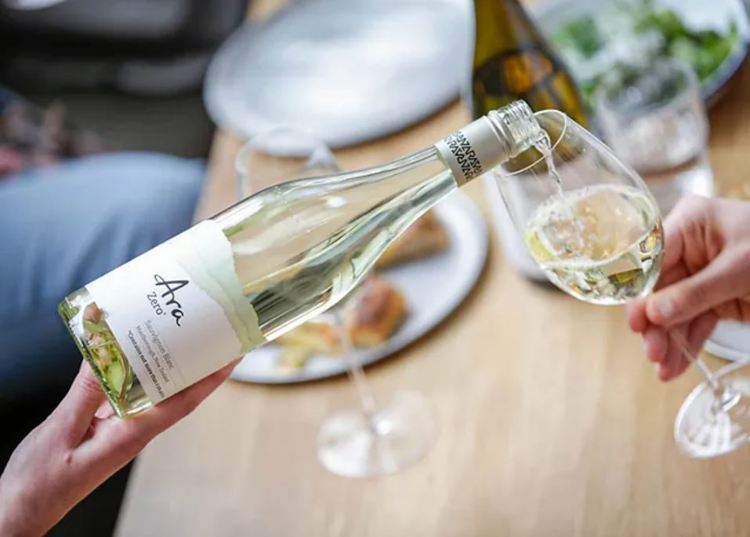 Does alcohol-free wine taste like wine?
One of the main issues raised by consumers has been that alcohol-free wine simply doesn't pass the taste test. Alcohol plays a key role in how we experience all the other components in wine. As it evaporates in the glass it acts as a vehicle for aromas and flavours. It also adds body, texture and contributes to the wine's overall balance.  
So, even with the recent advances in technology, all de-alcoholised wines will require some oenological correction to improve the final taste and mouthfeel: Typically, the addition of a sweet component or yeast derived proteins to add body or botanicals for aroma and flavour.  
Ara Zero Sauvignon Blanc from Marlborough, New Zealand (0.5% abv) is a great example of this in practice.  It has been de-alcoholised by spinning cone technology and a touch of sweet Sauvignon Blanc grape juice and natural yeast proteins added into the final blend to build texture and deliver the juicy mouthfeel. It is a crisp, medium bodied expressive wine, full of freshly cut herbs and tropical fruit – everything you would expect from a Marlborough Sauvignon Blanc, but without the alcohol.  
The best non-alcoholic drinks to taste in 2023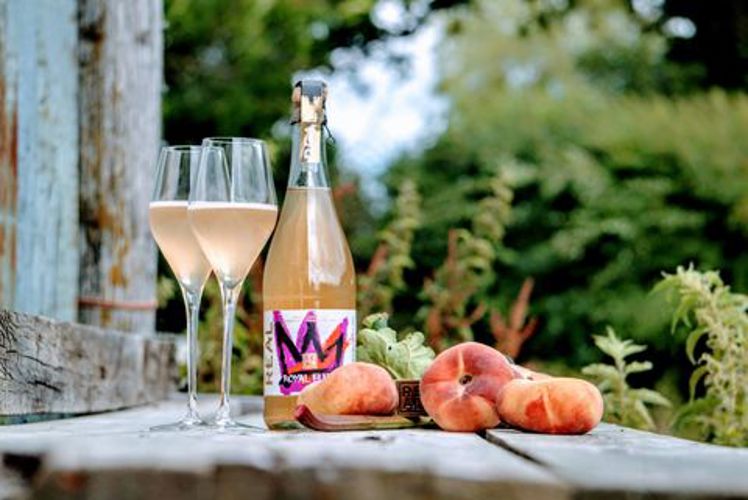 Beyond de-alcoholised wine, there are plenty of naturally non-alcoholic options that offer a similar drinking experience for wine lovers. Kombucha, for example, is made from fermented tea leaves and ticks a lot of the same boxes: its refreshing tartness and lively bubbles are reminiscent of a sparkling wine. Choose wisely and you'll also get bags of complexity as in Royal Flush by Real Kombucha.  
Then there's Wild Idol – a naturally alcohol-free, sparkling drink made from unfermented grape juice. Their rosé uses a blend of Müller Thurgau, Dornfelder and Merlot grapes which are pressed and chilled. Filtered water, natural wine vinegar and concentrated grape must are used to build complexity, body and balance. It's then carbonated with the fine bubbles further adding to the texture. Think pleasant fruit aromas of confected rhubarb, gooseberry along with vanilla and toasted almond, and slick Champagne style packaging to boot!  
Finally, there's the compromise option – a lower, rather than low, alcohol version. Spy Valley Easy Tiger Sauvignon Blanc from Marlborough, New Zealand is approximately 25% lighter than their standard Sauvignon Blanc with an abv of 9%. It's the result of research by the NZ Lighter Wines Program of which Spy Valley was a participant. It combines targeted site selection and vineyard management to produce grapes that are naturally lower in sugar and acids, along with winemaking techniques designed to create balance. With less alcohol it feels lighter and less tropical than your average Kiwi Sauvignon Blanc but it's still bright and lively with plenty of fresh herbs, lime, and apple.  
Looking for No and Low drinks? Discover our collection on Bibendum Wine Online