Awards
Everyone likes to dust off the tuxedo and pick up a shiny award every now and then, and we've been lucky enough to win a few in recent years.
2018
SWA Merchant of the Year 2018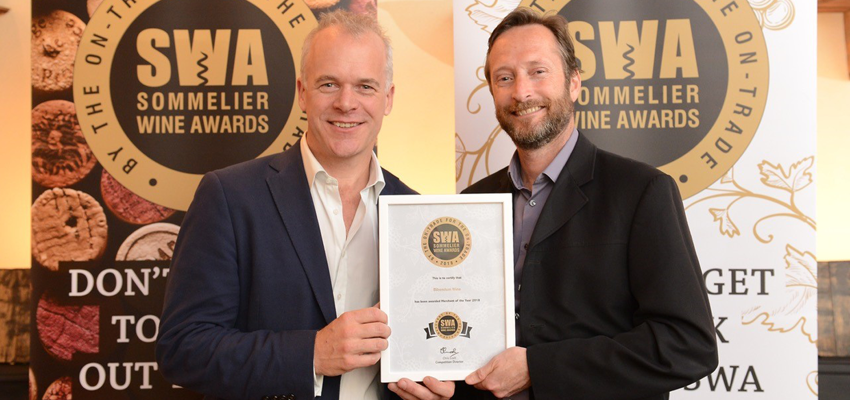 Andrew Shaw and Chris Losh
Our producers won 25 gold medals at this year's Sommelier Wine Awards, with 220 awards in total. Judged by leading wine experts and sommeliers. On top of this exciting news we are thrilled to be named this year's Merchant of the Year.
Andrew Shaw, Bibendum wine buying director, says, "Despite the eventful start to 2018 for Bibendum, our selection of wines has never been better, representing many of the very best producers across the wine producing world. For the Sommelier Wine Awards competition to recognise it once again is a great endorsement to our producers."
2017
SWA Merchant of the Year 2017
Our wines impressed over 150 On Trade judges at last year's Sommelier Wine Awards, and we were crowned Merchant of the Year at a ceremony at the London Wine Fair.
Andrew Shaw, group wine buying director said, "We are really proud to be this year's Merchant of the Year at the Sommelier Wine Awards. We work with many incredible producers, whose wines this year received more gold medals than ever before. And it's not just the top end, Fine Wines that impressed – we also received medals for our entry-level, house wine offers, showcasing the great depth and width of our entire wine range."
Investors In People
At Bibendum we have a strong set of values in Energy, Innovation, Customer Focus and Team Spirit, with an amazing team who live those values. We are therefore very excited to be awarded with Investors In People (IIP) status. This is not simply a static assessment of where we are, though, and the assessors support us in developing and supporting our people.
2016
IWC Innovator of the Year
Our Market Insights team won us the title of Innovator of the Year in the Business Excellence category for their Consumer Portraits, at the 2016 IWC awards. The judges said, "Bibendum's Consumer Portraits provide insightful research to ensure that the sales teams and clients are equipped to deliver the right range of wines to their customers, depending on demographic and social mores. This is not an innovation for innovation's sake but a very good sales tool."

Sommelier Wine Awards 2016: New World Merchant of the Year
The judges commented, "Another strong performance from the previous year's winner, with an extremely high number of New World wines in its impressive haul of Golds. While there were pockets of brilliance everywhere, including Champagne, based on the strength of the medals achieved in Australia and New Zealand alone, there is clearly nowhere better to look for wines outside of Europe."
2015
The Drinks Business Awards: Best Launch
In order to successfully launch sake as a new category, we had to educate our own staff, as well as potential and existing customers. Educational sake booklets were published and made available online to give an overview of the category including the heritage, production process and details on the sakes on our list and how to serve it.

Sommelier Wine Awards 2015: Merchant of the Year
The "judges were impressed with Bibendum's ability to do both Old and New World well – Golds and Silvers were split almost equally between the two – and to mix classical and quirky."