Welcome to the Bibendum family! New producers for 2020
Now firmly in 2020, I'm very excited about the incredible band of new producers joining the Bibendum family. From Patagonia to Burgundy, there's something for all our fabulous customers.
In no order of priority...
First up, we have some big names: Robert Mondavi, Bibi Graetz and Melini. Robert Mondavi Winery are truly the pioneers of winemaking in Napa, making cult Cabernet Sauvignon that stands among the best in the world. Similarly, Bibi Graetz has risen to be one of Italy's leading cult winemakers, making wines that neither subscribe to using the international varieties of the Super Tuscans, nor the Chianti DOCG. Finally, Melini have been leaders in the Chianti scene since 1705, producing some of the finest wines in Tuscany - if not the whole of Italy.
Bibi Graetz: one of Tuscany's cult winemakers
Our top drawer insights team identified Austrian wine as a key trend in the UK for 2020, so we have jumped in deeper and boosted our Austrian portfolio with Weingut Nittnaus. Not only is their range a fantastic reflection of what Austrian winemaking can be, it's also entirely biodynamic and sustainable - another spot on current trend.
As one of the earliest importers of Argentinian wine way back in the 1980s (that makes me feel old), we continue to strengthen our South American range with the addition of Otronia. As one of the world's southernmost vineyards (at an incredible 45'33 S latitude) and the southernmost vineyard in Argentina, making wine in this region is not easy. The love and care they put into their winemaking shows what can be done in extreme conditions. Are they mad?
From the relatively unknown Elim region of South Africa, we also welcome Ghost Corner, currently one of the most award-winning South African wine producers. Their wines typify the rugged South African coastline - and I personally love their Ghost Corner Bowline, a white wine that 'ties the knot' between Semillon and Sauvignon Blanc.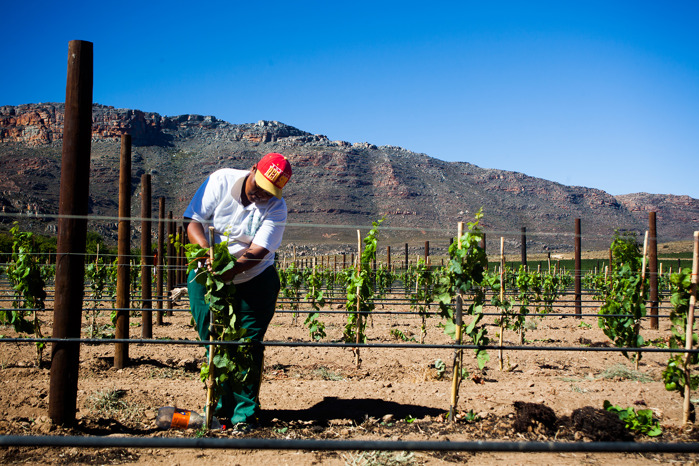 Working the vines at Ghost Corner
We are also excited to welcome Domaine Wardy from Lebanon. These wines are a far cry from what you would possibly expect of Lebanese wines; rather than being big, bold and punchy, they are refreshingly refined and elegant. 
We all know that Provence rosé continues to grow in popularity year on year - significantly. No one exemplifies this style quite like Ultimate Provence. With over two centuries of winemaking history, Ultimate Provence are still leading the way in terms of innovation in the region. We also welcome Chateau Saint Roux to the Bibendum family. Their vines are planted in very distinctive red soils, caused by high levels of iron, which translate to unique, distinctly punchy flavours in the wines.
Riding high after our 'Burgundy, Beaujolais & Jura' tasting earlier this month, we are also delighted to have a host of new producers from Burgundy including: Francois Millet, with their very limited production wines from Cote d'Or; Domaine Pavelot, who create some of the best Premier Crus in the region; and Domaine Nicolas Rossignol, where innovation takes centre stage, making wines highly influenced by biodynamic practices.
With customers across the UK eager to seek out and try new things, more than ever before, I'm convinced that these new producers will really hit the mark. We can't wait to share these with all who work with us - and well as those who I hope will! 
You may also like: