Harvest 2018: Spain and Portugal
The Spanish harvest this year can be summed up as balanced.
In general, Spain didn't experience the heatwave and sunshine that the majority of Northern Europe enjoyed in 2018. More moderate weather and mostly welcomed rainfall meant yields were around average, or slightly below, but quality throughout the regions is high and our producers are positive after a mixed 2017.
Portugal experienced a year of extremities – from devastating spring rains to an intensely hot summer, and while production decreased, quality is looking fantastic.
Here's what our producers had to say:
Spain
Galicia
Bodegas Castro Martin | Rias Baixas
While parts of Northern Europe were basking in hot sunshine, a cool and wet spring in Galicia didn't start the year well for Bodegas Castro Martin. Come June, their hopes of a good vintage seemed dashed. However, August brought sunshine and a dry spell, ripening the grapes right through September. With the fruit looking promising, harvest began around the third week. "The hot weather effectively rescued the vintage, and not only were our delicate Albarino grapes quite healthy, but they also appeared to have high levels of sugar while still balanced by their typical, fresh acidity," says co-owner and manager Andrew McCarthy.
"The resulting grape must was very floral, ripe and concentrated. Not at all what we had anticipated back in the Spring," he says. While yields are slightly lower than normal, alcohol levels are looking average at 12.5%, and the Albarino is set to be very fruity, ripe and well-balanced.
Rioja
Bodegas Bhilar | Elvillar, Rioja Alavesa
David Sampedro Gill, owner and winemaker at Bhilar, described a near perfect start to 2018. But a series of warm, rainy afternoons in the spring caused mildew to spread quickly across the region. To try minimise the losses, the team at Bhilar applied biodynamic treatments of horsetail and sulphur, but their abstinence of tractors meant the process was slow and 30% of their yields were lost. That being said, the sunny summer that followed, supplemented by healthy rainfall, allowed the remaining grapes to ripen fully.
Harvest lasted a month until the end of October. "We used David´s knowledge, accompanied by the biodynamic calendar, to elect the best days to harvest individual vineyards," says co-owner Melanie Hickman. "The good news is that while some volume was lost early in the year, the grapes that remained were in excellent condition. 2018 will be a year of good balance, less alcohol and more acidity," she summarises.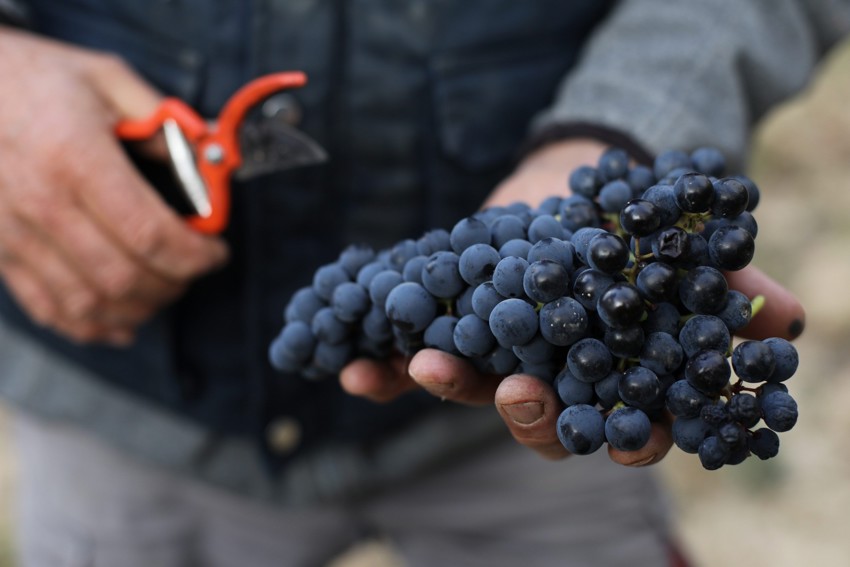 Castilla y Leon
Cuatro Rayas | Rueda
2018 was characterised by the absence of rainfall in Rueda. Jose Martin del Campo, winery and vineyard technical manager, reports that it was the first time a harvest had been completed without a drop of rain during the whole month of picking, meaning their grapes were brought in under optimal conditions. "The harvest was done in a very gradual manner, taking advantage of the winery extensions and the new fermentation vats," he says.
With large diurnal swings of around 20 degrees, the grapes were well balanced between acidity and potential alcohol. Jose sees 2018 as a year of high quality, good quantity and great balance.
Bodegas Protos | Ribera del Duero
Overall, last year was colder than usual in Ribera del Duero. Bodegas Protos experienced a cold winter, a milder spring, but then a temperature drop again in May. The summer that followed continued this trend, adding in above average rainfall, yet the vines faired well through the tricky climate and remained healthy.
Vigorous pruning and parcel control have resulted in healthy, ripe bunches of grapes of above average yields. Harvest began slightly later than normal to ensure the grapes achieved full phenolic maturation, and marketing manager Ximena Lasa expects the wines to be concentrated and of high quality. They will be wines of "aromatic intensity – they will be good for ageing," says Ximena.
Catalunya
Acustic Celler | Priorat
After a dry few years in Priorat, Enric Juan, winemaker at Acustic Celler, happily reports of rain in the spring that helped the vineyard regain its health after a difficult few years. "We had a nice ripening of the grapes and they are very healthy. This translates into an amazing year," he says. Harvest returned to a more normal time frame this year; in 2017, harvest began at the end of August compared to the usual mid-September.
Enric is pleased that the health if the vineyards is back to full strength: "We are very happy with the vineyards, which are now stronger, and they have made beautiful, well-balanced wines that keep their intensity and power."
Bodegas Tomas Cusine | Costers del Segre
Rainy bursts throughout the winter, spring and end of harvest were a surprise for Tomas Cusine. Luckily, the altitude and good ventilation of the vineyards avoided any unwanted disease or saturation, and so the team welcomed the water in their usually dry vineyards.
A year best for the whites, Cusine report a good vintage overall. Only Macabeu, with its late-ripening nature, has needed thorough hand sorting – the other white varieties were very healthy. A harvest beginning at the start of September (like it did back in the 90s!) has resulted in good quality, medium alcohol and high acidity.
In the dry heat of early September, they picked their earlier-ripening red varieties. The sunshine helped the Merlot, Syrah and Tempranillo grapes to ripen fully, while maintaining high acid levels through earlier picking and keeping alcohol levels balanced.
The Garnacha (Grenache), Carinyena (Carignan) and Cabernets had to be picked quickly due to the unexpected rainfall during the second half of October. The Cabernet Sauvignon especially struggled to reach full phenolic maturity, but now in the winery things are looking positive. Reds of good concentration, colour and high acidity are expected, and Tomas Cusine look forward to well-balanced 2018 wines – especially compared to 2017.
Cava Llopart | Subirats
2018 was all about the vines recovering after the drought-induced stress of the previous year, and the water reserves were happily replenished. The vines had time to relax out of self-defence mode, and the healthy rainfall followed by a dry and warm summer meant the vegetative and ripening seasons went smoothly. "The vines, which had suffered the drought of the previous years, have rebounded with the rain and they now look vigorous and radiant," says veteran oenologist Pere Llopart.
Strict winter pruning to limit yields has obtained grapes of great concentration, body and structure, and green pruning throughout the year also helped to produce quality fruit. "All in all, we have manually picked 750,000kg of grapes for cava, coming from 165 small plots," he reports.
The prize grapes come from the highest vineyards of the Llopart family estate (380 meters above sea level), surrounded by a vast Mediterranean forest with a great biodiversity. The Macabeu, Xarel·lo and Parellada vines were planted between 40 and 65 years ago, and as a result they have very low yields. These collective plots are called Les Flandes dels Casots, and two special wines come from these vineyards: Llopart Ex·Vite and Llopart Original 1887, the single estate cavas that will age in the cellar for over 84 and 72 months, respectively.
"Now it is time to continue with the vinifications: after fermentation, we have a wide variety of wines to be tasted to de­fine their characteristics. By doing so we will be able to decide and determine the different blends that will give every cava its distinctive personality," concludes Pere Llopart.
Andalucia
La Ina | Jerez
"The quality of the grapes were good in the sherry triangle this year. The volume was higher than 2017 (+8%) and the average Baumé level lower (11.15% in 2018)," reports La Ina's Federico.
Spring was characterised by rain, and summer was unexpectedly cool, with the wind influence pushing harvest back somewhat. While the climactic conditions were unusual this year, La Ina are still pleased with their grapes and are excited about the impending wines.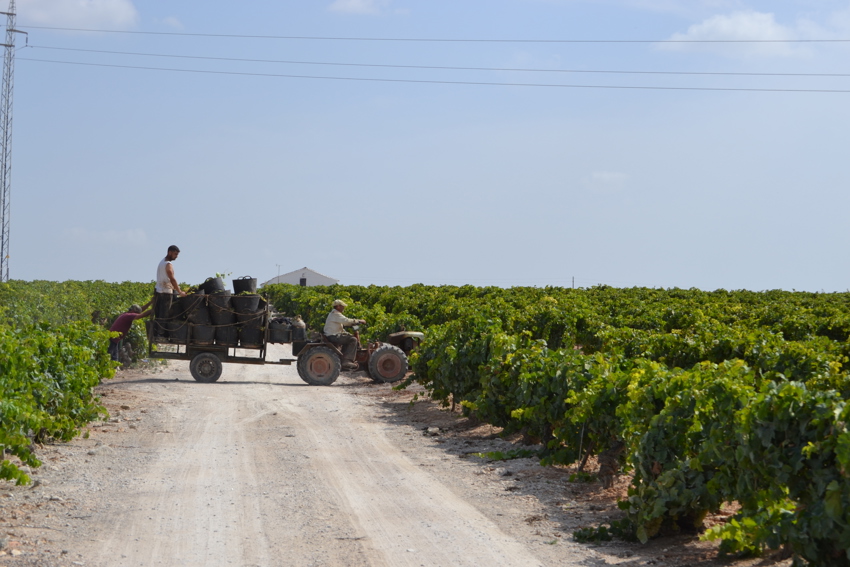 La Guita | Sanluca de Barrameda
The 2018 harvest in Pago Miraflores was similar to previous years, with exceptional quality of fruit. With its South-Western location, there's huge influence from the Atlantic Ocean, leading to a slightly later harvest than the inland areas. With an even climate, generally moderate weather and some good rainfall through winter and spring, the year began well. A cool first half of summer was influenced by the Poniente winds, which brought cooler and more humid conditions to the vineyard. The picking of the grapes was therefore a little delayed and harvest began at the end of August/beginning of September. Nonetheless, La Guita are very happy with the quality of the resulting fruit.
Portugal
While Portuguese producers had hoped for rain following two years of intense drought, the weather somewhat overcompensated in 2018 and almost decimated the budding vines during a spring of rain and hail storms, particularly in the North.
Despite receiving twice the average rainfall in the Douro Valley, quality is looking exceptional for both the dry and fortified wines. Yields are down roughly 15-20%, as the North also battled with mildew attacks following the rain and the South struggled with soaring temperatures. Overall, it's looking to be a particularly aromatic vintage with great depth in colour.
You may also like: