Harvest 2018: France
A wet, stormy spring affected yields in some areas, but the glorious summer that followed has resulted in a largely optimistic picture from our French producers.
The north and east of France had a particularly good year, with Champagne, Alsace, Burgundy and their surrounding areas reporting both healthy yields and high quality. Elsewhere, a damp spring meant high mildew pressure, even in the Mediterranean south where this is unusual. But the long, warm summer that followed led to positive reports across the board in terms of grape concentration and flavour, with harvest beginning early in many areas.
Bibendum buyer Robert Mathias said, "2018 was in general a welcome relief from a short 2017 vintage across most of France, although there are exceptions, notably in the south of France. 2018 was not a homogenous harvest across France, and actually the weather tended to be quite extreme. Firstly there was quite severe humidity, heavy rain, and isolated hail in the spring period which brought with it heavy disease pressure. This was then followed by unremitting sunshine almost all the way until harvest. It was a vintage that required extreme vigilance in the vineyard, not only for treatments but the decision when to pick – this was an early vintage, similar to 2003 or 2009."
Here's a breakdown of each region with reports from our producers:
Champagne
High yields and good quality might prove 2018 to be one of Champagne's most successful vintages in years, with many producers already showing optimism about the finished wines. A cool, wet winter recharged the vines and soil, in preparation for an especially warm, dry summer, culminating in an early harvest.
Bibendum buyer Jamie Avenell said, "An exceptional vintage in both quality and quantity, much welcomed after the frost losses of last year. Quality focused producers will be delighted with the base wines that they have to work with from the vintage."
Here's what our producers had to say:
"Conditions have been perfect throughout the year," says cellarmaster Xavier Berdin. "With a good winter, a magnificent spring and a hot summer, the grapes could develop to full maturity – an ideal scenario," he says.
The north-facing vineyards in the Montagne de Reims area once again proved robust with good acidity, while the Chardonnays to the east also displayed promising balance. First tastings are scheduled for December, but Palmer are already confident of a great vintage year.

After two challenging harvests in 2016 and 2017, 2018 was a blessed relief for Bruno Paillard. Perfect flowering conditions led to full bunches of small berries, and alternating heat and humidity enabled the berries to reach optimum maturity while maintaining excellent health. Dry days and fresh nights in August enabled flavour concentration while preserving crucial acidity. The harvest began early on 25 August and finished on 11 September, with a bounty and generosity reminiscent of the 1996 vintage.
Few winemakers will have witnessed a vintage like 2018 according to Pouillon. 1959, 1970, 1976 and 1982 were all famously good, but few had the combination of optimal maturity, high yields and an early harvest as experienced in 2018.
"This harvest will be included among the greatest in the history of Champagne," says Lanson Chef de Caves Hervé Dantan. After the rainiest winter in over 50 years, the water reserves were in a good position to prepare for such a long, dry summer. These sunny conditions in spring and summer meant that all grape varieties in all sub-regions could achieve optimum ripeness.
Hervé is confident about the potential quality of the finished wine, saying "it's still early to assess the wines of this vintage as we will have to analyse their evolution in time, but the first still wines we tasted suggest a great potential, with very fine and precise fruity aromas, and a rich mouthfeel, which is associated with great finesse."

An early harvest began on 24 August and finished on 7 September, with good yields and perfectly-balanced, healthy grapes. Isabelle Mathieu-Jacob says, "Of course the quality of this harvest was top, but we will have to wait until spring to have a more precise idea of how this wine will develop and whether it will be a vintage year."
For Veuve Cliquot, 2018's harvest was one of the very best in the last few years. A cool, wet winter recharged the soil, followed by a hot, dry spring and summer that led to high yields, excellent quality and an early harvest. Work by the Veuve Cliquot vineyard team over the past 10 years to introduce cover planting meant that 2018 was the first year that no herbicides had to be used.
Alsace
Like much of France, Alsace experienced an earlier-than-average harvest along with good quality and substantial yields.
Here's what our producers had to say:
Harvest 2018 started very early at Kreydenweiss, on 28 August, which is almost a month earlier than normal. According to winemaker Antoine Kreydenweiss, "The grapes were beautiful, very healthy! We think that the wines will be very fruity and charming."
According to Julien Schaal, the 2018 vintage in Alsace "has been as great as many other regions in France; with fantastic weather during the harvest". He describes optimum ripeness of perfect grapes, along with good yields. The finished wines will be "pure, delicate and aromatic" he predicts.
Loire
Apart from heavy rain and thunder storms between May and June, 2018 can otherwise be described as having the ideal conditions for producing top quality fruit in the Loire.
Here's what our producers had to say:
Loire Properties
Loire Properties described harvest 2018 as "Fantastic!", reporting that it "will remain engraved in people's minds, and promise a vintage of 'anthology', with very aromatic and gourmet wines from Nantes to Sancerre, all colours combined."
A favourable spring meant early flowering, resulting in the development of beautiful bunches of grapes, with no threat of hail or frost. June was rainy with high mildew pressure, which meant growers had to be vigilant, but it turned into a warm, dry summer which led to high yields of good quality and an early harvest in good conditions. Looking ahead to the finished wines, Loire Properties are expecting "beautiful, aromatic complexity in white and rosé wines" and "round and silky reds".
A great year culminating in good conditions between August and October led to 'peace of mind' for Chateau de la Roche, meaning grapes could be picked at optimum maturity. The first Sauvignons are reported to "show thiol-based flavours of citrus and pineapple", while those picked later are "full of peach and apricot, giving plenty of scope for some superb blends".
Benoit Fouassier was very positive about the 2018 vintage, saying it "may be the only one time I will see this quality in my life". Quantities were better than 2016 and 2017 (which was very small) but still not huge. In terms of quality, Benoit describes "very good balance and concentration" and is optimistic about the quality of the finished wines, predicting that "they will be great wines with a lot of fruit".
Burgundy
Producers have been unanimously pleased with the quality of 2018, as well as with yields, which have mercifully been better than the previous couple of vintages.
Here's what our producers had to say:
A period of storms (and therefore mildew pressure) between spring and summer gave way to a warm, dry spell right through to October. Hand harvesting took place between 28 August and 20 September, and Nicolas Robert was pleased with the results. "Vintage 2018 is really great," he said, "wonderful grapes, very healthy, incredible juice and for the first time in 10 years we've seen good yields." He predicts the finished wines will be "powerful, but with a very good freshness".
Sebastien Dampt reported almost no rain during the summer of 2018, which meant he was surprised by the high yields at harvest. "It's a bit crazy," he said, "but I think that the vineyard is able to find water deep down"
In terms of grape quality, he reports that "the balance between the acidity and the sugar was perfect". Concentration is high due to the warm conditions, with flavours similar to 2015 (another warm year) and a richness more akin to 2006.
Despite picking early for freshness, Sebastien says it still won't be a vintage for high acidity. But despite this, he is still confident with the wines' ageing potential.
Ranking among one of the earliest Chablis has ever seen, 2018's harvest "took place at a leisurely pace during the first three weeks of September in beautiful summer weather under an azure sky," according to La Chablisienne. A wet winter was followed by a dry and mild spring, which led to a 'glorious' summer, allowing the grapes to reach prefect maturity, with the potential for reasonably high alcohol. The grapes themselves were reportedly "delicious to eat, which is always good", with a maturity and balance that "brings to mind the famous vintage of 1982".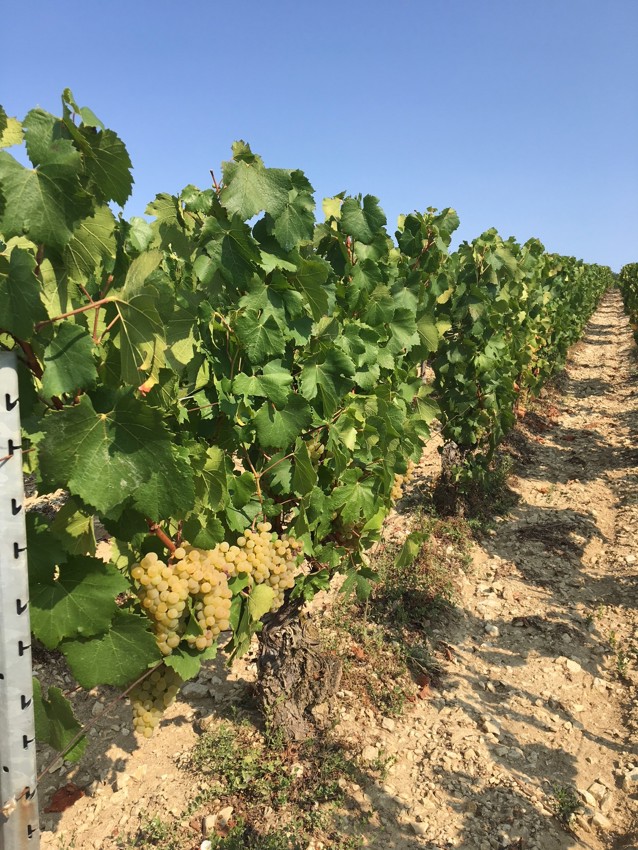 Beaujolais
Ripe, concentrated fruit and the promise of top quality, structured wines seem to be the recurring story across Beaujolais in 2018.
Here's what our producers had to say:
Carried out in warm, dry conditions, harvest at Domaine Cheysson was between 1 and 17 September when grapes had reached optimum maturity. The winemaker said, "we must go back to the 2009 vintage to find such a beautiful grape harvest". Initial tastings have indicated the finished wines will be promising, with nice fruit, length, very silky tannins and a deep ruby colour.
The grapes harvested at Marcel Lapierre were reportedly "ripe but balanced", and hold the promise of age-worthy wines with flavours of cherry, violet and a hint of liquorice.
Savoie
After a series of three small harvests, including a catastrophic one in 2017 due to spring frosts, 2018 has been a joy for Savoie.
Here's what our producer had to say:
Gilles Perrier was very pleased with the 2018 harvest, commenting that "in living memory, we've never had such great quantities along with such beautiful quality. The alcohol levels are also exceptional."
Bordeaux
A damp spring and early-summer hailstorms signalled a rocky start to Bordeaux's 2018 growing season, but a warm dry summer saved the day.
Rhone
Like much of the southern part of France, 2018 had a difficult start, characterised by storms and significant mildew pressure. But the second half was warm and sunny, with perfect conditions around harvest.
Here's what our producers had to say:
A stormy end to May was followed by warmth and humidity for Kreydenweiss, which meant their toughest battle with mildew and parasites since they started making wine in the Rhone (Kreydenweiss' original property is in Alsace). Despite carrying out de-budding to allow grapes to dry, they still lost 70% of yields to mildew. But while yields were significantly reduced, quality has been high. Marc Kreydenweiss describes the Gewurztraminer in particular as being "beautiful, generous and concentrated".
2018 was a year of two halves for Alain Jaume. A rainy May reduced the yield of some Grenache plots through coulure, but the summer that followed was hot, with signs of drought in late July and August. A warm, sunny autumn meant perfect picking conditions stretched to 4 October, when the last Mourvedre was picked. Christophe Jaume concluded that "the wines from this low yield vintage are showing intense aromas and balance."
South of France
Miren de Lorgeri from AOC Languedoc and PGI Sud de France reports that, "some parts were impacted by significant downy mildew attacks due to a very wet spring", which is unusual for this area of France. This particularly affected those committed to organic viticulture. But despite reduced yields for some, she predicts that "the texture of the wines will be harmonious and very balanced".
Looking at Provence specifically, Bibendum buyer Jamie Avenell said, "This vintage we have a perfect storm from Provence, the wines have been growing in volume and popularity rapidly in the UK, as well as globally, but with a short vintage and said demand, pricing next year will increase and availability will be tight. Look to plan your Provence and other rosé selection early on next year."
Here's what our producers had to say:
Chateau d'Esclans, Provence
Harvest started at the end of August, which is early but not a record, according to Patrick Leon, winemaker and manager at Chateau d'Esclans. He predicts: "The wines will be fruitier, with less tart acidity and slightly lower alcohol than those of 2017, which means we can just drink more."
You may also like: