The age of the modern co-op
When it comes to wine production, there's no denying the romantic image of a small family vineyard, with hand-picked and foot trodden grapes. And let's be honest, usually the thought of a cooperative doesn't sit very comfortably within that view.
Enter the modern co-op. A million miles away from the set-up that gave these organisations a bad reputation in the past, many French (and other) co-ops work more like big, happy families now. Offering great value and scale to the trade and consumers, they also play an important role in the sustainability of the industry – because not all growers can afford to make their own wine. Nor do all of them want to.
What is a cooperative?
Part of the very fabric of wine production in France, it is referred to as a cave cooperative, or simply cooperative or co-op. Similar arrangements can also be found all over Europe and the rest of the world.
In essence, the grower members supply their grapes to the cooperative, who then makes the wine, and usually also bottle, sell and market it. Co-ops can range from large-scale set-ups to small wineries serving an individual town or village. Around half of all French wine is produced in a cooperative setting*, and nearly half of all growers are a member of a cooperative.
Based in Carcassonne, in France's Languedoc, lies Vignobles Foncalieu. With humble beginnings dating back to 1901, the co-op now works with 1,251 growers with a potential of 500,000 hl, covering six AOPs and five IGPs. A green revolution began in 2001, with more than 70% of their growers now following environmental approaches (such as HVE3, Terra Vitis and organic), with the aim of reaching 100% by 2023.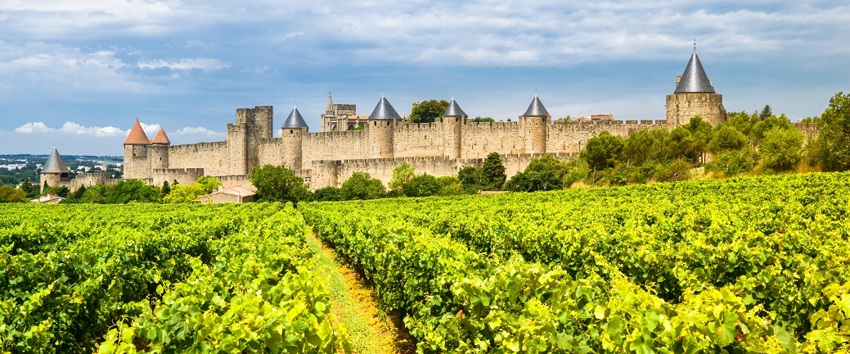 "Today, cooperative cellars are essential in the wine sector, and have largely changed course," says Foncalieu marketing manager, Audrey Arino. "If solidarity and cohesion are still part of the intrinsic values ​​of cooperation, then innovation, ambition and high standards have come to dust off an outdated image." Paying their growers by the hectare – rather than by tonnage of grapes – Foncalieu are actively encouraging quality over quantity.
"There are newcomers, new growers, looking for connections, who want to come together to pool technical means and strengths, to guarantee the success of their common objectives. This is the fundamental principle of 'Each for all', allowing everyone to share their know-how," Audrey says. "The financial stability of the cooperative also allows them to have a guaranteed income and to be assisted in their personal steps, for example when moving towards organic production, but also to invest in innovative projects."
Nestled in the South-West corner of France, in the 'land of plenty', lie the vineyards of Plaimont – stretching from the foothills of the Pyrenees to the rolling hills of Gascony. A major player in the region and owning many of the finest local chateaux and estates, it is their focus on plant heritage and reviving near-extinct varieties that really sets them apart.

In 1979, André Dubosc convinced three wine cooperatives of Plaisance, Aignan and Saint Mont to join forces – and initials – to set up a united wine producing group, named Plaimont. His actions were transformative for the South-Western region: up until that point, the grapes were grown mainly for Armagnac production.
Today, the group manages 5,000ha of vines and over 1,000 growers contribute their grapes into an array of whites, reds and rosés. The scale of their success is admirable: they represent 98% of Saint Mont production, and nearly half that of Cotes de Gascogne, Madiran and Pacherenc du Vic-Bilh.
For the producers of Plaimont, it's all about their built and plant heritage – with the former including the likes of Chateau de Sabazan. But it's their plant heritage – including their Ampelographic Conservatory and Historic Monument vineyard of Sarragachies – that is the real living legacy.
After establishing the largest private conservatory of grape varieties in France in 2002, Plaimont has now created a conservatory of indigenous grape varieties and lambrusques, or 'wild vines', as part of their commitment to wine tourism and knowledge sharing. The plot is located at the foot of the Monastery of Saint Mont with its famous eponymous vineyard, a historic and emblematic site in the area.
Being a modern-day cooperative – and the only one in Chablis – they operate like one big family. "After nearly 100 years (established in 1923), we have the structure of a co-op, but work more like an estate or domaine," explains Olivier Masmondet, La Chablisienne export director. "There is a big memory pot between all our members, who have worked together for many years." With 270 members and producers, their holdings cover all appellations and territories in Chablis, producing a wide range of wines.

La Chablisienne's vineyards encompass 25% of the entire region, at around 1,200ha, which includes the likes of inimitable Grand Crus such as Chateau Grenouilles. One of the rarest Chablis Grand Crus, it forms an unbroken plot of 7.2ha, exposed on a South-West slope and facing Chablis village. This plot comprises a selection of small parcels of old vines, with the majority owned by La Chablisienne since 2003.
Vineyard manager Christophe Lecomte and winemaker Vincent Bartement, who has been at La Chablisienne for 12 years and was awarded best White Winemaker of the Year at the 2020 IWC awards, work closely with all growers to manage and continuously improve their grapes. "We help growers to make decisions in the vineyard; we work as partners, as a family," says Olivier.
So, when done right, the modern co-op can – and should – satisfy that romantic vision of the family vineyard, with care and quality at the heart of it. Just on a slightly bigger scale.
*According to an article on Forbes by Jill Barth.
You may also like: