La Chablisienne – fighting frost with fire
To say that it was a tough year for Chablis would be putting it mildly. Spring snow. Black frost. Mildew. Oidium. Hail. It sounds like the makings of a true tragedy. And it was – with some producers, like La Chablisienne, reporting losses of up to 80%. Considering their vineyards encompass 25% of the entire region, the situation does seem rather dire.
Three terrible nights
La Chablisienne export director Olivier Masmondet explains that there were "three terrible nights" of frost in April, made even more devastating by how well the growing season was progressing until that point. "It was mild and warm until early April. But this meant that budburst happened earlier, rendering the buds totally exposed to what followed," he says.
So, what happened on these three haunting nights? Bibendum buyer for France, Robert Mathias, explains: "On Monday the 5th (of April), Chablis had rain in the afternoon, putting moisture on the buds. That night, temperatures plummeted to -8C. Tuesday the 6th saw the worst of snow showers and temperatures reaching -6C. This lasted until Wednesday morning, when the bright sun grilled the icy buds, turning them black and destroying them in the process. Wednesday the 7th saw more frosts in the evening, damaging most of the remaining buds."
To try and protect at least some of their Premier and Grand Cru vineyards, winegrowers lit 'bougies' (or candles) in the vineyards to create heat and air movement, helping prevent frost pockets from forming. But even with these candles, there is a limit, and Olivier explains that when temperatures reach -7/-8C, nothing can protect the vines.
But what else is there to do? So, they lit their candles and fought the frost for 12 whole nights. Sadly, at €3,000 per hectare per night, these candles cannot be used in every single vineyard (of which La Chablisienne manages 1,200ha!), so hard decisions had to be made to save the very best. Olivier says, "We managed to protect many of our Grand Cru vineyards, where losses were about 40%, while losses across the rest of our vineyards amounted to nearly 80%."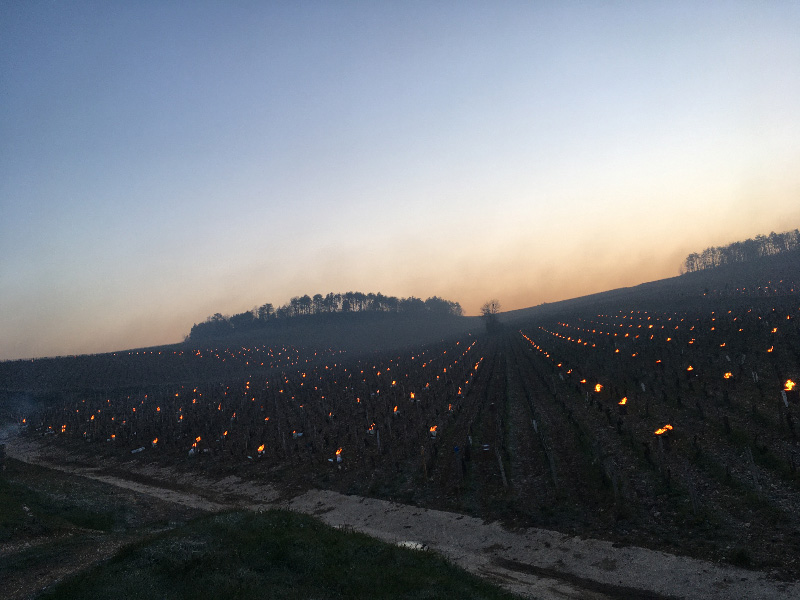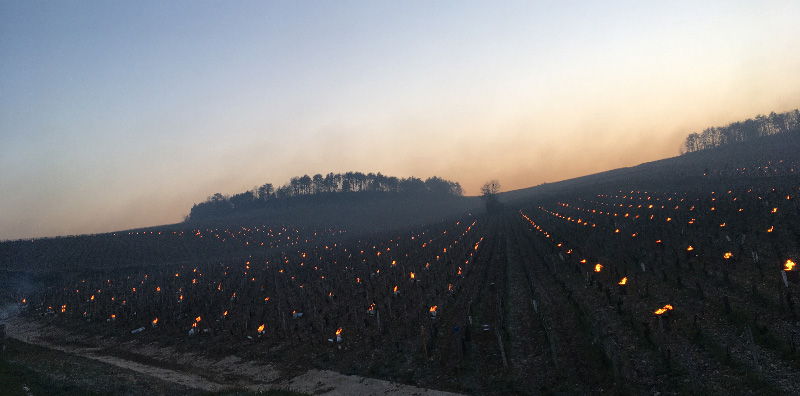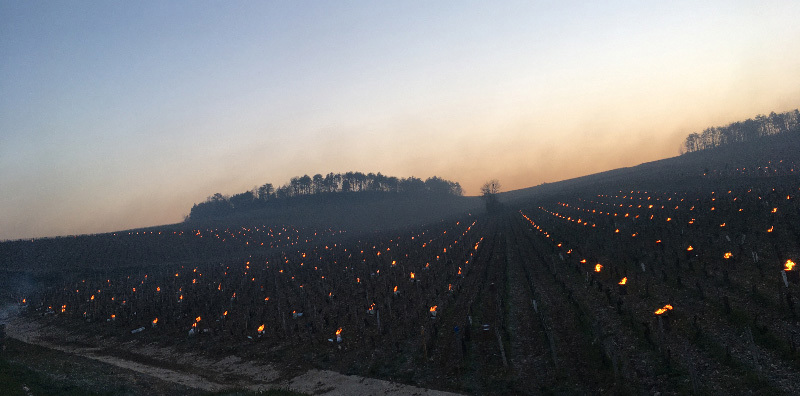 Fires to keep the frost at bay
A 'people' vintage
One of the Grand Crus that was spared the brunt of devastation is the inimitable Chateau Grenouilles. One of the rarest Chablis Grand Crus, it forms an unbroken plot of 7.2ha, exposed on a South-West slope and facing Chablis village. This plot comprises a selection of small parcels of old vines, with the majority owned by La Chablisienne since 2003.
Saving vineyards like Grenouilles was just one of the decisions the La Chablisienne team had to make, in a harvest that became all about people and human intervention. Incredible people like vineyard manager Christophe Lecomte, and winemaker Vincent Bartement, who has been at La Chablisienne for 12 years and was awarded best White Winemaker of the Year at the 2020 IWC awards. Olivier says, "In a 'normal' year, it is easy to make good wine – the wine makes itself; but in a year like 2021, it is more about the people and making the right decisions at the right time."
Being a modern-day cooperative – and the only one in Chablis – they operate like one big family. "After nearly 100 years (established in 1923), we have the structure of a coop, but work more like an estate or domaine," Olivier says. "There is a big memory pot between all our members, who have worked together for many years." With 270 members and producers, their holdings cover all appellations and territories in Chablis, producing a wide range of wines.
No Chablis, then?
Following the April frosts, the region also experienced mildew and oidium infections due to high frequency of rain, as well as localised hailstorms. So, what does this mean for all the Chablis drinkers this side of the Channel?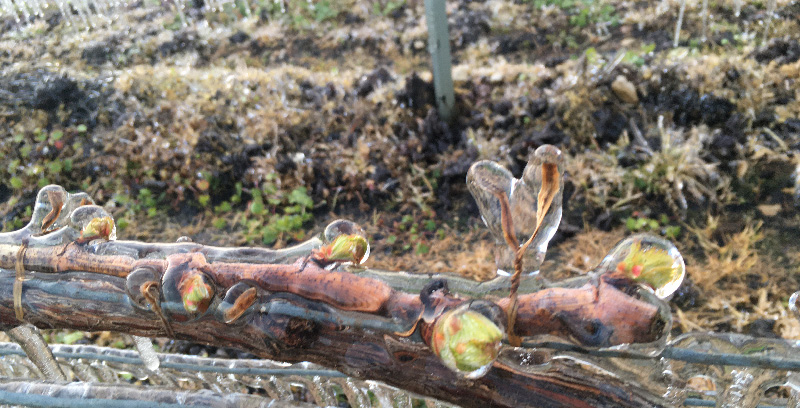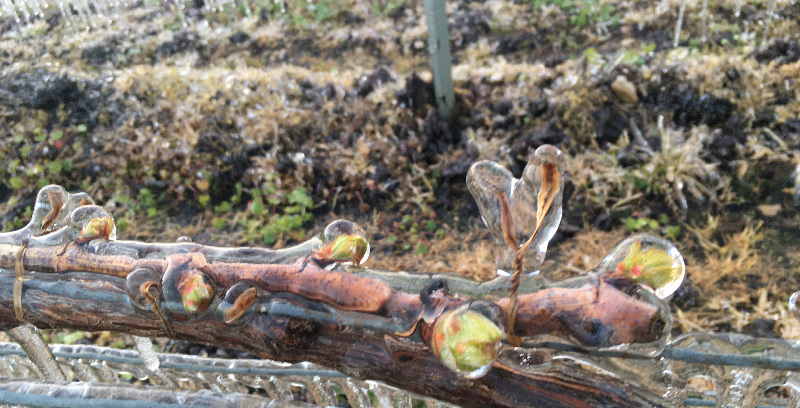 A frozen bud in Fourchaume
"This poor harvest follows a succession of low volumes since 2016, which affects availability in the market – at all price levels," Olivier says. "At La Chablisienne, we have a bit of inventory to help buffer the effects, but all Burgundy and Chablis producers will have to increase their prices this year; we have no choice. We sometimes forget that at its core, wine is an agricultural product, and we are extremely influenced by the weather. The 2021 vintage will be sparse – that's just the simple reality."
But it's not all doom and gloom. Olivier explains that, at this early stage of harvest 2021 – which started on the 20th of September – the quality is looking very promising, with the mild growing season resulting in clean, pure musts with less fruit, more florally aromas and razor sharp minerality. There just won't be a lot of it to go around.
"At the end of the day, we are all partners in this and we want to maintain our presence in the UK market," Olivier says. "All we need is just a little bit of love. And a good harvest in 2022!"
You may also like: