Plaimont – reviving old vines for the future
Nestled in the South-West corner of France, in the 'land of plenty', lie the vineyards of Plaimont – stretching from the foothills of the Pyrenees to the rolling hills of Gascony. A major player in the region and owning many of the finest local chateaux and estates, it is their focus on plant heritage and reviving near-extinct varieties that really sets them apart.
Have you heard of Manseng Noir? Tardif? Can't blame you if you haven't! These varieties were nearly extinct some years ago. But thanks to Plaimont's commitment to research and development, these pre-phylloxera plantings were identified from their 'vine garden' at Sarragachies, and introduced to their Ampelographic Conservatory in Saint Mont for further study and propagation.
A peek at the past
But let's first take a step back, to consider how it all started… In 1979, André Dubosc convinced three wine cooperatives of Plaisance, Aignan and Saint Mont to join forces – and initials – to set up a united wine producing group, named Plaimont. His actions were transformative for the South-Western region: up until that point, the grapes were grown mainly for Armagnac production.
Today it's a different story: the group manages 5,000ha of vines and over 1,000 growers contribute their grapes into an array of whites, reds and rosés. The scale of their success is admirable: they represent 98% of Saint Mont production, and nearly half that of Cotes de Gascogne, Madiran and Pacherenc du Vic-Bilh.
The Sabazan jewel
One of the jewels in the Plaimont crown is that of Chateau de Sabazan. And this jewel has been meticulously polished by oenologist Patrick Azcué since 1987.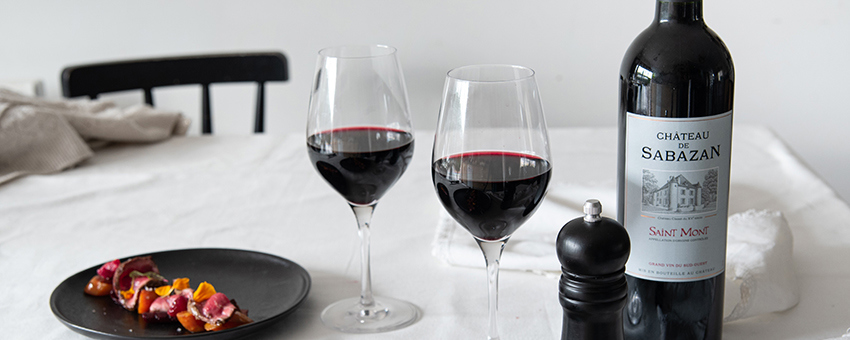 "Immune to fads, fashion and the excesses of all types of so-called 'modern' vinification methods that coloured the decades of 1990 and 2000, Patrick Azcué and his team produced honest, precise wines… bearing faithful testimony to a terroir, reflecting its vintage," describes Plaimont MD, Olivier Bourdet-Pees. "Patrick realised that the undeniable superiority of balance and natural freshness would stand the test of time."
Respecting the terroir and its fawn-coloured sand requires a commitment to the soil, to the environment and to the history of the site… And so, by using sustainable methods to protect the vegetation and refusing to use chemicals in the soil (neither synthetic fertiliser nor herbicides), the vineyard has served as a model for the entire region.
The focus is on the Saint Mont appellation's four main grape varieties – Tannat, Pinenc, Cabernet Franc and Cabernet Sauvignon. Harvested and sorted entirely by hand, the grapes arrive at the winery freshly picked – with less than 500m between the furthest parcel and the winery. Parcels are vinified separately, in traditional tanks, and there is a long period of skin contact – more than a month – with gentle extraction. After malolactic fermentation in tank, the wines are barrelled (in oak barrels renewed every third fill) for an elevage period between 11 and 14 months.
It is at this stage that the art of blending the best parcels comes into play and the vintage's Grand Vin du Chateau de Sabazan is defined. The wine then spends a further 6 to 10 months in tank before being bottled at the Chateau, and a further year in bottle, before hitting the market.
A living legacy
For the producers of Plaimont, it's all about their built and plant heritage – with the former including the likes of Chateau de Sabazan. But it's their plant heritage – including their Ampelographic Conservatory and Historic Monument vineyard of Sarragachies – that is the real living legacy.


The Saint Mont Historic Vineyard
After establishing the largest private conservatory of grape varieties in France in 2002, Plaimont has now created a conservatory of indigenous grape varieties and lambrusques, or 'wild vines', as part of their commitment to wine tourism and knowledge sharing. The plot is located at the foot of the Monastery of Saint Mont with its famous eponymous vineyard, a historic and emblematic site in the area.
This conservatory is home to 13 grape varieties representative of the AOC Saint Mont, Madiran, Pacherenc du Vic Bilh and IGP Cotes de Gascogne, including two varieties reintroduced by Plaimont: Manseng Noir and Tardif. It also houses eight unknown ancestral grape varieties, as well as 22 lambrusques discovered in the area.
This all stems from their Sarragachies vineyard, which has been named a Historic Monument of France. These vines are around 200 years old – which is rare in France, due to the devastation caused by phylloxera from around 1860. However, importantly,  this plot lies on deep sandy soil, which prevented these pests from reaching said vines' roots, thus saving them from the same fate as most of Europe's vineyards.
One recent success story from this plot is Manseng Noir. Forgotten after the phylloxera crisis, it has now resumed its place in the vineyards of Gascogne, appreciated for being less tannic and lower in alcohol. To date, the Plaimont winemakers have replanted 40ha from one single vine that was found. They have studied the behaviour of this grape variety on different types of soil, with different rootstocks, and are learning about it all over again. Blended with grapes like Merlot, Manseng Noir brings freshness and roundness to the tannins, while it stands out with light and spicy aromatic features in single varietal wines, like the Moonseng.
Better late than never
The latest resurrected vine, Tardif (meaning 'late'), is aptly named because of its slow maturation cycle, which pushes its harvest date to a lot later. While this was undesirable during the previous century, it has become a variety of great interest today due to the challenges of climate change.
From the two Tardif vines found on a plot at Sarragachies, 40 vines were introduced to the Conservatory of Saint Mont in 2002. The study of the latter demonstrated some interesting perspectives – which has led to a further 3,000 vines planted in Saint Mont in 2019 – so watch this space!


Oenotourism
Part of the Plaimont philosophy is sharing the knowledge and the joy. There are many options for visiting the vineyards, chateaux and wineries, and enjoying all that the region has to offer.
Since spring 2019, Plaimont has been offering guided tours and workshops designed around discovery trails in the heart of region. These range from a visit to an organic vineyard and tasting 'from the barrels' at Chateau de Sabazan, to visiting the Historic Monument vineyard of Sarragachies and attending a winegrower picnic lunch.
After all, what good is all the hard work if it can't be shared!
Want to learn more? Meet Olivier Bourdet-Pees, MD of Plaimont, as he takes us through one of their vineyards here - and watch as Export Manager Celine Dabadie introduces us to some of Plaimont's wines.
You may also like: