Ten minutes with Morgassi Superiore
Dry, easy-drinking and incredibly moreish, it's no wonder Gavi's popularity is rising sharply in the UK. In recent years, white wine fans have revelled in the discovery of this northern Italian treasure, and increasingly fantastic examples are now available on the market.
Morgassi Superiore, launched nearly three decades ago by pioneer Marino Piacitelli and run to this day by his daughters Marina and Cecilia, is one of the top producers of this fashionable wine. Here, time-honoured tradition and innovative technology go hand in hand - and their wines are some of the finest on the market. We caught up with Marina Piacitelli to find out more...

Sisters Marina and Cecilia run the show at Morgassi Superiore 
For those not familiar with Gavi, what would you say it's similar to?
Chablis! The grape variety is different, it's Chardonnay - but it stays in stainless steel as the Gavi does. Well, that's evolved in Chablis, but that's another story. We have lovely, calcareous soil like the Chablis area. and so both wines have this freshness and cleanness in the mouth.
What is the main thing about your Gavis that makes them stand out from others?
For sure, the terroir at our estate - it's a lovely one. There are different kinds of soils in Gavi; ours is a white calcareous soil, with lovely drainage, which allows the roots to grow deep. This is very important as deep down in the soil, you find all the minerals and elements that give wine finesse, elegance, and tremendous potential for ageing. 
What's a unique element in your winemaking process?
Well, at Morgassi we go through blind tastings after harvest. We harvest our vineyards in such a way that the wine from each vineyard is put into a separate tank. That way, when we do these blind tastings, we are tasting each vineyard! And we receive a lot of information from that - sometimes, they are lovely vineyards, but the wine isn't giving us exactly what we want. So, then we go to try and find out what the reason could possibly be.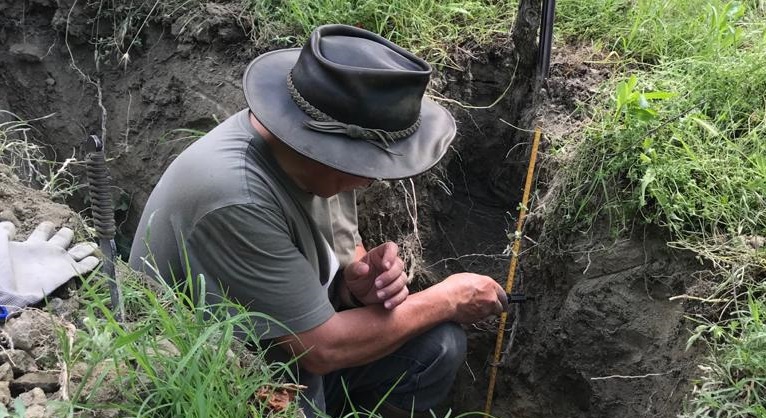 Holes are dug in the vineyards to analyse the soils at multiple depths
How do you do that?
We work with French agronomists Claude and Lydia Bourguignon, who are specialists - probably legends! - in analysing soils. In one vineyard, there might be some rows that are not the same as others, even if they are next to one another. So, when we taste a vineyard which looks perfect and has lovely soils and lovely drainage, but it's not at the level we want, we analyse the soil. Roots should grow as deep as 90cm, so we take the temperature that far down - it should be colder than the surface. But sometimes, conditions are not like this and you find that roots are only going down 40cm, and that means you probably have a line of water. Vines are lazy! If they find water, they stop. It's not that a soil is not rich at 40cm, it is rich - but rich to produce quantity, so when we find vines like this, we harvest them separately at the very end, and sell the wine as bulk.
The lovely quality, the fine wines, they come from vineyards where the vines go very deep in the soil - down to the very heart, where all the elements and minerals are, as well as the lovely acidity and potential for ageing.
Do you ever intervene with the soils or vineyards to produce the results you want?
If you work soil aggressively, it will breathe in heat, and won't be fresh below the surface. Our collaboration with these agronomists is interesting - now, we never feed our vines, because they have to work hard to become strong and face all sorts of weather - and I can tell you that the quantity in the end is the same, it doesn't drop if you don't feed the vines. The result is impressive - they're stronger, and with climate change, plants need to be. If you don't touch the soil, all the life in it will come back. If you do, then the life in it is dead, the vine won't stay in its soil, and won't grow in the correct way. You change the natural way, and the plant will never be as strong as it should. 
Pick one wine from your portfolio, and tell us what your ideal food match for it would be.
That's a good question! Just one wine? I can't pick one! It's like Sophie's choice... the Volo is great with an asparagus risotto, but can match also with finer and lighter food. The Tuffo is the perfect wine for aperitivo. For me, Gavi is the king of aperitivo - it's like when you have a chocolate with coffee - the chocolate gives a lovely flavour to the coffee, and the coffee gives a lovely flavour back to the chocolate. So, for aperitivo - the salami, the focaccia, all those aperitivo foods are a perfect match with this clean, fresh wine. The Tuffo for aperitivo - it's number one.

The Morgassi wines are decorated with symbols representing sea and land
You may also like: