Indigenous Italy
Drinks consultant Douglas Blyde joined us for a tasting tour through Italy.
"When the Roman Empire fell, vines were left to their own devices, and, like regional Italian dishes, they cross pollinated, leading to a wonderful diversity of expressions," says charismatic Mauro Segatta.
The Anglo-Italian sophist eagerly ushers me through Bibendum's showcase of indigenous Italians, held at Covent Garden's Li Veli Bistro.A venture between proactive Puglian winery, Masseria Li Veli, and San Domenico Hotels, the cool, Covent Garden haven unites rich Puglian dishes including sautéed peppered mussels, bombetta pork rolls with caciocavallo, and olive oil enriched pistachio ice cream, with ripe and distinctively signed Southerly wines.

From the North…
To begin, Mauro hands me a chilled glass of homophonic Soave from Suavia. "In the 1860s, Soave was nicknamed 'Petit Chablis' on account of its minerality," says Mauro, advising that the finest examples evoke the perfume of 'Petrichor' – that welcome, earthy scent produced when rain disturbs dry soil. With vines tugging hills close to the town of Soave itself, characterised by its crenellated tenth-century castle, Suavia sold grapes to the local cooperative until oldest daughter and winemaker Valentina Tessari realised the sadness in consigning such special fruit to anonymous blends. "There are two faces of Soave," echoes Mauro, "the small families working low volumes on volcanic hillsides by hand, and the big coops planting the flatlands."
The "nervous", layered, incisively fresh Bianco Veronese Masiffiti Trebbiano di Soave is the result of a quest to restore "the real Trebbiano", supported by the esteemed Attilio Scienza of the University of Milan – the same institution at which Mauro's father studied oenology before seeking out a career in wine in the UK. Up next and presented by Valentina's sister, Alessandra Tessari, is the hugely opulent, honeyed Superiore le Rive Viticola from 2010. At the time of writing, just 48 bottles of an annual 5,000 are allocated to the UK.
"People appreciate Soave when done well," says Mauro. "But trying to convince them to try it when it has the reputation of being a cash cow is a challenge!"
Next, I learn about the famous, third-generation Bolzano winemaker, Alois Lageder, who tends vines on the vertigo-inducing Dolomites of Italy's most northerly winegrowing region. "The gateway to Europe and trading route in Roman times, when it was the only way into Austria and Germany," Mauro situates. 
Alois, it transpires, built Italy's first sustainable winery in the early 1980s, and loves putting his terroir through experiments. Of Lageder's breadth of wines, Forra is one of the most intriguing, being a single-vineyard expression of Incrocio Manzoni, a relatively frost resistant cross of Riesling and Pinot Blanc named after its deviser, Luigi Manzoni. A little melodramatic, and multifaceted, it somehow walks the tightrope of being able to appeal to both hardcore natural wine fanatic and those who might be irked by them. Despite being in a blisteringly hot valley, the spectacular lessening in temperature come night time allows agriculture, including olive trees and the vines, to flourish. "It means you can sleep at night as the vacuum effect takes the heat towards Lake Garda."

…To the Deep South
Heading to the Deep South to Oenotria's toe, I admire the capitalised, bold, retro stance of Scala's labels. "At VinItaly, most of the good Calabrian wines were taken or lacked the quality we were looking for," reveals Mauro. "Then we walked past Scala's stand, where old bottles from the 1950s featuring dramatic labels caught our eyes. Fortunately, the wines tasted great, so we asked if they could replicate them going forwards, and the rest, you could say, is history."
From a parcel of a mere two hectares, Cirò Bianco Greco flamboyantly brims with white spice, while Rosso Gaglioppo, likely a relative of Sangiovese, rises from vines sown in a land once laid to orange trees. The result is a Sunday roast friendly, gutsy profile of berries, cherries, specialty coffee and artisan chocolate brownie, which, stylistically, harks back to wines imbibed by Calabrian athletes in early Olympiads.
Crossing to the largest island in the Mediterranean Sea, Tornatore tends 46 hectares of Nerello Mascalese and Nerello Cappuccio vines that cling to the northerly inclines of one of the world's most active volcanoes, the UNESCO-registered Mount Etna, rising 1,000 metres above sea level.
Etna Bianco, made with Carricante, a variety believed to have been present on Etna's slopes for 1,000 years or more, endears with its elderflower and honeydew notes, being, says Mauro, a "terrific match with branzino in salt cooked on a barbecue," it is the red which stuns. Likened by ardent fans to Burgundian Pinot Noir, the Pietrarizzo bonds ethereal floral notes in a sleek texture. "Anyone who is anyone wants to buy Etna vineyards," says Mauro. "And there's no need to fertilise this black soil because the volcanic ash does the job for you."
Onto the modernist marvel that is the Bisceglia winery in Puglia, built this millennium beside the remains of a Roman smithy. Here, like a microphone to the ground, mineral Falanghina flourishes in dark volcanic soils alongside an expressive Syrah, Bisceglia being the first producer to plant the Rhone variety in Vulture. "Bonkers, but it works," confirms Mauro.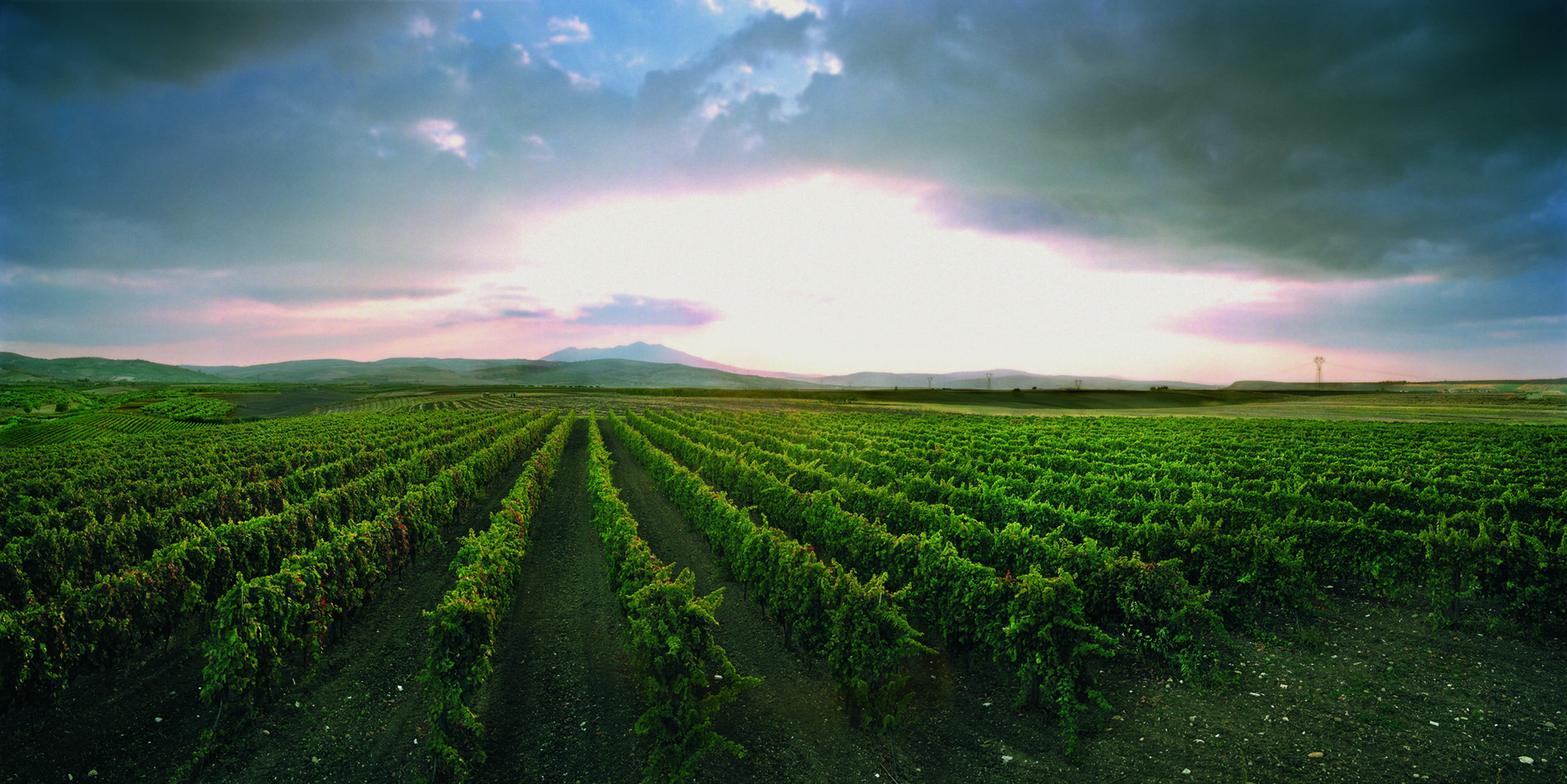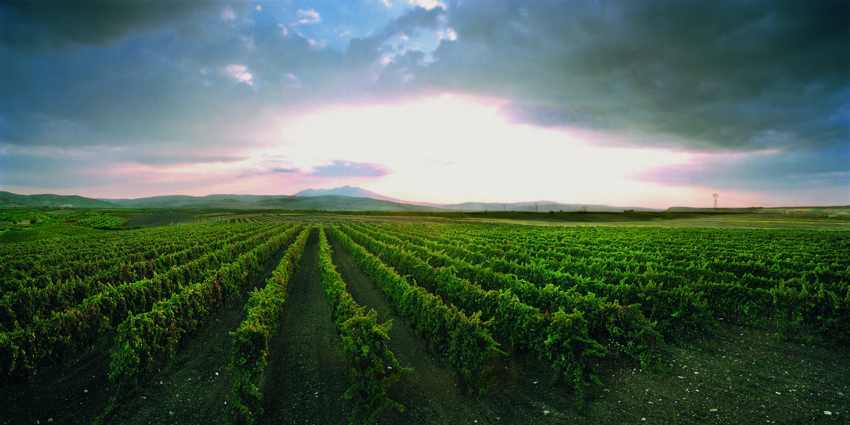 My favourite wine is called Gudarra, meaning pleasure, according to ambassador, Michele Bisceglia, who has a tattoo of the arrow motif of the estate on his arm. Released when deemed ready, but with plentiful life ahead, the five-year-old Aglianico Superiore is supple, complex and even, if you savour it slowly, pretty. "We keep it back on purpose because Aglianico can historically be a punch in the mouth," confers Michele.
Mauro and I culminate with the wines of our host venue, Masseria Li Veli, whose Pezzo Morgana is a stringent selection of Negroamaro sown in the rocky, dry Salice Salentino. The bold, dark, brooding, prune-scented pour is meditatively strong for the hot day, but rewards patient discovery. It, like all of the estate's wines, features an original quartet of little crosses on their labels – the effective and distinctive signature on property deeds of its first illiterate owner.
Given that Italy produces a third of the globe's wines from all 20 of its administrative regions, it made sense to take time with the help of Bibendum and Mauro to look in more depth at such a vivid cross-section of its remarkable viniferous heritage, beyond Piedmont and Tuscany, at wines which harbour the ability to refresh, delight and challenge in equal parts…
You may also like: