Harvest 2019: Rest of Europe
2019 was pretty favourable for our producers from central and eastern Europe, and beyond. Warm days, cooler nights and fairly consistent rainfall across most of the continent meant that quality is expected to be high, even if quantity is down on 2018's bumper harvest.
Read on for a roundup of the 2019 vintage from our producers across Europe.
Austria
Dry weather and mild temperatures were the order of the day for Austria's 2019 vintage. Producers escaped the harsh winter cold wreaking havoc in other parts of Europe, as well as enjoying dry days that reduced disease pressure. Harvest months were similarly favourable, with colder nights helping develop vivid fruit flavours and aromas in the grapes. After 2018's surplus vintage, it was expected that yields would be down; however, outstanding quality is to expected from the 2019 wines, with many predicting them to be 'fruit-forward and characterful'.
One of the best vintages of the decade.
For Mantlerhof, 2019 was a warm, dry vintage overall. April and May saw the majority of the year's rainfall, meaning conditions were humid enough to withstand the scorching heat of the summer, setting an excellent base for a promising vintage. Due to heatwaves in Kremstal, harvest was earlier than expected, but was, in Josef Jun's opinion, "easy and undisturbed".
"Analytically, we are close to perfection this year," he continues. "One shouldn't promise too much before wines are finished and bottled, but we have a good feeling that 2019 will be one of the best years of this past decade." In particular, he draws attention to their Gruner Veltliners, which are already showing great potential, and the Rieslings, which are tipped to have "fine acidity and intense fruit." 
Germany 
July's record-breaking heatwaves brought hail, heat and sunburn to Germany this year, with some producers reporting yield losses of up to 60%. Despite this, excellent vineyard management techniques guaranteed positive outcomes for many. Due to diligence at the picking and sorting stages, the final grapes were healthy and of good quality, and look set to produce some fantastically fresh and fruity wines.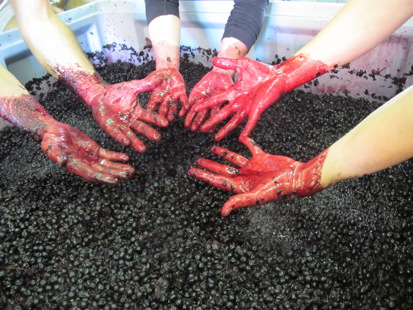 Weingut Peth Wetz
An expert vineyard team saves the day!
It was all hands on deck for Weingut Peth Wetz this year. According to owners Christian and Maja, the team anticipated a challenging vintage due to early hail in mid-August, but thanks to a change in weather conditions and some tactical vineyard management, the 2019 vintage is looking very promising indeed.
All damaged grapes were removed from the vines on 1 September, purposefully reducing the yields to ensure quality. The remainder were left on the vines to ripen for another 4-6 weeks. However, according to Maja, September saw heavy rainfalls which meant the grapes ripened faster than expected. "We started our main vintage in the middle of September," she says, "and finished it in a possibly record-breaking time, on 15 October, thanks to our well-established team." Yields may be down, but Peth-Wetz are highly optimistic that the quality of their 2019 wines is set to be great.
Early indications point to elegance and complexity.
A mild winter led to early budbreak and vine development at Weingut Kopp, which was significantly slowed by cooler temperatures throughout May - a setback that proved a challenge to the winery this year. "We could hardly catch up during the summer months," says Johannes Kopp. Yet, despite the slowed growth, summer conditions were "optimal", providing opportunities for "excellent aroma development." 
Despite yields being down 15-20%, the harvest was stable overall. According to Johannes, "the quality is very good in all grape varieties". He highlights the young estate wines in particular, which have already completed fermentation, as an indication of quality across the board. "[They] are very strongly characterised by a filigree fruit, with a clear and fine-grained acidity and balanced alcohol content," he says. "The vineyard wines promise to become very elegant and complex, suggesting good storage potential." 
A vintage where hard work paid off.
"2018 will be remembered for the warmest growth period on record," says Nicolas Pfaff, export manager, "but 2019 had its own, very hot and especially parched tale to tell." Above average temperatures at the start of the growing season, followed by a hot summer, ensured some "optimally healthy and delicious grapes." 
Despite some droughts affecting the area due to the heat, good water retention in the Kiedrich sites meant vineyards remained in good shape throughout the harvest. Picking began in late September, with some decrease in yields across various sites. However, Nicolas reports that quality was universally high. "Looking back," he says, "2019 was certainly a demanding vintage. Yet it was also one that rewarded our constant labours in the vineyard with stunning, healthy and high-quality fruit - the foundation for long-lived wines guaranteed to grace cellars for many years to come." 
Hungary
After an unusually mild winter and warm spring, unexpectedly high levels of rainfall throughout June and July set back development, as well as increasing disease pressure in vineyards. However, although this resulted in some fruit loss, conditions picked up through August and September. Abundant sunshine allowed fruit to ripen, while cooler nights helped preserve aromatics, meaning there is optimism around the quality of the 2019 vintage.
Textbook conditions for quality Aszu.
A warm spring caused by early budbreak initially indicated another early harvest for Royal Tokaji, but cooling rains through June and July set back development, meaning harvest began a month later than in 2018.
Picking began in the first week of September, with Chris Donaldson describing a good harvest: "We were fortunate with fine weather," he says, "interrupted by just a day or two's rain, and most of the grapes are looking good. The Furmint in particular has optimum ripeness, with good balancing acidity." For the sweet wines, a 'textbook Tokaji Indian summer', with warm and dry conditions, has created the perfect conditions for Aszu, and optimism around quality is high.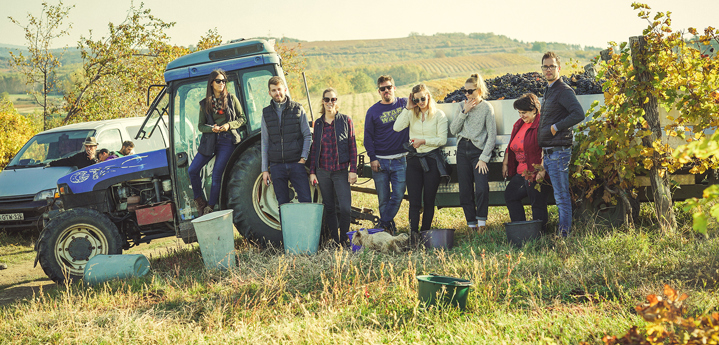 A delicate and perfumed vintage.
"This season was harder than usual," says Gal Tibor. Despite early budburst and shoot growth, heavy rainfall throughout June was a challenge. "It reached 70-80mm a day, which helped encourage downy mildew flowering, and meant we lost 30% of the crop," he says.
Luckily, conditions picked up throughout July and August, with Gal describing it as "perfect weather, with no extremities, that created perfect, matured grapes." Harvest started two weeks later than average, but on the whole was "calm and well balanced". In short, Gal says, "the yield is 30% less, but the quality compensates it!" All the 2019 wines are reported to be extraordinarily perfumed, with pleasantly delicate flavours." 
Greece
Despite some adverse weather conditions in Greece during the 2019 vintage, overall conditions have given rise to some truly spectacular wines. Most regions report that it was one of the best harvests of the past 20 years, and despite some deficit in yield compared to the previous year, the grapes in general are showing great quality, as well as a surprising acidity that indicates fantastic ageing potential.
A rollercoaster vintage has finished on a high.
"This harvest was more like a marathon," says Kiriaki Panagioutou of Tsantali. Prior to the 70-odd days of picking, 2019 was reported to be something of a rollercoaster. Incidents of heavy rainfall in June and July caused some panic amongst grape-growers in Halkidiki, Rapsani and Naoussa, while the remainder of the summer was unusually dry.
However, despite early concerns, the total yield - while down on quantity - is of great quality. Whites are set to be crisp and fresh, standing out for their varietal aromatic intensity, while Kiriaki is pleased to note that the "reds are distinguished by their intense fruity character, and phenolic ripeness." 
Slovenia
A cool early spring meant that Slovenia's 2019 growing season began later than in 2018. But temperatures soon returned to normal, leading to a near-perfect spring and summer. Hailstorms throughout the country in June reduced crops, and yields are expected to be lower than those of the previous year. However, conditions reverted to an ideal state for harvest in August and September, with cooler weather allowing for better aromatics, vibrant acidity and long ageing potential in 2019's wines.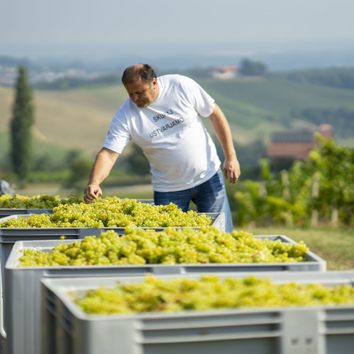 Puklavec Family Wines 
A year for heightened aromatics and bright acidity.
A warm summer and cooler September were good news for the aromatic varietals at Puklavec Family Wines. "We are expecting really good quality," says Tatjana Puklavec. "Much better than in 2018, because we were able to start the harvest three weeks later than last year, as we didn't have hail." Despite yields being down, quality is certainly up. A warm summer and cooler harvest period created perfect conditions for the grapes at Puklavec.
"Beside better aromatics, we are expecting wines with vibrant acidity, moderate alcohol and a long shelf life," Tatjana continues. "Our three outstanding varieties this year are Pinot Grigio, Chardonnay and Riesling." The Pinot Grigio especially will be perfect, she says, something they haven't had the conditions to achieve in the past two years. "The final wines will be aromatic, mineral and vibrant," she concludes. "Just as wines from our region should be!"
Croatia
Despite most regions seeing lower yields than those of 2018, winemakers across Croatia are unanimous in their agreement that the quality of the 2019 vintage is top notch. Due to a lack of significant challenges from weather conditions, pests or disease, winemakers are expectant that this vintage will be a true representation of each region's character and terroir.
If only every harvest was like this! 
"The harvest went very well," says Keti from Veralda. "Weather conditions were optimal throughout the summer, and continued to be so in September during the harvest." This good weather and lack of any issues has meant good news all round.
"I think this year's wines will leave their mark," continues Keti. "Our desire is that every harvest is like this." The quality of grapes is set to be exceptional, with a perfect balance between sugar and acidity.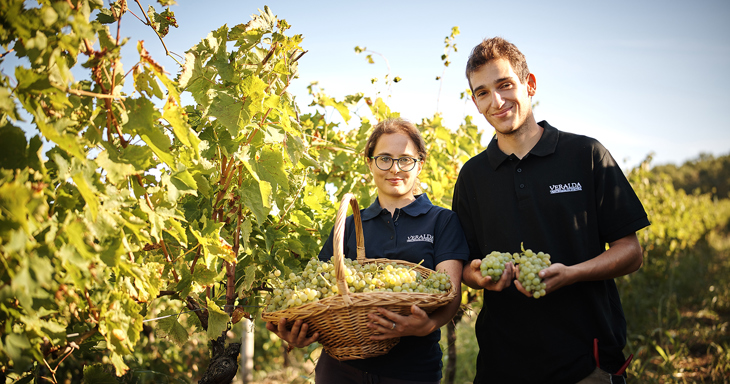 Turkey
Turkey's 2019 growing season was remarkably fresh and mild this year. Although days were long and sunny, with moderate rainfall, temperatures did not reach the unprecedented levels that affected other areas of Europe. This had a positive effect on indigenous varieties, creating ideal growing conditions. Some fresher flavours will be evident in the 2019 wines, in a departure from the 'big and bold' styles of past years.
A fresh and temperate climate characterised Doluca's vintage this year, with ample sunshine and moderate rainfall creating perfect growing conditions for their indigenous varieties. "This year's temperate climate has promoted very well-balanced wines," says Nicolas Brun, Export Sales Manager.
Perfect ripening conditions have created floral and yellow fruit flavours in the whites, while the reds are fresher than usual, as a result of milder conditions. Nicolas describes the Okuzgozu wines as "really nice, ripe and free from any meaty, 'rabbit' characters," with wonderfully sharp fruit. The Bogazkere is also displaying lighter flavours, with notes of floral violet and red berries rather than the typical dark fruit and peppery style.
You may also like: