Harvest 2019: France
From hailstorms to heatwaves, 2019 has been a rollercoaster of a harvest for our French producers. Yet, despite a challenging start to the growing season, the exceptional conditions throughout August and September look set to make this a vintage to remember.
Extreme frosts affected the north of France in particular, with Champagne, Alsace and Burgundy reporting reduced yields due to a cold spring. Later in the vintage, June and July's record-breaking temperatures caused damage to vines across the country. Despite these challenges, August and September returned to extremely favourable conditions, and our producers are in universal agreement that the grapes harvested are of excellent quality.
Bibendum's buyer Rob Mathias said, "Speaking with a French winemaker, he described the wines from 2019 as 'greedy', and this has stuck with me for some reason. It is true that finding the right moment to pick was a deciding factor for this vintage, to avoid overly rich wines and to maintain freshness. While sadly many winemakers do not have the quantity they would have liked, the resulting fruit is intense, aromatic and well-rounded, with many quietly confident about the resulting wines." 
Read on to get a full breakdown of the harvest, with reports from our producers.
Champagne
Champagne saw significant challenges in 2019, but our producers are confident in the potential of the grapes, which boast strong concentration, aromatic complexity, and good phenolic maturity.
Selective harvesting and sorting were crucial in 2019.
Palmer's 2019 vintage was marked by 'significant heterogeneity', according to cellarmaster Xavier Berdin. Due to a combination of April frosts, record-breaking heatwaves and heavy periods of drought, Xavier reports that the sorting process through this year's harvest became crucial.
"The sorting and care given to the pressing stage proved, even more so than normal years, to be crucial to ensure quality," says Xavier. "The picking was also tailored to the ripeness of the grapes in individual vineyards." They only used grapes that were ripened to perfection, showing good acidity and aromatic potential. This selective harvest means that Palmer are confident in 2019 proving to be a quality vintage, with Xavier expressing particular anticipation in the Pinot Noirs from the grand terroirs of Montagne de Reims.
A vintage of maturity and beautiful perfume.
April's rain, cold temperatures and frosts meant Paillard's grapes had a difficult flowering period. Luckily, June's heatwave combined with the residual water in the soil, meaning vines could continue developing without water stress, although the summer's second heatwave had some impact on yields. The remaining grapes, however, had strong concentration and ripening and were, in Alice Paillard's own words, "wonderful, golden, tiny and flavourful."
The team at Paillard are intrigued to see the results of this vintage, which promises great maturity. "We're very curious to work on the blends in the spring," says Alice Paillard. "At the moment, the perfumes in the winery are extremely fruity yet delicate at the same time... to be continued!"
An exceptional harvest against the odds.
Despite the challenging conditions Champagne faced this year, it was still 'an exceptional harvest' say the team at Champagne R. Pouillon & Fils.
The Chardonnay vines in Tauxieres-Mutry saw low yields due to cool temperatures during the flowering season, followed by extreme temperatures in July. However, the winery is proud of the grapes they harvested this year. A temperature increase at the end of August led to a rapid sugar increase that meant extra aromatic and phenolic maturity. Picking started late in mid-September to accommodate this, but the quality was worth it - and Fabrice, their winemaker, is very satisfied with the results."
Quality that harks back to 2002.
After a dry winter, vines started to grow in mid-April, in line with past vintages. Although spring frosts and subsequent record-breaking heatwaves had some negative impact on the grapes, resulting in a 15% loss of yield, excellent conditions throughout August meant optimal balance and maturation were achieved both in the Pinot Noir and Chardonnay grapes.
Despite the challenging weather conditions, the Moet & Chandon winemaking team report that maturation levels in the grapes are "exceptional", and in line with the stellar harvest of 2002 - a very promising outcome indeed.
Another characterful '9 vintage! 
Taittinger's General Manager Damien le Sueur reports a "fantastic" yield, contrary to other producers in Champagne this year. After a dry and hot summer, grapes matured faster than expected, and the team started picking on 6 September.
"Grapes are extremely healthy and ripe," says Damien. "But there will be a quite a wide variation from one region to another," he says. Despite the climactic challenges of the year, the harvest is looking good, with Damien reporting that the initial must tasting had some very promising reactions. Although the full results of the vintage won't be revealed for a few months, he's optimistic, and expectant of great things. In his words, "During these last decades, vintages finishing in '9 have always affirmed their personality superbly and with character."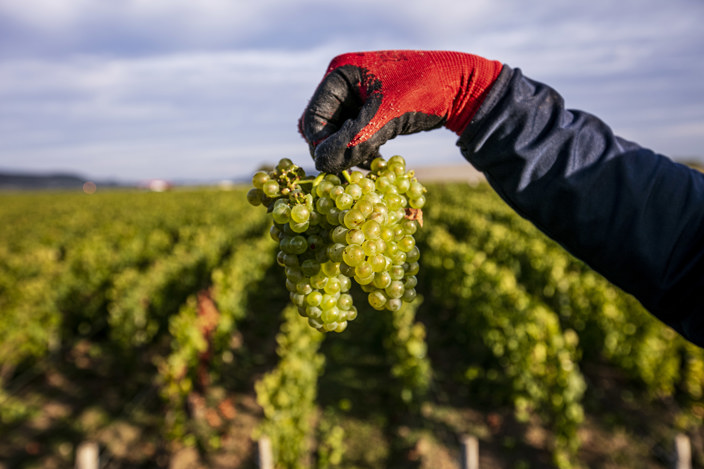 Alsace
Similarly to Champagne, Alsace was affected by April frosts and summer heatwaves. However, mellow temperatures in May and heavier rainfalls in August and September helped vines recover from early challenges, leading to some promising yields that are rich in acidity, delicate flavours and freshness.
All in all, a good vintage.
Freshness, tension, elegance and density will be the hallmarks of the 2019 vintage at Kreydenweiss, according to owner Antoine.
Early April saw some cooler temperatures, which mellowed throughout May, creating optimal conditions for vines to develop. June and July's heatwaves had the benefit of reducing disease in the vineyards, while a few late summer showers allowed for ideal ripening. All in all, it's been a good vintage, Antoine reports, continuing, "It is with great satisfaction that we observe our 2019 wines ripen in our cellar."
So good, the wines can make themselves!
Julien Schaal says the team at Biecher are expecting great things from their 2019 vintage. "The harvest in Alsace has been great in volume and quality overall," he says. "Aside from some extreme conditions during the flowering season in the vineyards, we often got rain at the perfect time, so stress was avoided." 
Biecher's 2019 harvest started later than last year, but in a very favourable state. Grapes were transported to the winery in great condition, so good, in fact, that Julien reports that there was very little intervention needed from the team in the winemaking process. "Fermentations went really well," he says, "and we can already taste great acidity throughout our range." 
Loire 
Despite the extreme conditions of 2019, our producers seemed unfazed by the concerns held in other regions. While the summer heat may have affected yields, heightened temperatures have translated into aromatic complexity and sugar concentration.
Loire Properties
A very 'Loire' vintage for flavour.
"The 2019 vintage will be marked by extreme climactic phenomena," says Frederic Moreau, winemaker at Loire Properties. The region's flowering season was marked by frosts throughout April and early May, primarily in the vineyards of Nantes and Anjou-Saumur. June and July saw yields affected by France's successive heatwaves, but also increased sugar concentration and exceptional quality in the red grapes in particular.
Frederic is optimistic about the quality of the 2019 vintage, saying the wines promise to be "concentrated, structured, and with an acidity that gives beautiful balances. Whites and roses will have very 'Loire' profiles... fresh, gourmet and aromatic."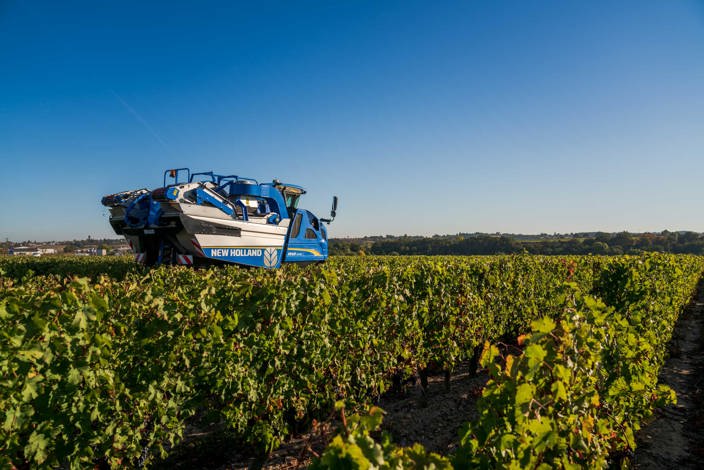 An aromatic and powerful vintage.
The summer heat may have caused some worry at Paul Buisse, but the quality of the wines is shining through, according to Maeliss Potier. Above-average sunshine, combined with "near-total dryness" and two successive heatwaves resulted in some reduced yields, yet the good standards in the Buisse vineyards meant the team had little trouble combatting weather challenges.
"As far as the Sauvignons are concerned," says Maeliss, "the difficulty was to evaluate the optimal harvest date, to get the best compromise possible between the balance of taste and aroma." It's looking like they pulled this off successfully, though. "We can now say the wines will be very aromatic, with a powerful and opulent mouthfeel," she continues. It looks like the rest of the range has benefited, too, with the team expecting the roses to be aromatic, light and smooth.
Burgundy & Beaujolais
Producers across Burgundy and Beaujolais were significantly affected by the challenging conditions of 2019, with some reporting that yields are down by up to 50%. Yet, universally, reports are positive about the quality of the grapes harvested.
Meticulous attention to detail has paid off.
It's been "a complicated year," admits Clare from Michel Magnien. Low rainfall, frosts and major droughts meant the winery had to pay extra attention when harvesting grapes this year, laying their faith in methodical tactics to combat the challenging conditions.
Undertaking the harvest plot by plot, vines were carefully monitored to find the best day to begin the process. Once picked, a meticulous sorting process was undertaken, to make sure that despite yields being smaller, quality wasn't compromised. It appears to have paid off, with Clare summarising happily, "2019 is a vintage that will be superb!"
A great and small '9.
The team at Caroline Lestime are also anticipating a great vintage, despite some challenges during the first part of the harvest. "The growth cycle started earlier than expected, with budburst in the first days of April for the Chardonnay," Caroline Lestime says, continuing, "but frost caused damage to the vines in the southern part of Chassagne Montrachet." 
Cool rains during June were followed by summer heatwaves, yet regardless of these issues, quality is expected to be high, due to regular and diligent checks undertaken in the vineyards. "My aim was to obtain an optimum richness/acidity balance," Caroline explains, "and we cut our first Chardonnay grapes on 5 September." First impressions indicate that this is going to be an elegant, balanced vintage - another great'9.
A showcase for Burgundian typicity.
Domaine Roux's 2019 vintage is already being recognised for its superior standard of quality. "What a great opportunity to make wine from such a vintage!" declares Matthieu Roux, owner. "He elaborates, "The 2019 wines are set to display perfect balance between sweetness and acidity, and boast elegance and refinement." All in all, it's been a successful vintage that highlights and celebrates the typical features of the region.
Compagnie de Burgondie
A vintage of perfect balance.
'Peculiar' is the word the Compagnie de Burgondie team use to describe the 2019 vintage. But, despite weather conditions bringing frosts, hails, droughts and heatwaves in just one season, their winemakers are unified in their celebration of the 2019 grapes' quality. Pierre-Jerome Beretti, Europe Key Account Manager, says this year's wines will be of a "typical Burgundian elegance." 
"Harvesting started on 4 September," he says, "revealing a perfect balance between sugar and acidity." This balance is causing a deal of anticipation for the finished wines, with Pierre believing it will lead to "an elegant and balanced vintage" for the whites, and "deep colour and refinement" in the reds.
Vignerons Associes
A beautiful, promising vintage.
Hit in succession by early spring frosts and summer heatwaves, Maconnais faced no small challenge during this year's harvest. Yet, according to Vignerons Associes, concentration and balance are up - despite yields being down by almost 45%.
"2019 is a promising vintage. The first juices offer beautiful sensations of purity, concentration and balance," says Berengere Jeannin, vineyard manager in Cote d'Or. The sentiment is reflected in their Maconnais vineyards, too, with manager Emeline Favrie crediting the favourable conditions during the harvest itself. The first juices are superbly aromatic, with an ideal sugar to acidity ratio. In retrospect, says winemaker Vincent Gaguin, "it's been a beautiful vintage."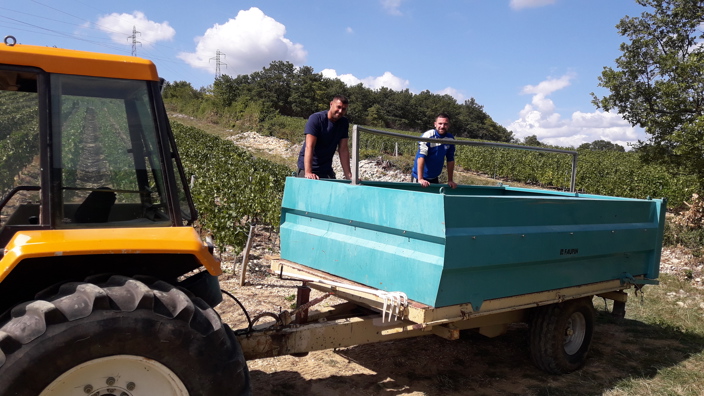 Great optimism for the 2019s.
It's been a positive harvest overall for the team at Marcel Lapierre this year, with good weather conditions overall.
Winemaker Camille Lapierre is optimistic about the 2019 vintage, although admits that the early challenges in terms of weather have affected yields. IN her words, the output is "pretty and plentiful, but less consequential than last year." The wines, however, are set to be of a good standard, with Camille noting that they are set to be "fine and gourmet." 
Jura 
The first half of Jura's growing season had producers worried, anticipating that the 2019 vintage was goring to be no easy feat. Luckily, more favourable conditions in the later half of summer saved the vintage despite its diminished yields, restoring grapes to a well-balanced state.
A year of two halves leads to exceptional balance.
The 2019 harvest wasn't plain sailing for Domaine de la Pinte, who reported yield quantity being affected by less-than-ideal climate conditions.
"Domaine de la Pinte and Arbois wines have been damaged by frost," reports Samuel Berger. "On 6 May, a severe frost touched the Arbois vineyards and reduced our 2019 crop by 50%." Despite this, the heatwaves throughout the second half of the vintage more than made up for quality in the remaining grapes. "After a very hot beginning of summer, temperatures cooled down and we achieved a well-balanced vintage," says Samuel, noting that their 2019 wines will be notable for "quality, not quantity." 
Bordeaux
Our Bordeaux producers this year combatted challenging weather conditions valiantly in 2019, and they're extremely positive about the potential outcomes. A combination of preparation, good vineyard management and some lucky cooler night temperatures meant that June and July's heatwaves had less effect here than in other areas.
Working with Mother Nature has reaped rewards.
Biodiversity, a strongly regulated ecosystem and excellent technical maturity meant that it was a successful vintage all round for Chateau Guiraud. Despite the drought of the summer months, the natural 'grassing over' of the Guiraud vineyards meant it was largely protected from the extreme temperatures that saw multiple yields in the region lost. The grapes were then able to fully take advantage of the favourable August and September conditions.
In the words of Sophia Balanger, Guiraud's UK Ambassador, "The vines were able to offer us grapes of remarkable quality, thanks in particular to the cool nights." The resulting wines are already looking promising. "The first pressings produced juice of a beautiful balance and complexity," says Sophie, continuing, "The 2019 is a veritable gift from Mother Nature." 
Expect some intense, aromatic and refined 2019s.
Alain Jaume are delighted with the 2019 vintage, declaring it "a thrilling satisfaction." It's high praise, particularly considering that conditions at the start of the vintage looked set to challenge and stress the vines.
Alain Jaume describes the conditions further: "Two heatwaves including temperatures as high as 44.6C and the lack of rainfall for several months prompted fears about possible undesirable consequences... but this was surprisingly not the outcome, despite this year's hot and very long dry period." He credits good water reserves and cooler night temperatures with the success of 2019 and is full of praise for the outcome. "The reds are displaying fabulous aromatic intensity, plenty of depth, and highly refined tannins," he says. "It's the sort of vintage that leaves no-one indifferent in Chateauneuf-du-Pape!"
South of France
Dry weather and a hot summer characterised the vintage in the south of France. Yet, this year, our producers were more than prepared for it in their vineyard management, and are eagerly anticipating the results of a vintage some are already classifying as 'perfect'.
Careful management leads to interesting flavours.
In line with the region, yields were down at Plaimont this year, but conditions have given rise to some unique and quality aromatic expressions in their wines. 
A cool spring, followed by heavy rains throughout May, June and August, meant constant vigilance was needed around disease management. Sales Manager Celine Dabadie credits the state-of-the-art computer systems, weather stations and the targeted use of biocontrol products with ensuring the vintage's success during challenging conditions.
These conditions, having been managed correctly, led to some truly interesting flavours in the 2019 vintage wines. In Cecile's words, they were "conducive to the aromatic expression of the white grape varieties." All in all, the 2019 wines look like they'll be characterised by a "perfect balance between sugar and acidity."
Saved by the soil!
According to Bernard Leon, Technical Director at Chateau d'esclans, the unique weather conditions that characterised this year's harvest are set to create some truly promising wines. 
"Beautiful summer days and cool nights helped seal in the aromas of the grapes," he said of their harvest season, which began in early September. The dryness of the spring and summer months was combatted by their clay-based terroir, which, in Bernard's words, "effectively nourished the ground." Despite it being early days, he's positive about the 2019 wines, stating that "thanks to the unique conditions of this year's harvest, the vintage will be full, aromatic and fresh, while also bearing good acidity." 
Less but better in 2019.
Chateau d'Astros felt the effect of changing climates during their 2019 harvest. Despite carrying out permitted irrigation for two months, extreme dry conditions caused yields to drop by around 35% on average, although this number was an improvement on last year's conditions.
Due to the dry weather and heatwaves in the region, harvest took place two weeks later than expected. But here, the smaller yields had a positive impact; in Nathalie Vidal-Dupre's words, "As we harvested a smaller quantity, we were able to spend time improving our processes to get aromas, and also clear pink wines." Quality, according to her, looks like it will be "just perfect".
You may also like: