Volcanic wines
Explosive wines from the world's most hostile terroirs
In the UK, our perceptions of volcanoes are in the main part handed to us by newsreels. We envisage dangerous, volatile environments: hardly the obvious agricultural site, even for a plant as tough and hardy as the grape vine.
But they are the ideal environment, as John Szabo MW says in his ground-breaking book Volcanic Wines: Salt, Grit and Power, "Volcanism's almighty dark side hides an essentially constructive purpose: the constant renewal of the earth and a rebalancing of the internal forces that make our planet a livable habitat."
The soils at the base of volcanoes are fertile. They are full of minerals, and vines that grow on them produce wines rich in texture and flavour. "Mineral salts help to transport a lot of nutrients and flavours," explains Giovanni Riviezzo, winemaker at Bisceglia in Italy's Basilicata.
They sell well, too. Volcanic soils are responsible for some of the most interesting wines on the market. Besides the common attributes they share of bright acidity, saline character and lifted flavour profile, the wines from these unique soils are made from indigenous varieties and show exceptionally-pure varietal definition. 
Chasing lava: Where are all the v
olcanoes

?

Volcanic wines speak clearly of place, but where exactly do you find them? All over the world, actually. Perhaps one of the most famous is Mount Etna, the site of volcanic producer Tornatore. One of the largest – and oldest – wineries in the region of Sicily, Tornatore owns 46ha of vineyards on the north side of active volcano Mount Etna, 1,000m above sea level. But although Etna steals the limelight, you'll find volcanic soils all over Italy, from Soave in the north to Basilicata in the south.

Travel further north to Hungary, and you'll find a winemaking region littered with volcanoes. Hungary may not be as well known for producing volcanic wines, but a lot of the country's top wine regions are in fact volcanic, like Eger, Tokaj and Balaton. "In Hungary we are still at the beginning of our journey in expressing volcanic terroir," says Tibor Gal, owner of Hungarian winery Gal Tibor, based in Eger. "We have always been conscious about the fact that we make wine on volcanic soils, but we didn't know until the last few years that this is something so special to the rest of the world."

Head back towards the Greek Islands and you'll arrive at volcanic idyll, Santorini. "The buzz around Santorini is undeniably growing," says Perikles Drakos, Export Director at Tsantali in Greece. "The trademark of a Santorini vineyard is the volcanic soil."
All about the soil
So is growing grapes in these soils different to other soils? "We can't say that grapes on volcanic soils ripen earlier or later or differently," says Tibor. "We see that vine growing depends on the density of volcanic soils, shallowness of the upper soil, the steepness and microclimate." Volcanic soils are also known for cultivating phylloxera-resistant vines. "The lack of clay in volcanic soil means vines are immune to phylloxera; therefore the age of the vines can be in many cases more than 100 years for us on Santorini," says Perikles.
Ale Tessari, owner and marketing and export manager at Suavia in Soave, digs further on the topic of soil. "Volcanic soil is one of the most interesting types of soils for growing grapes. In the Soave Classico zone – as opposed to the majority of Italian volcanic areas – the soils have undergone a great deal of evolution and acquired complex structural features.
"They are also often characterised by a marked modification of the minerals, as is evidenced by their great depth and the highly-developed structure of the aggregates, with good porosity distribution and reddish-brown colours."
A sense of place
Place. The buzzword of quality winemaking at present – and volcanic wines are full of it, they shout their heritage from the rooftops. "Volcanic wines are unique," says Tibor. "Each and every volcano has its own taste and the winemaker's aim is to express the precise taste of these volcanoes. We really believe that the volcano shows itself, so we try not to add any artificial techniques or additives, and we would like to leave fermentation and ageing to nature. We believe that this is the most sincere expression."
Ale agrees: "We try to keep the winemaking as simple as possible to let the terroir show itself naturally. We don't use wood (mainly stainless steel) and we filter the wine only once, right before bottling to preserve its integrity."
Although unique, to Perikles there is a distinct mineral character that connects volcanic wines across the globe. "The (much debatable) term of minerality seems to find one of its best expressions in the case of Santorini Assyrtiko. An individual, intriguing mouthfeel that combines high acidity with savoury quality and peculiar density. A fascinating sensory association met in volcanic wines all around the world, despite the enormous variations of the soil types and winemaking traditions."
Distinct quality
With this strong sense of terroir and such special soils, volcanic wines exude quality. They are also incredibly age worthy. "The aroma, structure and acidity of these grapes is perfect," says Tibor. "Not only the quantity, but also the ratio of tartaric, malic and citric acid content is really stable every year. Volcanic wines are not only drinkable when they are fresh, but you can age them for 10 to 20 years and the wine (both red and white) is still in perfect condition."
To Ale, it is the quality that distinguishes wines grown on volcanic soils. "Soave wines produced from volcanic soils are characterised by good complexity and balance, accompanied by a general freshness. Excellent intensity and fullness on the palate are distinctive characteristics of these wines: these qualities are not perceivable in such an obvious way in the products of the neighbouring zones, so they can be directly related to the physical and mineral characteristics that derive from soils of volcanic origin."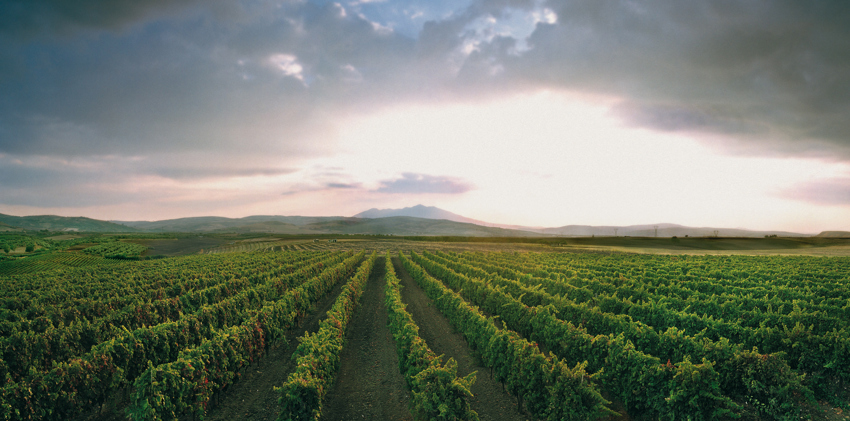 What is volcanic wine?
It's difficult to define a volcanic wine – wines are made from volcanic soils all over the world, each with their own distinct character. So what exactly is it about a glass of wine that makes you think "this is volcanic"? We put the question to some experts:
"Volcanic wines have a deep and ripe minerality, and they can age for a very long time. The aroma, structure and acidity content of the grapes is perfect. Not only the quantity, but also the ratio of tartaric, malic and citric acid content is really stable every year," says Tibor Gal, Gal Tibor, Eger
"From a sensory and organoleptic point of view the so-called mineral hints (together with some stony and sulphurous notes) are becoming ever more associated as an identifying characteristic for volcanic wines," says Ale Tessari, Suavia, Soave
"Besides the common attributes they share of bright acidity, saline character and lifted flavour profile, the wines from these unique soils are made from indigenous varieties and show exceptionally pure varietal definition," says Sarah Mansourian, Bibendum
*Please drink responsibly
You may also like: