Forces of nature: winemaking in the face of climate change
How are wine producers coping with the world's changing climate? Richard Siddle* investigates...
If you glanced through the biggest and most glaring headlines of 2017 you would be forgiven for thinking the world was going through the earliest stages of the apocalypse. Particularly as it seemed whole parts of the world were being ravaged by uncontrollable fires, devastating floods and the worst frosts experienced in 50 years.
The reality, of course, was a little less dramatic, and far more isolated than the initial headlines might have you believe. But however much spin you put on it, the vagaries in the weather resulted in world wine production falling to its lowest level since 1961, according to the International Organisation of Vine and Wine (OIV).
A drop in production of 8% might not sound too severe, but when you consider that is the equivalent of 2.9 billion bottles, or the equivalent of what France normally produces in one year, then you can see why changes in the weather on this scale are so worrying for the global wine industry.
The OIV's director-general, Jean-Marie Aurand, did not mince his words when he said "this drop (in production) is the consequence of climate hazards…"
Global changes
All over the world we are seeing warmer conditions resulting in grapes ripening quicker and winemakers harvesting earlier. Particularly in the warmer southern hemisphere, and key wine producing regions in South America, South Africa, Australia and New Zealand.
But even in classic Old World regions like Burgundy and Bordeaux the harvest, in an increasing number of vintages, has moved forward from mid October to late September, with white wine varieties being picked even earlier.
Just look at South Africa, which is going through its longest drought in over a century.
Producers are also successfully planting and growing vines in the northern hemisphere that were previously thought of as no go zones for wine production.
Now, yes, some of these trends are as much to do with changing consumer tastes for fresher, lighter, fruitier wines, and not the big extracted fruit bombs that late picking of fully-ripened grapes result in. But when local differences in weather patterns start to create global changes then we know there is something very real happening.
What winemakers think
Few wine producers in Argentina have done more to explore the impact of climate change on grapes and viticulture than the Catenas, and in particular, Laura Catena.
Laura is not sure there is enough evidence yet to say the climate is necessarily impacting directly on picking times. "Over the last 50 years we have seen a very gradual increase in temperatures, although in 2015 and 2016 we had two very cold years with a lot of snow in the Andes... So I wouldn't say there is a significant change in picking times."
Clemens Lageder, sixth generation of the winemaking family that has made wine at Alois Lageder in Alto Adige, North East Italy, since 1823, is in no doubt climate change is influencing the wines they can make.
"The extremes are changing faster (from cold to warm weather, dry to wet). In 2016 and 2017 we had frost problems, the first time since the early 1980s. Because of the warm winters the grapes started to shoot earlier, which meant when in April and May we had nights that brought temperatures under 0°C, many farmers lost up to 90% of their yields," he explains.
Water rights
Access to water and then an ability to retain it and use it properly, is a growing challenge for wine producers the world over.
Laura explains they are working hard to find new regions outside Mendoza, "such as La Rioja to the north and La Pampa in Patagonia, where there is greater water availability and extraordinary terroirs with well-drained, alluvial soils".
The issue of water is where the wine world collides head on with the needs of other industries. Laura says parts of Mendoza are suffering from "drought conditions" where the "underground water aquifers are being drained by uses related to construction and having an increased population".
Derek Mossman Knapp, who follows a traditional "garagiste" style of winemaking in Chile with his Garage Wine Company, says the recent devastating fires in Chile were not to do with the climate, but man's over-use of the land."The bushfires last year in Chile were mother earth reacting to wanton and unregulated over-planting of pine trees and misguided management by our forestry industry. There was simply not enough water for so many trees. In a few short weeks after the bushfires, streams that had been dry for years began to run, wells refilled and indigenous plants began to bounce back," he says.
A better scientific analysis of soils and their surrounding area are much needed, says Laura. "We are studying the soil microbiome and I personally think that understanding how rhizobacteria help vines withstand water stress will be one of the keys to fighting climate change."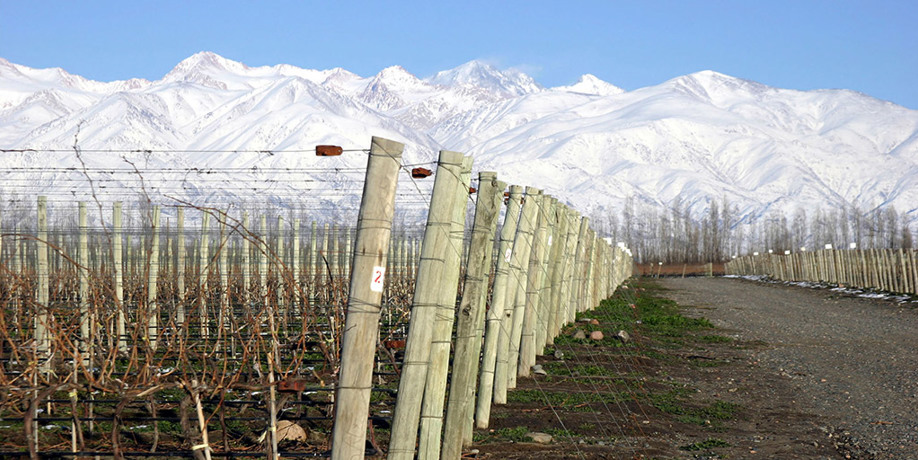 How high can you go?
Increasingly winemakers are having to plant vineyards higher – just to make wine at all, not just the wine they choose to.
Again it was the Catenas leading the way in cool-climate plantings with, as Laura says, steps taken by her father, Nicolas Catena, to "pioneer extreme high-altitude plantings in Gualtallary, Uco Valley". But she stresses that changes in harvest time for its cool climate vineyards are more "related to better vine health" and finding the right new areas with a cooler climate.
There are growing regions across Europe where wineries are looking to go higher and higher. For Clemens, the need to find cooler-climate vineyards is a stylistic one so that you can still "guarantee freshness" and "preserve a certain acidity level in the grapes", which is becoming increasingly hard to do at what were normal vineyard levels, he says.
But interestingly, he argues there are also hard commercial reasons for wanting to plant higher vineyards. "Today it's becoming a trend to look for higher vineyards. The reason to do so is often a financial one as the land on higher altitudes still costs less," he claims.
Nothing new
Climate change is not a new phenomenon. Winemakers for the last 20 to 30 years have been looking at planting other varieties, or using different clones with mixed sugar and acidity levels, to find the ones best suited to changes in their local weather. Rather than stick to the tried and tested, there is now a real need to look at what Clemens says are "exotic grape varieties that are more suitable for higher average temperatures and extreme weather".
"They will play an important role in the future," he adds. "Due to the climate changes, we began cultivating new grape varieties in the mid-1980s to determine which would be suitable for higher average temperatures and extreme weather conditions."
Back to the future
Winemakers are also responding to climate change by going back in history and re-adapting some of the ancient and historical vinification methods used by their predecessors.
It's an approach that is working successfully for Clemens: "We will focus even more on traditional vinification methods, which help us guarantee or even increase the perception of freshness in our wines."
Biodynamic winemaking is also allowing winemakers to pick their grapes earlier, says Clemens. "The physiological maturation of the grapes occurs earlier, which means that we can harvest them earlier. The grapes have a lower sugar content and at the same time a higher physiological maturation. The results are precise, fresh and lively wines."
At a crossroads...
The final word goes to Miguel Torres, the legendary Spanish winemaker and one of the world's leading voices on climate change. Writing in the Journal of Wine Economics paper on climate change he says: "Climate change is the greatest threat for the wine business in general, and for wine growers in particular.
"We are standing at a crossroad, and it is a crossroad about our future and the future of the next generations... Today, many of us act taking only this generation into account, but we should really start to act taking several generations into account. We need to act as individuals, as groups, as countries, but also as companies."
*Richard is an award-winning business journalist. Former editor of Harpers Wine & Spirit he now runs his own website (The-Buyer.net), looking at trends and analysis of the premium On Trade.
You may also like: