Extreme Winemaking
There's winemaking the easy way: in a temperate climate, on nice flat ground, with lots of machinery and chemicals to help. But for some of our winemakers, things get a little more extreme in the vineyards.
Across the world, some brave individuals are truly battling the elements, in pursuit of creating something unique. They might be working at the very limits of where it's climatically possible to grow grapes, fighting gale force winds, or having to bury their vines every winter to protect them from snow. One thing they all have in common, though, is the desire to make truly remarkable wine - regardless of how physically, mentally, and financially draining that might be.
So, let's spare a thought for these mavericks of wine growing, who do what they do best on steep slopes, in desert-like conditions, or in sub-zero, frostbite-inducing temperatures. Meet our Extreme Winemakers...
Otronia and 'Patagonia Extrema'
Otronia is testament to just how extreme winemaking can get. Wines from this southernmost Argentine winery are labelled 'Patagonia Extrema', and for good reason: here, winds can reach staggering speeds of up to 110km per hour, while conditions are arid, with very little rainfall to provide vines with much-needed water.
But these challenging conditions are giving rise to some extremely exciting expressions. You won't find the ripe, full-bodied reds of Mendoza here; rather, high levels of altitude and chilling night temperatures result in linear wines with fresh flavours and electric acidity. The Otronia team practice 'precision viticulture' to combat the challenging continental climates; sprinklers prevent frosts from forming on the vines, and nets help protect the fruit from wind damage. In the winery itself, consultant winemaker Alberto Antonini uses careful additions of oak and blending to combat any austere notes that might emerge. As Maximo Rocca, commercial director of Otronia, puts it: "This is a new way of winemaking, in a new world of wine production."
Try the wine: The Otronia Chardonnay represents the very best of 'Patagonia Extrema'; vibrant, with peach and pear aromas, combined with white blossom and chamomile.

Extreme conditions are a characteristic of this southernmost Argentinian region 
Chateau Changyu Moser XV and the extreme terroirs of Ningxia 
Ningxia is fast becoming one of China's most exciting wine regions. Lying on the fringes of the Gobi Desert, hot and arid days and freezing night temperatures present enormous challenges to the winemakers here - but ones that they are more than rising to.
The challenged vines bear notably concentrated fruit, helped to ripen by the abundance of sunlight hours (approximately 3,000 during the growing season, compared to Bordeaux's average of 2,052) - and the cold night temperatures help wines to retain freshness.
It's Ningxia's winters that really prove the stumbling block for many less experienced winemakers. Temperatures of below -20°C can be fatal for vines; Ningxia regularly sees them reach -25ºC in the winter months. Chateau Changyu Moser XV, one of the leading wineries of the region, has a solution. As winemaker Lenz Moser explains, "We tackle the danger by burying the vines. This is a very labour-intensive process, which involves pruning the vines right after harvest. Then the vineyard is watered for solid moisture and freezing potential. After this, in early November, the vines are buried with soil, simply by holding the vines down manually and then ploughing in around 30cm of soil needed for full protection." 
Try the wine: The Chateau Changyu Moser XV Grand Vin Cabernet Sauvignon is one of the best wines to emerge from Ningxia so far. The plentiful sunshine and hot summers coax fantastically rich flavours out of Cabernet Sauvignon grapes; with plentiful mature berry aromas, rounded by cedar, vanilla and oak, this is a fantastic wine for ageing. 
Lying on the fringes of the Gobi Desert, summer brings arid conditions to Changyu Moser
New wines for new temperatures
Some producers faced with freezing temperatures and frosts are using these challenges to their advantage. Meet Stratus Vineyards, which lies in Canada's historic Niagara-on-the-Lake. While the winemaking team here use 10-metre-tall fans to stand guard over their vineyards and protect most vines from freezing winter frosts, a portion are left unprotected, for a very special reason. 
That reason would be Icewine. Made popular by producers in Germany, many Canadian producers are now taking advantage of their cold winters to create this unique dessert wine, crafted by harvesting and pressing grapes that are frozen on the vine. The freezing process intensifies the sugars inside the grape and concentrates sugar; when the frozen water is pressed out of the grape using immense hydraulic pressure, an intense sweetness is left. 
Try the wine: The Stratus Icewine is crafted from 100% Riesling grapes, and boasts subtle, classic Niagara aromas of lime, grapefruit, honey, and stone fruit. The residual sugar brings considerable weight and depth, countered by a firm natural acidity and complex minerality that lead to a long, expressive finish.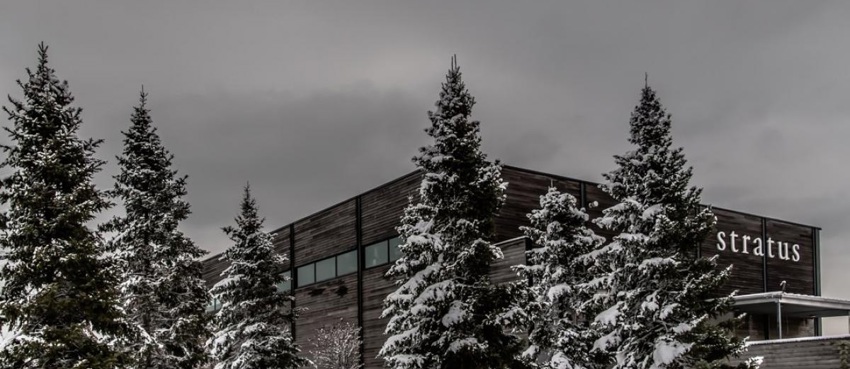 Freezing temperatures at Stratus Vineyards are ideal for icewine production
You may also like: