From big to small: why alternative formats are the go-to this Christmas
It's safe to say that Christmas may look a little different this year. But, although roaring-20s-esque parties, swinging from the chandeliers and big celebrations with extended family are on hold for the foreseeable future, there's no reason why venues shouldn't be preparing themselves to meet festive demands in whatever way they can.
Flexibility is going to be key this Christmas. With no-one knowing what lies around the corner, being able to offer a versatile list will mean venues are set up to answer the needs of any group looking to toast the festive season - even if they're doing it in a modest family group of six. A well thought out list that goes beyond the standard 75cl will also mean that even if rules do change again - as looks increasingly likely - sites will be prepared to face subsequent differences in the way people drink and dine over the coming months.
Go big or go home 
Magnums have long been associated with celebration. After all, what's better than one bottle of wine, than two bottles of wine in one? And, in a year where many people's expectations and hopes for a 'normal', celebratory Christmas are looking likely to be dashed, keeping some sense of festivity going is vital for venues looking to deliver a positive customer experience. It's also fairly fitting that magnums serve exactly six 250ml glasses - perfect for the 'rule of six' predicted to stay in place until 2021.
It's the small things in life
On the flip side, for groups of fewer than 6 - or groups of experimental drinkers, where everyone wants to try something different - small formats will play a key role. With larger parties on hold, venues need to recognise that not everyone sitting around the same table will want to opt for the same wine. Nor, with abstinence from alcohol on the rise, will some want to drink at all - meaning the standard 75cl bottle may just be too much, quantity-wise. Small formats are a key way for venues to demonstrate their flexibility, and ability to offer their customers the best of all worlds.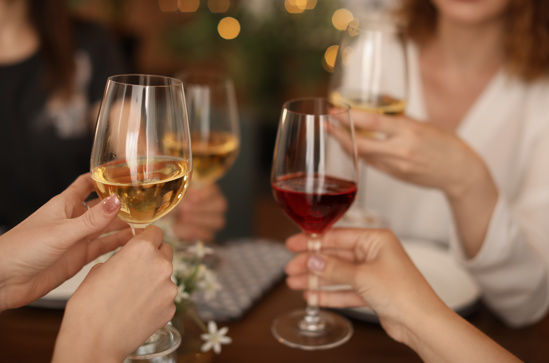 Meet our favourites... the big players
Blanc de Blancs, Champagne Palmer, 150ml 
One of Champagne's distinguished grower houses, Champagne Palmer has been making quality Champagne since 1947. Rich in refinement and aromatic complexity, the Palmer Champagnes rest on their lees in a maze of galleries, deep beneath the city of Reims, for a prolonged period of time - up to ten years for their world-renowned magnums. Their Blanc de Blancs is one of the finest examples of Champagne, with fine floral aromas of honeysuckle and white peach, alongside citrus, almond and brioche. 
One of Rioja's leading producers, Vivanco is renowned for their superb wines that are modern in style, but still reflect the region's longstanding traditions and history. Fourth-generation winemaker Rafael Vivanco Saenz focuses on bright, juicy fruit flavours, and crafts wines that are made exclusively from grapes grown in his family's vineyards. The Rioja Reserva is an intense experience, with aromas of cinnamon and sage surrounded by fruity notes of spiced cherry and blackberry.
Meet our favourites... small yet satisfying 
A giant of the South African wine scene, Graham Beck has firmly established itself as one of the world's leading sparkling producers. Crafted in the traditional method, the Graham Beck Brut is rich in aromas of ripe lime, yellow apple and almond, with light toast and a complex creaminess on the palate. Its fame has led it to be affectionately dubbed the 'President's Choice', having been served at both Nelson Mandela's inauguration and Barack Obama's presidential win.
Chianti Classico, Castellare di Castellina, 37.5ml 
Traditionally Tuscan but with a modern approach, Castellare makes some of the finest wines in the region - and its Chianti Classico is no exception. Rich in aromas of red fruits, plums, spice and tobacco, it's an ideal wine for sipping through wintery days. On the finish, it's lighter than expected, with herbal rosemary and refreshing minerality. 
You may also like: