Selling South Africa: The world's newest classics
It's been a tough year for South Africa. Two waves of government bans on exports and domestic sales are expected to have a serious knock-on effect on the 290,000 people working in the country's wine industry.
Although the bans have thankfully now been lifted, there remains an air of uncertainty around what the future may hold. Given this situation, it's hardly a surprise that many of South Africa's export markets are trying to offer support, and promote the country's wines wherever possible.
Despite the situation, though, this spotlight is more than well-deserved. South African wines have been steadily rising through the ranks for the past decade, both in terms of popularity and quality, and for good reason...
Going international
South African wines perfectly hit a balance between old and new. The end of apartheid in the 1990s also saw the end of boycotts against the country's wine industry, that had been launched in protest. With this, an influx of 'flying winemakers' arrived into South Africa, bringing with them new ideas, techniques, and European influences. With restrictions on yields and pricing relaxing, local wineries quickly soaked these up and incorporated them into their winemaking, causing an unprecedented surge in quality. Some producers quickly began to ascend, reaching levels of global renown, and producing wines that were soon to become world classics.
All about innovation
The relatively recent developments in South African winemaking culture mean that innovation remains rife in the country. Niche products, wines 'with a story' and small-production offerings mean this category is often one of the most fascinating to explore on any wine list. While other older, more established regions have scores of rules and regulations on wine production, the huge amounts of experimentation and innovation going on in South Africa means their wines are always being kept fresh and interesting.
The quality/value balance
Along with this innovative background, South African wines are also often marked by their value for money, compared to other countries' wines of similar quality. An ideal Mediterranean climate and some stunning terroirs mean that when done right, South African winemakers are able to create wines well worthy of standing up to those from Bordeaux, Tuscany, and Rioja - often without the price tag to match. Add to this their fantastic potential for ageing, and it's likely that the stellar trajectory of South African wines is only going to increase in the future, when compared to their big-named European counterparts.
We put together some of our favourite South African producers, each of who is demonstrating exactly why wines from this country are more than worthy of a place on your list...
A giant of the South African wine scene, Graham Beck have firmly established themselves as one of the country's leading names in sparkling wine. They exclusively produce wines made in the traditional method, and since the launch of their maiden MCC in 1991, their range of sparkling wines has been hailed by international icons such as Nelson Mandela and Barack Obama, as well as gaining an array of the industry's most prestigious awards.
Try the Graham Beck Blanc de Blancs for a perfect alternative to Champagne - rich, creamy aromas with fresh lime, and a fantastically fine mousse with an explosion of tangerine flavours make this a celebratory wine to remember.

Graham Beck's stunning winery also has a number of sustainable initatives in place
Stellenbosch's finest innovators: Journey's End
Situated right in the heart of Stellenbosch, and with one of the cape's most exciting terroirs, Journey's End has quickly risen to become a top winery in the region. A minimal intervention approach means their wines shine with beautiful fruit flavours, alongside layers of complexity and expression. Nothing stands still at Journey's End: from the experimental use of amphorae to age Chardonnay, to a market-leading launch of the AR-labelled 'Identity' brand into the UK Off Trade, to their fantastic efforts in creating soup kitchens that provide up to 10,000 meals weekly across the cape - their team is always one step ahead.
Try the Destination Chardonnay, the 'absolute pinnacle of white winemaking at Journey's End', and a perfect example of just how good South African wine can be.

Journey's End have risen to become one of the top wineries in the region
Small production, fantastic quality: De Trafford
De Trafford's attention to detail is exquisite. Nestled between the Stellenbosch and Helderberg mountains, the winery is located on the picturesque Mont Fleur farm, where husband and wife team David and Rita Trafford produce just 3,500 cases of wine per year. It's all about quality, not quantity, here: self-taught in winemaking, David's approach is all about 'coaxing something magical from the land'. Fine art graduate Rita's stunning designs can be seen on the beautiful labels that adorn their equally spectacular wines.
Try the De Trafford Chenin Blanc for one of our favourite examples of South Africa's most famous grape.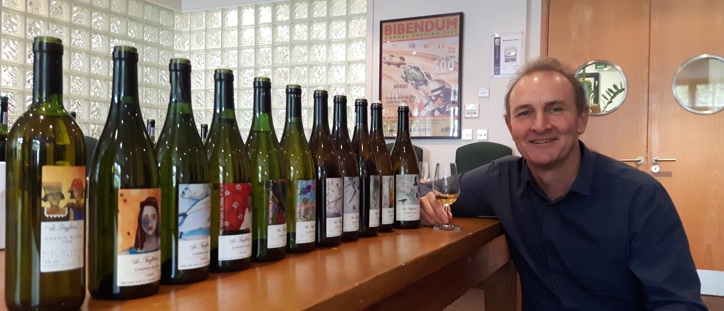 David Trafford with some of the bottles his wife has designed labels for
Perched high up on the picturesque Hemel-en-Aarde Ridge - which, appropriately, translates to 'heaven and earth' - is Creation Wines, stars of the Walker Bay region. The Creation team are champions of the South African trendsetting spirit, with owners Jean-Claude and Carolyn Martin being the first to plant vines in this undulating, remote corner of the country. A uniquely cool terroir, alongside Creation's commitment to farm entirely sustainably, allows for complex wines with notable length and depth.
Try the Creation Reserve Pinot Noir for an invitingly spicy, yet delicate example of South African red, with supple tannins that ensure excellent ageing potential. 

Jean Claude and Carolyn Martin were among the first to plant vines in the area
You may also like: