Bibendum's Homegrown Heroes: Part 2
This month we're celebrating our English wine portfolio, which encompasses some of the very best that this country has to offer.
In the second of our feature articles, we introduce you to some of the biggest movers and shakers in English wine, who are pushing all the boundaries of the category. Read on to meet winemakers not afraid to stray from the beaten path, experience experimental English winemaking, and even become acquainted with some of the best reds from these sparkling-soaked soils...
Anyone accusing English wine of 'trying to be Champagne' hasn't yet met Fitz. The keen young brains behind Fitz eagerly tracked the progress of the English wine industry and all its rising glory for years. Then, they set out on their own winemaking adventure - and did the complete opposite of the status quo.
As they quickly proved, daring to be different when it came to English wine would only make the category stronger. Fitz created England's first Charmat method sparkling, opening up the market to the key demographic of Prosecco fanatics who wanted something lighter, fruitier, a little more affordable, and a lot more fun. Did they upset the balance? Undoubtedly. But what great names in history haven't?
Vineyards at Fitz winery
Where to start with Litmus Wines? Well, it might help if you took the proverbial rulebook of English winemaking and threw it out the window. It was never John Worontschak's intention to do anything that had been done before - his decades of experience had seen him work across some of the world's most unusual wine cultures (think Peru, Mexico and Russia), and thrive in doing things differently. So, when he took over winemaking at Denbies, it was almost inevitable that a corner of the winery would be reserved for something a little more experimental.
Litmus' approach is suitably outside the box. Here, the focus is on still wine rather than the classic English sparkling, and the range is crafted with the aim of being food-led. Robust, complex characters dominate, rather than the delicate aromas and English hedgerow florals often found in wines from these shores. John's experimenting with an Orange Bacchus, sweet wines, and cans too - watch this space.

The team at Litmus Wines, including winemaker John Worontschak (centre)
Red grapes might not be what springs to anyone's mind when they talk about English wine, but Bolney are setting out to change that. Sam Lintner is a champion of Pinot Noir on these shores, and is reinventing the wheel when it comes to red winemaking in England. Earlier attempts with Merlot may not have paid off, but now, she's even experimenting with Cabernet Sauvignon (found in their Lychgate) and a sparkling red.
Bolney's Pinot Noir doesn't have much to do with the vegetal, rounded red fruits found in examples from the rest of the world. What Sam is doing instead is creating something entirely different - and entirely English - in nature. Her Pinot Noir is light, fragrant, and fresh, more full of rosehip and raw plum than raspberry and liquorice. 22,000 bottles were produced in 2018, which stands testament to how popular their signature style is becoming. And, not content to rest on their laurels, Bolney also produces a fabulous range of sparkling and white wine, alongside hosting over 10,000 visitors a years, supplying British Airways and Wimbledon, and being the first English winery to gain mainland distribution in China. Not bad for a boutique, family-run operation in Sussex.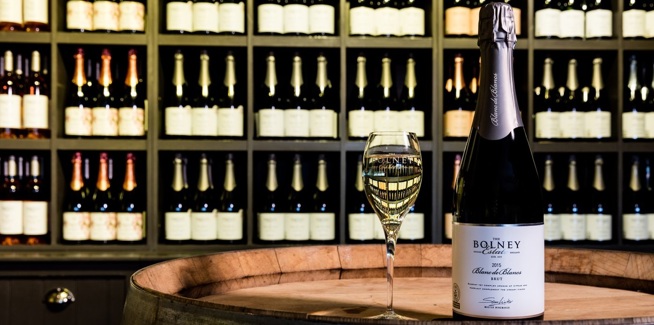 Bolney Estate also produce a fantastic range of sparkling wines
Vineyards in Norfolk?! You can imagine the reaction of the traditionalists. But, in this little section of the Waveney Valley, vines are subject to some of the sunniest, driest conditions on offer in the whole of the UK - not to mention some spectacular soils, rich in (you guessed it) flint.
You might think that giving up city careers and opening up a winery in a lesser-travelled area would be challenge enough for husband and wife team Ben and Hannah Witchell. Not so. They may be one of the new players on the English wine scene, but they aren't afraid to push the boundaries of the category - whether it be launching a Pinot Noir Precoce, experimenting with a Pinot-dominant white blend, or favouring Charmat over traditional methods in their sparkling wine. Although - it should be noted - their more staunchly 'English' Bacchus is one of the best on the market, too.

Husband and wife team Ben and Hannah Witchell, of Flint Vineyard
You may also like: