White rum: from Cuban to Cachaca
Rum often sits on our bars only to be used for the usual mojito, daiquiri or Bacardi and coke. Yet it is undoubtedly the most diverse spirits category out there. As such, we decided to delve a bit deeper into white rum specifically at our latest Explore Spirits event. So what happened when we threw a group of fore-running bartenders into an underground bar spilling with the stuff? A 10 flight blind tasting and detailed critiquing of course.
The origin of rum. Easy question, right? Definitely linked to those 'pirates' and explorers of the West Indies who first made this tipple so famous? Not quite! Long before the Caribbeans first distilled sugarcane, it was being grown in Papua New Guinea, and the Indians were making distillates from this sweet material.
However, while they might not be the first makers of rum, they are certainly the most famous. Sugarcane was brought to the Caribbean by Christopher Colombus at the end of the 15th century and production of the spirit has boomed ever since.

Neat and ready
The bar at Trailer Happiness, Portobello Road, was definitely not short of alcohol when we put white rum through its paces earlier in September. Ten flights of rum (five of which neat) is no mean feat for a Monday afternoon, but our drink industry pros met the challenge willingly, and after a quick introduction into the world of white rum, Bibendum ambassador Christina Schneider soon had us sipping away at the first flight of Cuban/Cuban style rums. All blind, of course.
We began with the big names, from Bacardi to Don Q, but it was Havana Club 3 Year who came out on top. One of our tasters Romain de Courcy, sommelier at Gazelle in Mayfair, described it as "great, an all-rounder, serve shaken and long", praising its "aromatics, ripe banana and oily palate". In fact, the general consensus was that it was quite the surprise.
Next, we moved onto the Caribbean flight. This five-part tasting featured producers such as Brugal, The Real McCoy and Appleton. Here, the winner was Plantation Three Stars, the double aged, multi-island rum that Christina would mix with "something feisty" to go with its punchy Caribbean flavours. Heading over to mainland South America for flight three, the Cana Brava 3 Year Old took first place. Produced in Panama and aged in both new American oak and first-fill whiskey barrels, the nose shows flavours of freshly cut grass and coconut, with a smooth chocolatey finish on the palate.
Flight four was something a little different. Rhum agricole is made from sugarcane juice instead of the usual molasses, producing highly aromatic and hugely sophisticated distillates that got all of our bartenders excited. Of the three we tried (all of which scored highly), Clairin got the top marks. While it scored well, its herbal quality was an acquired taste and the HSE also went down a treat as a delicious crowd pleaser.
Our final neat flight was made up of four cachacas. In short, cachaca must be made in Brazil and can have some sugar or starch added. We tasted away, and Abelha Silver beat the rest (Sagatiba Cristalina, Yaguara and Leblon) with its "easy, light" nature, according to Christina.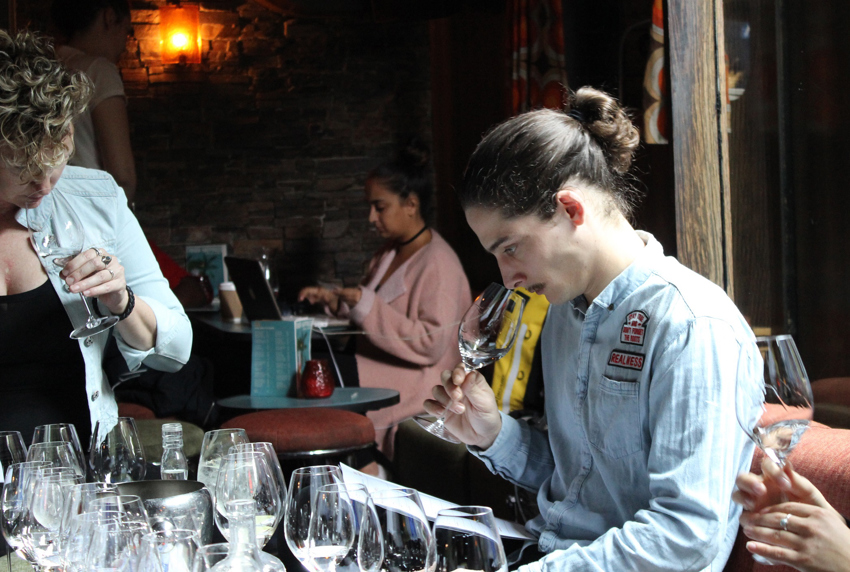 Shaking things up
Five minutes to cleanse the palate and we're on to the challenge of tasting cocktail flights. For a fair comparison, we had all of them served as either Daiquiris, Ti Punch or Caipirinhas, with the same recipe used for each category (check out below to see the specs we used for each.)
Havana Club held onto top spot of the Cuban style rums, the only rum to win in both its neat and cocktail category. The Real McCoy won the next round for Caribbean rums, with Diplomatico Planos coming top for the mainland South American spirits. Kieran Rocks, from Merchant House, liked the "pineapple, tropical" nose, and the "sharp, coconut" flavour of the Diplomatico daiquiri, of which Leo Snaefeld, Icelandic-born London bartender, agreed, adding a "woody" character to the description. The woodiness is no surprise – the Planos rum is made up of a blend aged up to six years in barrels.
HSE and Trois Rivieres tied for first place in the Ti Punch battle. To let the aromatics come through, Christina recommends keeping it simple and serving it "neat and naked" with fresh lime juice and sugarcane syrup (check out her recipe in the White Rum Guide.)
To finish a gruelling but fun afternoon, we had a final flight of cachaca cocktails. Sagatiba Cristalina and Yaguara drew in first place, both impressing with their ripe, fruit-led flavours.
Our cocktail taste test specs:
Spirit : lime : sugar syrup (2:1 sugar and water respectively.)
Daiquiri - 60:20:14
Ti Punch - 60:10:10
Caipirinha – 60:20:18
The Winners
The overall highest scorer was the Clairin rhum agricole, while the exciting surprise of the day was the Havana Club 3 Year, as while well-known it did not have the premium reputation of some of the other brands tasted, offering great bang for your buck.
Explore Spirits Series
These new spirits tasting sessions were launched a few months ago, with the aim of challenging the perceptions of what we're drinking. By hosting totally-blind category tastings we remove the focus on branding and get back to the good stuff: what's actually in the bottle. You'll be surprised what you find yourself liking when those preconceptions are swept away!
Drinks journalist Clint Cawood said of our first Vermouth session, "I thought this was a great exercise, and really worth trying such a wide variety of products blind, as well as road-testing them in some classics. It's always good to challenge your perceptions of a category like this."
We will be running our Explore Spirits events throughout the year. Keep your eyes on our website or follow us on Twitter and Instagram for details on the next event.
Check out our Explore White Rum guide to learn more about this diverse distillate and find some great recipes for rum-filled cocktails.
You may also like: