Sustainable spirits: 5 minutes with Discarded's Joe Petch
Discarded is a sweet vermouth infused with 'cascara', a bi-product of the coffee industry that normally ends up in landfill. So what made seasoned bartender Joe Petch think it could form the basis of a ground-breaking new addition to some of the world's best cocktail bars? Sophia Godyn caught up with him to find out.

SG: I imagine very few people have ever heard of cascara, can you describe what it actually is?
JP: Cascara is a waste product in coffee production and each year, billions of tonnes are either thrown away or composted into fertiliser for the next crop of coffee.
SG: And how did you discover it? It's not something you'd normally come across in London!
JP: Two years ago, one of my barista friends gave me some cascara, which I started to experiment with and blend with a variety of syrups, distillates and vermouths.
SG: What made you think "this would taste great as a vermouth..."? 
JP: I found that cascara has a complex, rich and fruity flavour to it that complements the bitter sweet flavours found in vermouth. I also found that the addition of a cascara extract made the sweet vermouth more accessible and versatile when mixing into cocktails. I have tried many vermouths in my career and Discarded is like nothing I have tried before.
SG: Was the fact that cascara is normally wasted an important factor in developing Discarded?
JP: Billions of tonnes of cascara are thrown away each year in the process of making coffee. Discarded vermouth aims to give new life to the fruit.
SG: What made you think that the market was ready for your new creation? 
JP: The market is always ready for new exciting production, it's just about the right timing and how it reflects the interests of customers at the time. Interest in vermouth, coffee and low ABV drinks is booming. Couple that with the focus on sustainability, and you have Discarded!
SG: What's the best way to drink Discarded?
JP: I always encourage people to first try it as a D&T - Discarded and Tonic, with a slice of orange!
Signature Serve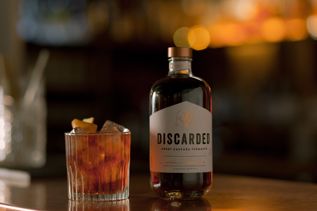 The Discarded 
- 40ml Discarded vermouth
- 30ml Monkey Shoulder
- 30ml Campari
- Orange Twist
Method: Stir over ice and garnish with the orange twist.
You may also like: