Is the gin boom slowing? Not in the slightest. But it's changing...
It's nothing new to say that gin has experienced huge growth over past decades, but it's the super-premium gins that are driving the category forward.
Despite many anticipating a mass rebellion against all things juniper-based for some time now, UK consumers are remaining as faithful as ever to their beloved gin. However, that's not to say that nothing in the category is changing. As consumer interest in an over-saturated mass of bland, uninventive products starts to wane, increasing numbers of people are turning to an entirely new segment: ultra-premium gins. 
Less but better
It is here that sales of gin are continuing to grow at an ever-increasing rate; almost unbelievably, at a rate five times that of the total category. The UK as a whole is progressively drinking 'less but better', and with that comes the opportunity for quality products at higher price points to shine. It's a trend visible in famous brands and venues throughout the UK, with 40% of gin listings in high-profile outlets now categorised as 'ultra-premium'.
Cambridge Distillery are leading the charge to premiumisation with their delicious and beautifully packaged offerings, beloved by some of the world's top bartenders and retail outlets. Having been awarded the World's Most Innovative Distillery three times consecutively, they are viewed as a frontrunner in the ultra-premium segment, notably boasting growth figures that are leaps and bounds ahead of their competitors. Over the past three years, sales have increased 266%, in comparison to the category average of 156%. It's worth noting that both these figures are significantly higher than the 64% growth rate of the gin category as a whole.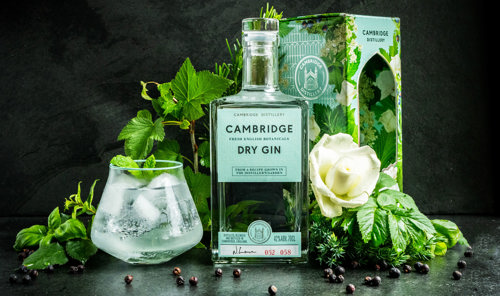 A quintessential gin
The gins themselves epitomise everything producers should be doing to stay ahead of the trend. Every bottle is produced by hand just outside Cambridge city centre, using locally sourced botanicals that enable the distillery to tap into the UK's current love of regional products. Alongside their flagship 'Cambridge Gin', promising to offer a quintessential taste of the English seasons with its profile of lemon verbena, rosemary and blackcurrant leaf, stand several unique products; a Japanese gin with yuzu, shiso and sesame, an offering flavoured with black truffle, and even one that lists red wood ant distillate in its ingredient list. The products speak for themselves in terms of quality; every gin released has gained at least one gold medal at international competition level.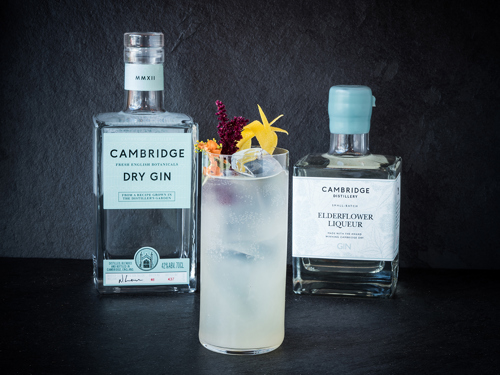 The perfect summer serve
40ml Cambridge Elderflower Liqueur
20ml Cambridge Dry Gin
20ml fresh lemon juice
10ml sugar syrup
100ml tonic water
Fill a long glass with ice, and add your favourite tonic. Shake the first four ingredients quickly with ice, and pour into your glass. Garnish with lemon rind and your choice of edible spring flavours.