Harvest 2019: New Zealand
2019 has been quite possibly the best vintage ever for New Zealand winemakers. Each of our producers has reported practically perfect growing seasons, with low disease pressure, lovely weather and an absence of major weather incidents. It seems we have some exciting wines on the way!
"It isn't often you receive glowing reports from every major wine-producing area in a country for one vintage," says Bibendum buyer for New Zealand, Jamie Avenell. "New Zealand has been climatically fortunate this year and it seems our amazing producers are making the most of it. Fantastic concentration, balanced acidity and impressive opulence will be the hallmarks of the 2019 vintage."
Hawkes Bay and Martinborough
The best vintage EVER
Craggy Range had a warm, dry ripening period across each of these two regions. With only minor rain events through vintage, picking decisions were based purely on the optimal ripeness of the grapes. The resulting wines show incredible depth, concentration and balance. "To say that vintage 2019 will go down at Craggy Range as one of our greatest ever is potentially underselling it," enthuses chief winemaker Julian Grounds.
Gimblett Gravels, Hawkes Bay
Long, dry sunny days, without being overly hot, produced stand-out Syrah in Gimblett Gravels this year, while the Chardonnay is looking very expressive, with balanced flavours and acidity. The Merlot was clean, intense and perfumed and the Syrah was "majestic", according to Julian, with less pepper character this year but lovely fruit purity and intensity.
Martinborough
A combination of lower crops and small berries has resulted in some exciting Pinot Noir in Martinborough. There was no disease pressure and "days of open, sunny skies", says Julian. The prestige blocks produced intensely-flavoured grapes, and a larger portion than usual will be whole-bunch fermented this year. The Sauvignon Blanc grapes were nothing short of perfect, with great phenolics and acidity.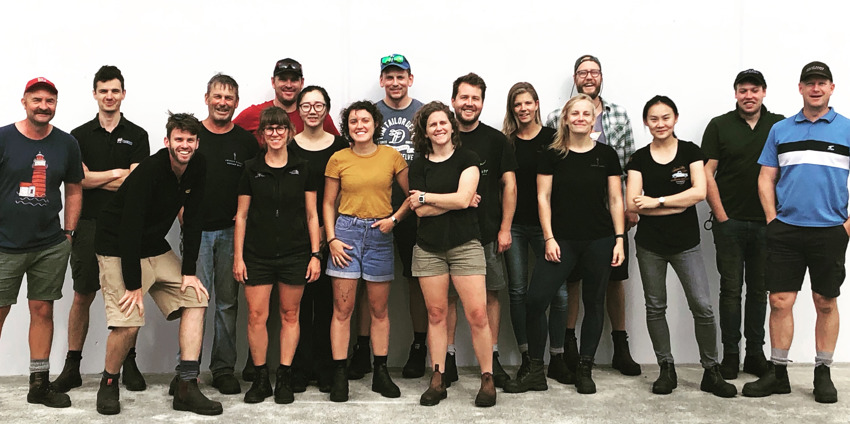 Gisborne
Epic, to say the least!
Winemaker James Millton is hailing 2018/19 the best growing season since 1998. With no frosts to disrupt flowering and warm conditions for fruit set, there was huge excitement in the winery during the lead up to their 35th harvest. Watch out for this year's Chardonnay, Viognier, Pinot Noir and Syrah. Viognier from the steep hillside site of Clos de St Anne is "like we have not seen for many years: full, rich, and saline" says James.
Summer was warm in Gisborne, with high heat in December, but early January moderated by the cooling sea breezes flowing in from the east. The vineyards suffered little disease pressure, but powdery mildew remains a challenge and requires vigilance. Sulphur and silica are used for general vine protection, but these are supplemented with lees from the cellar, bentonite and seaweed.
Harvest began when the moon moved into the constellation of the fire sign Aries, and the grapes were at optimum phenolic ripeness. The fire signs are associated with fruit/seed cultivation and so for biodynamic winemakers this is the best time to begin harvesting, grape seeds being a crucial source of polyphenols in wine. The Pinot Noir was exceptional, with a small crop yielding 25hl per hectare. The Viognier fruit was ripe and apricot hued, coming in with an ABV of around 13.4%. The Chardonnay was beautifully ripe, with balanced acidity. The Chenin and Riesling both have crisp acidity and full phenolic flavours, despite heavy bird pressure which led to earlier picking and therefore, slightly lower ABV. The reds are looking exciting too with small, intense bunches of Malbec producing some delicious juice already.
Marlborough
Could 2019 be Marlborough's best ever vintage? It's certainly looking that way, with each of our producers sending glowing reports from their vineyards and wineries. Look out for beautiful ripeness, perfect sugar-acid balance and great concentration in 2019's Sauvignon Blancs!
Clean wines, low yields
Paul Bourgeois, chief winemaker, cites 2019 as a dream year for any winemaker. "We had very dry and warm conditions leading into harvest, which led to the earliest picking dates for most blocks that we've ever had!" he explains.
Their Sauvignon Blanc is looking perfectly balanced: both ripe and fresh, with lovely depth of flavour. The Pinot Noir is intensely pronounced, with very low quantities and perfectly clean fruit. Both varieties are deeply concentrated, Paul is excited to report that they are fabulous wines in the making! 
A top Marlborough vintage
Claire Allan, winemaker and owner, suggests that "2019 shows all the potential of being one of Marlborough's finest harvests." A damp but warm spring set the vines in good stead for a dry summer, and they definitely needed it: "the beautiful weather continued nearly every day until harvest!" says Claire.
Harvest began 21 February, and all eight of their grape varieties were picked at perfect sugar balance over the following seven weeks. In their organic vineyards they also practice biodynamics, and so on 26 April, the final day of harvest, they applied Preparation 500 (learn more about this and biodynamics here) to the vineyards and so marked the end of harvest 2019.
Now in the winery, the wines have all finished fermenting and are currently resting on their lees in tanks and barrels. So far they are tasting spectacular, and Claire is excited to see how they turn out as they continue to develop and mature.
Exceptional conditions and fruit
Marlborough experienced a particularly dry, warm summer this year and harvest followed traditional timings. The Chardonnay was of stunning quality, if slightly low in yield, with very small bunches of ripe, concentrated berries. The handpicked fruit was pressed directly to puncheons and barrels to undertake natural fermentation. Although the season was relatively warm, the team managed to pick the fruit with a generous amount of acidity, giving a mineral, focused style of Chardonnay.
The Sauvignon Blanc also fared well, and is now resting in small, stainless steel tanks and a variety of old neutral barriques. At this stage the wine has wonderful texture and layers, which should develop into complexity with extended time on lees. The hand-harvested Marlborough Pinot Blanc was luscious, ripe and concentrated. This was whole-bunch pressed and put into a cement concrete egg to undergo a very long natural fermentation.
Expressive, flavoursome and fresh
A dry summer resulted in low disease pressure and optimal hang time. The vines produced intense varietal characters at lower-than-normal sugar levels, which enabled the team to pick grapes with beautiful crunchy acidity. The wines are looking expressive, flavoursome and fresh. A very exciting year in short!
Wines that will age gracefully
"The dry 2019 vintage has created a bounty of intense flavour and quality" says chief winemaker, Nikolai St George.
From veraison and throughout the growing season, the hot, dry conditions suited Giesen's vineyards to a tee. Consistently sized bunches of grapes ripened evenly and more loosely than usual, meaning air circulated easily and there was no disease pressure. "It was the vines' vintage to shine, and they really did," says Nikolai.
The wines so far can be described as concentrated, textured and structured. As Nikolai explains, "This structure, coupled with intense aromatics, means the 2019 wines have freshness, full flavour and good acid, a guarantee that they will age gracefully." 
Central Otago
A special vintage
Prophet's Rock winemaker Paul Pujol is excited about his 2019 vintage, describing the early wines as, "very aromatic, with concentration, bright acidity and lots of red fruits and florals in the Pinot Noir". He's looking forward to seeing them evolve and predicting a "special vintage".
After a slightly unstable start to the growing season, including periods of heavy rain and cold spells, fruit set in December was good, with even-sized bunches. Then a mixed January turned into a stable February and a summer of warm (but not overly hot) days and cool nights – textbook conditions for high quality grapes!
Harvest started in the last week of March, with picking spread out over a nice, manageable period, "which was great", says Paul, "as our new winery was still under construction(!)" The fruit that they brought in was "very clean, ripe and with really good acidity, all making things easy in the winery" he concluded.
Perfumed Pinot Noir
The 2019 vintage was relatively drama free for Kelly Washington wines and their growers. "After the last few years when all varieties ripened at once, the slow, steady and spread out nature of 2019 was welcomed," says winemaker Tamra Kelly-Washington.
Usually a very late pick, the fruit in Gibbston, Central Otago ripened earlier than previous vintages. This meant they were able to pick prior to any frost fighting activities that could have impacted on fruit quality. A very quick and even flowering, fruit set and veraison produced even bunches, with consistently-shaped berries and ripeness levels. At this stage the wine is showing lovely perfume and fleshy characters that typify Gibbston Pinot Noir.
*Please drink responsibly
You may also like: