A tale of two charrings: Jameson Black Barrel and the Irish Whiskey story
Whiskey and Ireland have gone hand in hand since time immemorial. Once the golden child of the spirits industry, Irish whiskey's tumultuous past has seen it rise and fall from grace time and time again - but the rollercoaster appears to be at an end. Now the fastest growing spirit in the world every year since 1990, with exports increasing 15% per annum, new and innovative Irish whiskeys are emerging onto the market to do battle with the finest from around the world - and Jameson Black Barrel is one of our favourite discoveries. 
The boom of Irish whiskey 
Whiskey - or 'uisce beatha', meaning 'water of life' in Irish - was one of Europe's earliest distilled drinks, dating back to the 12th century. Irish monks brought the drink to Ireland from the Mediterranean, where they had learnt the art of distilling perfume (but, quite sensibly, realised this was a process transferable to a far superior outlet). 
Its 'golden age', though, didn't come into full force until the 19th century, when - for a while - it even superseded its Scottish rival across the sea, in terms of popularity. The historical debate between these two industry giants still rages, but one thing was certain: throughout this century, Irish reigned supreme. 
Sadly, this victory over Scotch wasn't to last. Over the next century, temperance movements and US prohibition, the Great Famine and the Irish War of Independence all culminated in less than favourable circumstances for whiskey production and exports, and by the mid-1970s, there were just 2 official Irish distilleries left in operation: Bushmills, and Old Midleton Distillery. The latter of these, where Jameson whiskey was born, continued still to do its thing with true style - never compromising on quality or cutting corners.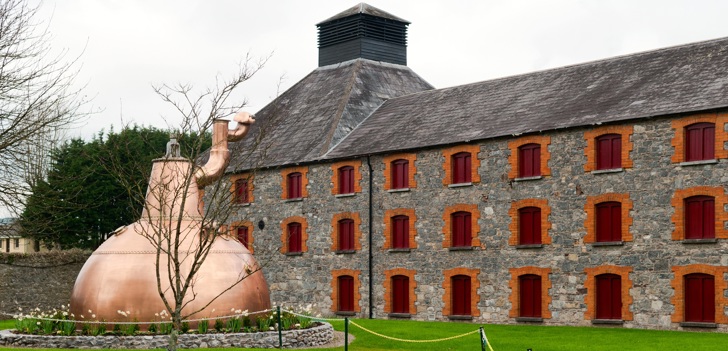 The  Old Midleton Distillery in Ireland, where Jameson was produced until 1975
Innovation and tradition
Jameson started out in the 1770s, when founder John Jameson kickstarted his dream of breaking into Dublin's whiskey business. Now, of Ireland's 32 distilleries, Jameson sits at the pinnacle of their success. The country's most popular whiskey, it holds a whopping 79% of market value share, and is largely credited with driving the growth that has returned Irish whiskey to the spirits hall of fame where it belongs.
But, that's not to say Jameson are content to rest on their laurels. Far from it, actually. The distillery continues to constantly experiment with new methods of distilling, blending and charring. And, it was a stroke of genius with the latter that gave birth to Jameson Black Barrel. 

The distinctive black barrels from which Jameson Black Barrel gains its name
Smoothness Redefined
Jameson Black Barrel is, in essence, an homage to the age-old practice of charring. Commonly seen in bourbon, charring involves treating fresh oak barrels with fire, burning down the wood's structure to allow the liquid to better penetrate it, and caramelising interior surfaces. Unlike the Scots' favoured practice of peating, charring doesn't produce primarily smoky flavours. Rather, the aim here is to change the nature of the oak itself, in order to yield the best possible reaction between wood and whiskey: the production of those sweetened, caramelised flavours of butterscotch and vanilla that make certain whiskeys so enjoyable. 
After being triple distilled, Jameson Black Barrel ages in oak barrels that have been painstakingly charred not once, but twice, by the distillery's expert coopers. Through this additional charring - the visual results of which give Black Barrel its name - flavours are intensified, and extra richness and complexity are coaxed out of the wood.
These additional layers are what makes the whiskey itself so special. With a warm, spiced vanilla palate, it brims with intense aromas of butterscotch, fudge and creamy toffee, alongside a distinct smokiness and toasted wood. Added filtration from carbon in the barrels strips back unwanted compounds too, and the result is an astounding smoothness that's rare to find in the category.
Serve it up
Although the Black Barrel is easily enjoyed neat, we like it best in that ever-classic cocktail: the Old Fashioned.
Ingredients
- 50ml Jameson Black Barrel
- 5ml sugar syrup 
- 2 dashes of angostura bitters
- 3 dashes of orange bitters
Method
Stir in an ice-filled rocks glass, and garnish with orange zest and a slice. 
You may also like: