Whiskey the 'American' way
For our third Explorer Series blind tasting, we lined up 20 American whiskeys and put them to the ultimate test, all in the underground vault of Soho bar Milroy's. Following four neat flights, drinks pro and Bibendum ambassador Christina Schneider knocked up 20 cocktails – but who came out on top?
It's important to firstly note that we are only talking about straight American whiskey. This is, most simply, an alcoholic beverage distilled from fermented grain mash and aged in oak. The grains used, in varying proportions, are usually a mix of corn, rye, barley (both malted and unmalted) and wheat. The US law on this distillate is complex, so check out Christina's guide for the full explanation.
The making of whiskey involves four key processes. Mashing, whereby the grains are cooked in order to allow for the sugar conversion; fermenting, in order to turn that sugar into alcohol; and a double distillation, which results in a clear spirit called 'white dog' or 'green whiskey.' This is finally diluted to about 62.5% ABV before barrel ageing. Again, see the guide for more detail!

Round one: straight up
We decided to blind taste the most-used and best-loved brands, putting aside all preconceptions, and letting the taste buds and noses of our bar industry panellists do the talking. The results are pretty fascinating, with one thing being clear: we all like our whiskey a little differently.
The tasting started with eight of the big names' 'entry level' products. Wild Turkey came out on top, with Evan Williams Black Label's "caramel and spiced" character also doing well among our drinks industry geeks. Zita Tari, bartender at Milk & Honey, loved Wild Turkey's palate of "honey water and orange blossom" and nose of "chocolate and bread". She'd drink it straight, while Romain de Courcy, sommelier at Gazelle and Wine Minds apprentice, recommends it mixed in an Old-Fashioned.
During the next flight, we met some of the previous flight's older, bolder siblings. Four Roses Small Batch, Jim Bean Double Oaked, Evan Williams White Label and Wild Turkey 101 battled it out in the mid-range category, with Wild Turkey yet again proving its worth. Bibendum's own Darren Flanagan loved Wild Turkey 101 for its "dried fruit, honeyed, toasty" character, reminiscent of dessert wine. "It's very versatile, could be a 10/10 sour," he said. Romain also scored Four Roses Small Batch highly, as a "good all-rounder, with dried apricot, mint and a light petrol note on the nose."
The final bourbon flight comprised of three premium brands. Elijah Craig and Knob Creek jointly scored the highest, while Woodford Reserve split opinions. For Christina, the Woodford showed too much bitterness and a "salty, anchovy" character. On the other hand, Matthias Ingelmann, head bartender at Untitled, praised its full-bodied nature with "lots of texture". Christina scored Knob Creek a 9/10: "it's ballsy and spicy – very grown up," she said.
We ended the neat tastings with five rye whiskeys. Rittenhouse Rye blew the others out of the water and was the only spirit on the day that scored highly with all our industry tasters. Pierre-Marie Bisson, general manager at Milk & Honey, noted its "smooth nose of caramel and gingerbread" and palate with "hints of honeysuckle". Easy-sipping was the word on most people's lips. While Bulleit Rye got scores from both ends of the scale, Jake Bidmead from Burger & Lobster gave it an 8 for its "balanced sweet and spicy palate."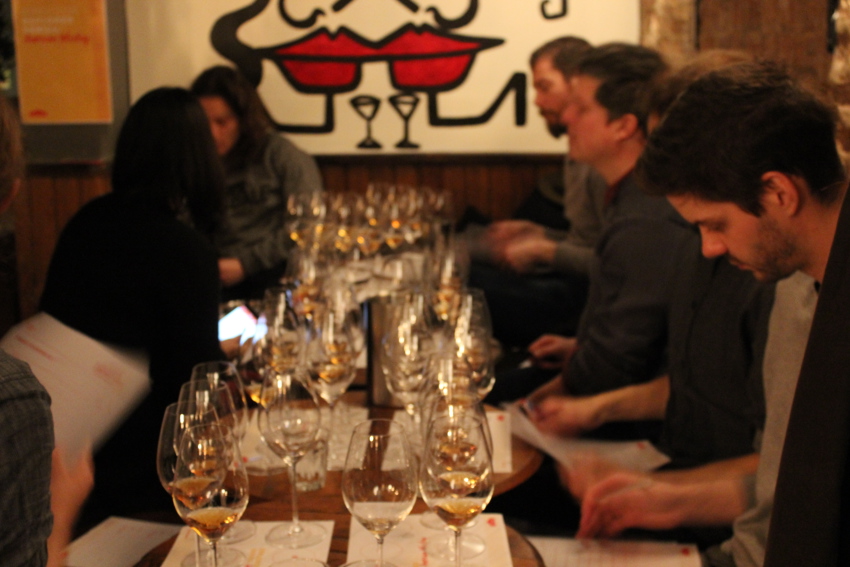 Round two: shaken and stirred
This time, we tasted all the same brands (in a different order) in cocktail form. The Old-Fashioned recipe for the bourbons, and the rye Sazerac's, were as follows:
Old-fashioned
Sazerac
60ml bourbon   
    60ml rye
10ml simple syrup (1:1) 

 

 

 10ml simple syrup (1:1)
2 dashes Angostura   

 

2 dashes Peychaud bitters
 
1 dash Absinthe
Considering the scores for Wild Turkey in the neat flights, it's no surprise that both the standard and the 101 whiskeys topped the cocktail leader board in their respective flights. Sharing a citrusy, spiced and fresh palate, the tasters agreed that in an Old-Fashioned, Wild Turkey really shines through and comes to life. James Mills, from Mint Gun Club, noted hints of "nutmeg and mace" in the Tin Cup cocktail, while Zita liked the layers of Buffalo Trace: "spice on the nose, liquorice and an orange finish on the palate," she said.
In flight three, Som Saa's Karla Cummings enjoyed the "good mouthfeel" of Elijah Craig, and Christina agreed, citing this cocktail to have the biggest bourbon kick to it. Knob Creek fetched consistently good scores, while Woodford Reserve divided opinion yet again in its cocktail form. For some, too much bitterness came through – but for Darren (Bibendum), it was a "good balance of all the ingredients, very herbal, yet still boozy with a nice finish".
We finished on a high with the rye Sazeracs. Wild Turkey Rye and Rittenhouse both performed well, with the former coming in first. Yeshua Garcia Martinez, bartender at The Four Seasons, loved its "complex, explosive" flavours and most people agreed.
A blended consensus
As Christina pointed out at the end of the tasting, if we've learnt anything it's that people's tastes for whiskey is incredibly diverse. Of course, personal preference comes into play with any subjective tasting. But this Explorer Series tasting saw a much clearer picture of divided opinion than before. Some of our bartenders wanted heat, body and spice – others wanted delicacy, fragrance and freshness. These differences in palates were clearly reflected in everyone's scoring.
Overall, there was a small trend for the premium whiskeys scoring higher, and the more entry level products scoring lower. But this is by no means gospel. If looked at individually, the premium products were also out-scored by many of the cheaper-end whiskey's too.
Were our panel surprised by the results? Not particularly, but many were happy to see old favourites match (and surpass) expectations, while others were a tad disappointed in some of the brands that they pour every day.
The results:
Neat
Gold
Silver
Bronze
Flight 1
Wild Turkey
Evan Williams Black Label

Maker's Mark

"vanilla, coffee" - James M

Flight 2
Wild Turkey 101
Jim Bean Double Oaked
Evan Williams White Label
Flight 3

Elijah Craig

Knob Creek

-
Woodford Reserve
Flight 4 (Rye)
Rittenhouse Rye
Woodford Rye 
Lot 40
 Cocktails
Gold
Silver
Bronze

Flight 1

(Old Fashioned)

Wild Turkey

Jim Bean White Label

"good structure, body and balance" - Romain

Four Roses Yellow Label

Flight 2

(Old Fashioned)

Wild Turkey 101

Evan Williams BIB

Four Roses Small Batch

-

Flight 3

(Old Fashioned)

Elijah Craig
Woodford Reserve
Knob Creek

Flight 4

(Rye Sazerac)

Wild Turkey Rye
Rittenhouse Rye

Lot 40

"good balance" - Zita
Explorer Series
Our spirits tasting sessions were launched with the aim of challenging the perceptions of what we're drinking. By hosting totally-blind category tastings we remove the focus on branding and get back to the good stuff: what's actually in the bottle. You'll be surprised what you find yourself liking when those preconceptions are swept away!
Drinks journalist Clint Cawood said of our first Vermouth session, "I thought this was a great exercise, and really worth trying such a wide variety of products blind, as well as road-testing them in some classics. It's always good to challenge your perceptions of a category like this."
We will be running our Explorer Series events throughout the year. Keep your eyes on our website or follow us on Twitter and Instagram for details on the next event.
You may also like: