Summer of Riesling
Tried one Riesling tried 'em all? Not so! Riesling is an extremely versatile grape, which can produce wines in a whole range of expressions from mouth-puckeringly dry to outrageously sweet. But if you think this poses a food-pairing nightmare, don't despair. We've tried a whole range of dishes with different styles of Riesling to bring you our definitive 'Summer of Riesling' guide.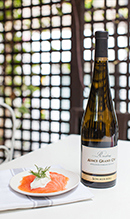 The classic
Biecher & Schaal Riesling Sommerberg Grand Cru, Alsace, France
What does it taste like? This classic Alsatian Riesling is bursting with flavours of peach, lemon, honey and smoke, balanced by a delicate lemon acidity. The body is light, dry and subtle.
And the food match? This elegant Riesling pairs beautifully with an equally refined amuse bouche of smoked salmon on rye finished with crème fraiche and dill.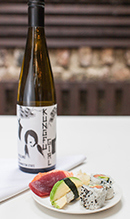 The zesty one
Charles Smith Kung Fu Girl Riesling, Washington State, USA
What does it taste like? This eye-catching Riesling is made by the rock star of Washington winemaking. Smooth and aromatic, it's packed full of apricot, key lime and nectarine notes and has a long, crisp finish.
And the food match? The wine's aromatic bouquet and zesty punch pairs perfectly with a big platter of sushi.

The fragrant one
Stratus Charles Baker Riesling, Niagara, Canada
What does it taste like? This Canadian Riesling is all about the perfume. So close your eyes and soak up the aromas of elderflower, juicy mandarin, green apples and fresh lemons.
And the food match? The heady mix of perfumes make this the perfect match for Asian food. We enjoyed it with Thai spice and coconut-marinated scallops.

The sweetie
Markus Molitor Bernkasteler Badstube Spatlese, Mosel, Germany
What does it taste like? Spatlese means 'late harvest', so these grapes have been left on the vine to dry a little, concentrating all those lovely sugars and flavours before picking. It smells deliciously of apples, peaches and rhubarbs leading to a lively acidity on the palate and a complex, long-lasting finish.
And the food match? The sweet, juiciness of this delicious wine is made for creamy gorgonzola topped with a perfectly-ripe fig.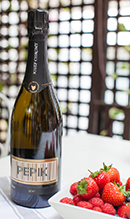 The sparkler
Josef Chromy Pepik Sekt Riesling, Tasmania, Australia
What does it taste like? This sparkling Riesling is made by one of Tasmania's most distinguished winemakers. Its slightly off-dry style gives it a juicy exuberance with hints of apricot jam and pear, which are balanced by a lively acidity reminiscent of crunchy Granny Smith apples.
And the food match? This tastes great with a big bowl of seasonal summer berries.
You may also like: