Laurent-Perrier: Perfect for pairing
Internationally recognized as one of the top names in Champagne, Laurent-Perrier has a reputation for continuous innovation and the challenging of conventional techniques. In its range of eight Champagnes, the Laurent-Perrier Cuvée Rosé stands out as an early innovation, with its 100% Pinot Noir base, as it was created at a time when the convention was to blend red and white base wines.
Where it began
The Laurent-Perrier Champagne house was founded in 1812 by a former cask maker called André Michel Pierlot. His son, also André, inherited the business, but with no heirs, ownership passed to the cellarmaster Eugène Laurent. Laurent was married to Mathilde Perrier, and she eventually combined their names when she had to take charge of the business after her husband's death, and Veuve Laurent-Perrier, as it was known, was born.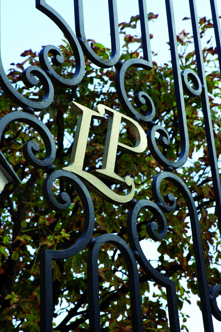 Perrier's daughter Eugénie sold Laurent-Perrier to Marie-Louise de Nonancourt in 1939. Marie-Louise bought the house to provide a future in the industry for her sons Maurice and Bernard. Bernard de Nonancourt turned Laurent-Perrier's focus to fermentation, pivoting from wooden casks to stainless steel tanks. By using the stainless steel, he achieved a fresher, pure Champagne taste. He also experimented with fermenting at lower temperatures, discovering that this process conserves special, subtle flavours that otherwise often get lost.
Today, Laurent-Perrier is the largest family and female owned Champagne house. It was listed on the French stock exchange in 1999, but the Nonancourt family retained 57% of the shares. Currently, Laurent-Perrier is run by Bernard Nonancourt's two daughters, Stéphanie Meneux de Nonancourt and Alexandra Pereyre de Nonancourt.  
Cuvée Rosé, refined
The Laurent-Perrier Cuvée Rosé was created in 1968, at a time when Champagne was not allowed to be 'rosé'. With unique know-how, the Cuvée Rosé was blended to achieve a specific fragrance, rather than a certain colour. The wine is certainly an outlier for rosé Champagnes. The grapes used come from 10 selected Crus in Montagne de Reims, including Crus from the famous Côte de Bouzy. Contrary to the usual manner of blending red and white base wines, the Laurent-Perrier Cuvée Rosé is made from 100% Pinot Noir grapes, which are lightly pressed before maceration of the must and skins, which takes place for up to 72 hours in temperature-controlled vats. The maceration period allows for the exact extraction of colour and development of aromas. After undergoing the primary and secondary fermentation, the wines age on their lees for at least five years.
For the love of (not only French) food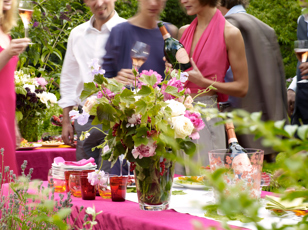 The rosé is characterised by its ripe red fruit aromas, a high intensity and great freshness.  Supple and rounded, this is an ideal pairing for an array of ingredients and dishes, like sushi, marinated fish, grilled prawns, parma ham with fruit, and even Indian and Asian dishes. And don't forget the afternoon tea!
We asked Bibendum's Senior Wine Educator, Monica Allan, for a few suggestions on what to pair with the Laurent-Perrier Cuvée Rosé. Proving that Champagne is much more than an aperitif, she gave us three suggestions. "Try it with parma ham with celeriac remoulade," she says. "This dish is a perfect canape, where the freshness of the Champagne will contrast the creaminess of the remoulade and the sweetness of the parma ham complements the red berry fruit flavour of the wine."
"Cured trout on rye bread will also pair well with the Champagne. The freshness of the Champagne would be able to contrast the oiliness of the fish, and the rye bread pairs well with the savoury yeastiness of the Champagne," Monica says. "For a vegetarian option, try a beetroot and goats cheese salad. The earthiness and sweetness of the beetroot pairs well with the savoury complexity and red fruit flavour of the Champagne, and the dry Champagne offers some contrast to the rich goats cheese."
Sustainably grown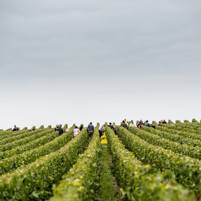 Laurent-Perrier is committed to ending all practices or actions that may cause irreversible damage to the environment. They have practiced sustainable grape growing for many years, and it has long been part of their ethics. The estate's 150 hectares are all managed following eco-friendly methods – floral plants are sown during the vines' fallow periods to enrich the microclimate, for instance. At Laurent-Perrier they also apply an environmental policy across all their activities, and continue to take steps in order to manage their business in a sustainable manner.
To emphasise how much they value nature and their desire to care for the environment, Laurent-Perrier recently launched a limited-edition Cuvée Rosé Butterfly Robe range. Butterflies symbolise and indicate a preserved and balanced natural environment and eco-system, something that Laurent-Perrier is aiming to achieve in all their vineyards.
Adding to their sustainability efforts, Laurent-Perrier has partnered with the like-minded UK wild plant conservation charity, Plantlife, becoming a Corporate Patron in order to support Plantlife's work in restoring threatened native flowers, plants and fungi that support all wildlife.
You may also like: