Christmas around the world
We all have our own little traditions when it comes to Christmas. And they get even more diverse once you start venturing into different time zones… So we thought we'd ask our far-flung family of producers what they'll be eating and drinking at this festive time of year. And we've been delighted with (and jealous of!) their responses.
Gisborne, New Zealand
James Millton paints a beautiful picture of his festive celebrations: "Christmas is always a bustling time. Here in the South Pacific it is the height of summer, when the vines are growing to the stars and summer visitors calling in for a tasting, a quiet glass under the trees, a platter, and chatter.
Our children have now grown up, and work in the wine trade, so they can be here for Christmas too. They have inherited their mother's cooking skills and my drinking habits. And Annie's family are from here as well so they will add to the table.
The ocean is just 15 minutes away, so there is always blue fin tuna, either raw or lightly cooked, which Chenin Blanc really likes, either from here or Savennieres. And a side of South Island salmon, smoked and served with fine slices of lemon from the trees around the vineyard on finely cut fresh bread. Fennel and nettle grow wild on these edges as well, so they are a compliment or a puree. Viognier is a favourite here or rosé from the Te Arai vineyard. The sun is rising more by now and generates some more heat, tempered by the olive trees.
Ham is always a tradition and Annie cooks this first thing in the morning and makes the most amazing glaze of homemade marmalade and cloves which cover the outside, served warm. Green beans, new potatoes and freshly picked green peas, all estate grown…most probably with a Pinot Noir from La Cote or a nice bottle of Comte de Vogue which has been purring at me for some time.
NZ summers and lamb are synonymous, so farm-killed lamb rumps are quickly barbecued on grapevine stumps (Merlot which I didn't want to grow anymore!) until pink and served with chilly jam and a fresh green salad from the garden, mainly roquette, walnuts, bacon pieces and a squeeze of lime juice. And this will be perfect with the 2017 Libiamo Field Blend or even something from the south of France, where my mates live.
Strawberries are now in season, which we drizzle with our homemade thick, sweet, aged vinegar, and serve with melon, dried figs and petals. This goes with a sparkling moscato-style wine. Then maybe a little nap, friends come over, an evening walk on the beach and some relaxing, until the 27th when the gates are flung open again and the madding crowds arrive."
Walker Bay, South Africa
Carolyn Martin tempts us with a series of festive food and wine pairings: "At Creation we treasure the amazing biodiversity of our land and take great pleasure in sharing the natural beauty with our guests, especially during the festive season, when we pull out all the stops…
The estate enjoys a proud reputation for wine and food pairing, presently offering no less than seven menu options. This year's festive menu is based on authentic South African Christmas dishes, but with a delightful and delectable twist. Our talented Creation Culinary Team is renowned for their innovation and they also love to deconstruct classic recipes, turning yesteryear's favourites into fine cuisine. The menu is the result of no less than six gifted chefs pooling their talents to bring our guests a feast of aromas, flavours, textures and colours, with the magic of the accompanying wines richly contributing to the variety show.
The smoked snoek with apricot gel, black garlic and lemon velouté will be accompanied by the Creation Reserve Chardonnay. The trio of vegetables includes the following: pan-fried fine beans with sultana-caper dressing served with the Creation Sauvignon Blanc; biltong-gratinated potatoes enhanced by the Creation Reserve Merlot; and Honey Roasted Baby Carrots with Dried Cranberries paired with the Creation Pinot Noir. Among the main dishes are ox tongue with mustard duo and basil lavash – a treat with the Creation Chardonnay – and deboned marinated leg of lamb with pumpkin seed and thyme jus which is simply sensational with the Creation Reserve Merlot. Last but certainly not least is the pebbles chocolate and berry trifle – perfect with the Creation Fine Cape Vintage!
Apart from culinary celebrations, the festive season at Creation also means giving back to the community and offering clients the opportunity to do so. The 'Santa Shoebox of Love' and the 'Sponsor a School Pack', both benefit the children participating in the Pebbles Project are but two of the initiatives supported by Creation over the festive season.
Hearty greetings and the finest of festive wishes from our beautiful world on the Hemel-en-Aarde Ridge to yours, wherever you are. May your celebrations sparkle with joy and wonder, friendship and love. And may 2019 dawn with bright opportunities, bringing daybreaks dazzling with promise and sunsets beaming with the contentment of a day well spent. May every night light up with a multitude of stars, lifting your spirit, revitalising your soul and making you glad that you are part of this most amazing universe!"
Rhone, France
Caroline Frey at Jaboulet describes a quintessentially Gallic Christmas meal: "Christmas tradition has always brought the whole family together in our mountain chalet. To prepare this religious and cultural festival, both the young and the adults are involved. The Christmas Eve dinner is an opportunity to gather around a beautiful table, to prepare a traditional family meal and open some beautiful bottles. Before dinner, my father always opens a delicacy; oysters from Joel Dupuch of 'Les Parcs de l'Imperatrice Joel', which will be paired with a really good Chablis from Raveneau, 'Montée de Tonerre'. When it comes to the menu, we put a spotlight on the great classics of French cuisine, albeit with our own little healthy touch, with the famous VGE soup, 'Valery Giscard d'Estaing', which my mother prepares to perfection. This soup with black truffle, served to the president in 1975, was created by Paul Bocuse. This paired with a big white is particularly beautiful. A Corton Charlemagne from Château Corton C., a Clos Saint-Hilaire from Billecart-Salmon, or a Hermitage 'Le Chevalier de Stérimberg', slightly aged.
The 'capon' (cockerel) that will follow, will be accompanied by a beautiful cuvée of La Chapelle, 1989 for example, or La Lagune, 1990. And as I love the wines of Piedmont, we often open an old Barolo from Bruno Giacosa or Conterno, or an old Cornalin from Valais by Denis Mercier.
For dessert, the children will take care of the Christmas log cake. Then once they go to bed, the older ones meet around the fireplace with a last glass of Sauternes Doisy Daene by Denis Dubourdieu until Santa Claus arrives.
A little secret… only on Christmas evening are the children allowed to dip their lips in the glass, which will perhaps awaken the senses and trigger future vocations!"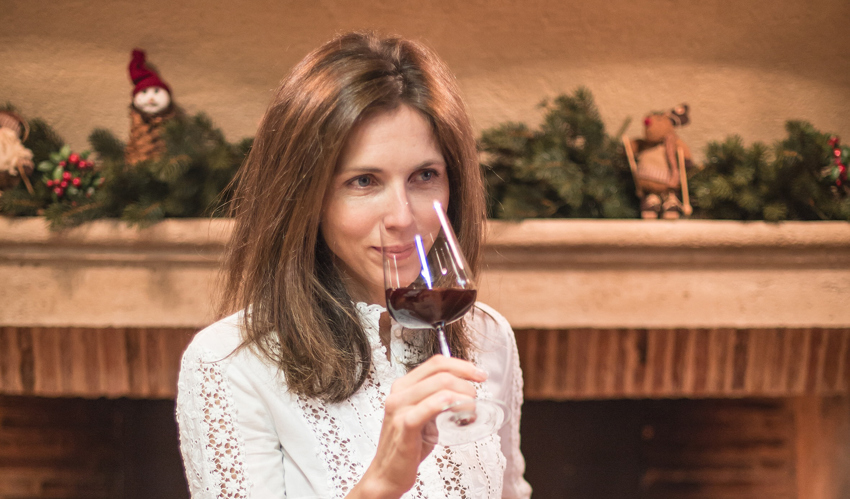 California, USA
Anthony Truchard tells us how he celebrates the end of the growing season: "I think Christmas is a magical time at all wineries. We will have just finished harvest and hopefully have all the wine in barrel resting before it is bottled in the summer.
It is a time of celebration at the end of the growing season. We decorate the winery and we usually host a party for all of our neighbors one evening with some wine and bites. We of course have hot chocolate for the kids and a bit of mulled wine for the adults, but most people here prefer it unadulterated!
We don't get any snow during the winter here but plenty of rain, so we usually drink our heartier reds. The Cabernets, Merlots and Syrah all go down a treat during the holidays."
Do you do Christmas a little differently? Let us know your festive traditions in the comments below!
You may also like: