What we're drinking this festive season
The days are shorter, the air colder and the streets are filled with fairy lights.
Christmas is most definitely upon us and one of the most exciting parts is choosing what wine to drink.  We've rounded up five of our favourites for the festive season - from classic Champagne to an unfiltered Spatburgunder.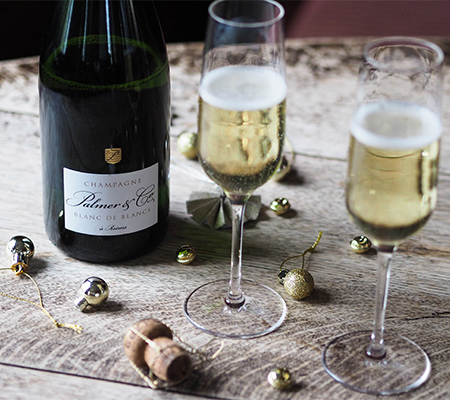 Champagne Palmer & Co. Blanc de Blancs
There's Champagne, and then there's Champagne Palmer & Co. Palmer began life as seven growers striving to make fantastic Champagne. Now the house has over 200 growers, with 365 hectares of vines spread across 40 villages.

"It's nice to take something different home for Christmas – this blanc de blancs ticks all the boxes for impressing the family. Made from 100% Chardonnay from the Montagne de Reims, it is super fresh and citrus-driven but also full of creamy, toasty notes – one for before dinner, after dinner, and maybe even for breakfast. If I'm feeling flash I might even go for a magnum – you get so much more for your money with this one as the magnums are left on the lees for a decade!"
Jessica Broadbent, Bibendum content coordinator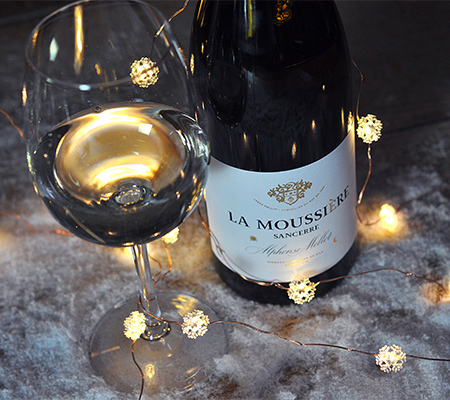 Alphonse Mellot La Moussiere 2016
The Mellot family started making wine in the Loire Valley way back in 1513, with Cesar Mellot appointed as wine advisor to none other than Louis XIV in 1698. Alphonse senior took control in the 70s and brought the estate's attention to quality over quantity. Now Alphonse junior is at the helm, continuing his father's work and firmly establishing the estate's world-class reputation.
"Alphonse Mellot is one of the most-respected producers of Sancerre, and the 34-hectare vineyard of La Moussiere is perhaps the best expression of his craft. Situated at the very top of the slope of Sancerre with its unique Saint Doulchard marl soils, it is an exceptionally-fine example of the appellation and responds well to a small percentage of oak ageing, which Alphonse controls masterfully. While I could drink this wine all day by itself, it will go wonderfully with puff pastries and canapes, mussels, and braised ham."
Alastair Pyatt, Bibendum buyer for France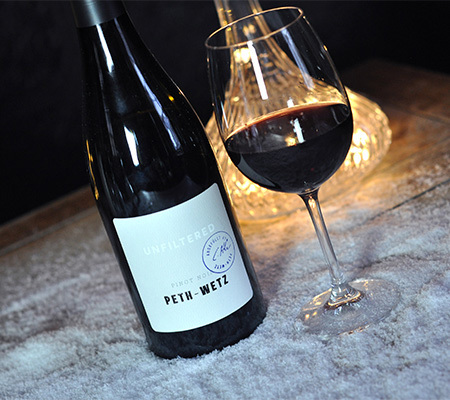 Peth-Wetz Unfiltered Pinot Noir 2015
German wines with an international perspective – Peth-Wetz is run by winemaker Christian Peth and his wife, Maja Luise. Located between Worms and Alzey in Germany's Rheinhessen, these wines are strikingly different to what you might expect from the area. Ranging from powerful and tannic to concentrated and fresh, Christian's time making wine in Chile, Australia and the USA is evident.
"This is quite dark for a German Spatburgunder with a smidge of tawny, which makes it seem way more mature than just two years old. It has lovely, intense aromas of red cherry and plum on the nose, paired with all the sweet oak spices that makes you think of plum crumble with custard and Christmassy spices. It's deliciously ripe and juicy on the palate, again unusually concentrated, with lots of cooked red fruit - a match made in heaven for goose or roast lamb. The tannins are there but really well integrated. This wine is definitely wise beyond it's years and highly sessionable!
Christina Schneider, Bibendum channel development manager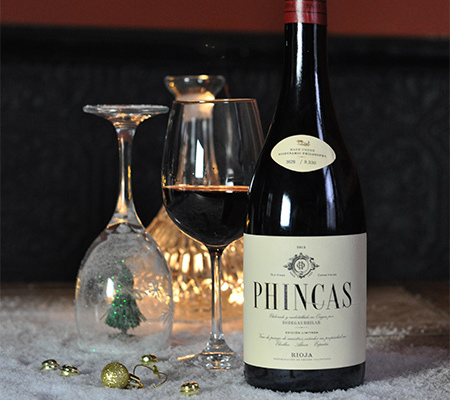 Bodegas Bhilar Phincas Village Estate 2013
This wine hails from biodynamic winemaker David Sampedro Gil of Bodegas Bhilar. David is currently pursuing biodynamic certification under the Demeter International agricultural body – which would make them the first certified producer in Rioja. The winery is solar powered, while the concrete fermentation tanks are partially subterranean in order to naturally control the temperatures.
"The Phincas is a blend of old-vine Tempranillo (80%), Graciano (15%) and Viura (5%), farmed biodynamically in Rioja Alavesa. It's a complex and concentrated wine with lots of dark berry fruit alongside spices and herbs – perfect to pair with a giant turkey roast with all the trimmings."
Tom Davey, Bibendum business development executive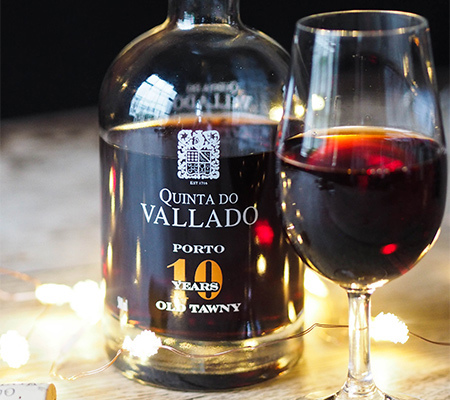 Quinta do Vallado 10 year old Tawny Port
This eighteenth-century Douro wine estate is actually one of the most modern-looking in Portugal. Although the team uses the traditional panoply of indigenous grapes, its methods are bang up to date and the results are nothing short of sensational. Unusually for wineries in the Douro, Quinta do Vallado focuses on making table wines rather than Port, but their 10 year old Tawny is one of the best examples of its type on the market.
"Tawny port is usually identified as somewhat of an old-style beverage that you work your way through a bottle of at Christmas time - and that's it. Well not with Quinta do Vallado's spot-on 10 year old Tawny.
"The wine is aged in oak for 10 years in a way that retains all those heavy Douro red and black fruit in somewhat of a dried, jammy way, and adds just a touch of woody nutty finish. It has a smooth texture, and is pleasantly rich without being overwhelming. The sweetness is more down to the ripe fruit than just the presence of sugar. A perfect pair with cheeses, or take a 17th century culinary adventure and try it with game or roast venison. Always serve it from the fridge! Pro tip: try it in a Negroni instead of vermouth."
Gergely Barsi Szabo, Bibendum fine wine sales and business development executive