Wild Turkey: an all-American classic
With Thanksgiving being celebrated in states across the US this week, we're raising a glass to toast our friends across the pond - and we can't think of a better way to drink their health than with that all-American favourite: bourbon.
Bourbon is booming. Its sweet, spicy character has made it a favourite amongst whiskey drinkers for the past 200 years - but now, in a time when brand heritage and culture are becoming increasingly important for the discerning drinker, the masses are seeking out authentic bourbon with a history. That's where Wild Turkey comes in. 
What is bourbon, anyway?
An American classic and the most popular style of whiskey in the US, bourbon could well be described as a national drink. Subject to tight regulations, it must be distilled within US borders - although 95% of it continues to be made in the 'Bluegrass State' of Kentucky where it originated. 
The style is notable for its high mash bill of corn (regulations dictate at least 51% must consist of this one ingredient), which imparts its characteristic sweetness. Additional spice flavours can be added through rye, barley or wheat. Its flavoursome character, rich with notes of vanilla, oak and caramel (gained from ageing in charred new oak barrels) has made bourbon a firm international favourite, as well as a treasured addition to many legendary cocktails. 

The Wild Turkey distillery in Lawrenceburg, Kentucky.
A pre-prohibition tradition
Wild Turkey has always stayed true to tradition. Its story dates back to 1869, when the Ripy family created the first recipe for what was to become a truly iconic whiskey. Seeing potential, they went on to open their distillery on Wild Turkey Hill, Kentucky, some 20 years later. It was later owner Austin Nichols, however, who was to give the bourbon its legendary moniker, having taken an 8-year-old 101 proof bottle along on a turkey hunting trip with friends - after which, a member of his party requested that he bring along some of 'that wild turkey whiskey' to the next outing. For what was to become one of America's most iconic bourbons, it proved an appropriately patriotic name - the wild turkey once having been in close competition with the bald-headed eagle to be the US' national bird.
Although the bird itself lost out, the Wild Turkey brand was kickstarted, and the whiskey continued to see success. Much has changed at the distillery today, with things moving to a new facility in 2011, but the pedigree at this iconic American site has not. Wild Turkey has survived over a century of change in America, standing strong throughout Prohibition and World Wars alike. Now one of the biggest names in bourbon, the distillery produces some of the most iconic whiskeys in the world, many of which are an excellent introduction to bourbon and are loved by newcomers and connoisseurs alike.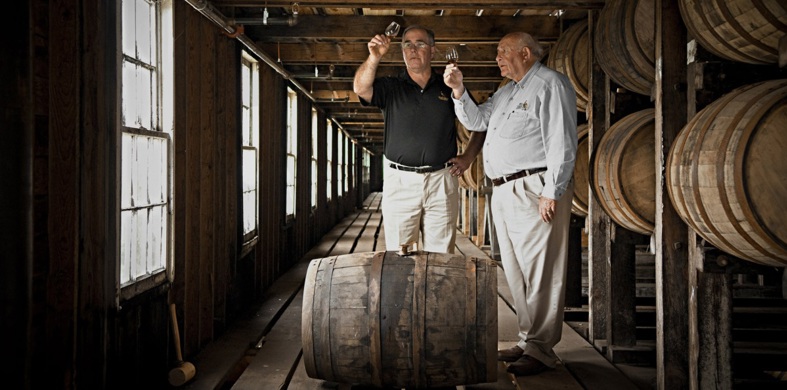 Father and son master distillers, Jimmy and Eddie Russell.
A father-son craft
Key to Wild Turkey's longstanding quality and heritage are the Russells, who have played a vital role at the distillery since 1954. It was in this year that Jimmy Russell started work in the distillery's still room, rising through the ranks to become master distiller in 1967. Now the world's longest-tenured active master distiller, Jimmy continues to work his magic at Wild Turkey, stating, "I've never worked a day in my life. To me, it's not work, it's something I enjoy. The day it's like coming to work, it's time to retire."
Jimmy's son Eddie joined the business in 1981 and has proved more than worthy of following in his father's footsteps, gained the title of master distiller in his own right in 2015. Together, this father and son team distill and create bourbons with an astounding sense of heritage and history - hardly surprising, given that their expertise spans 62 years. Although together they stand as a formidable duo, their individual personalities play out in some of the Wild Turkey releases - notably the Kentucky Straight and 101 Proof, each of which is emblematic of their own distilling style.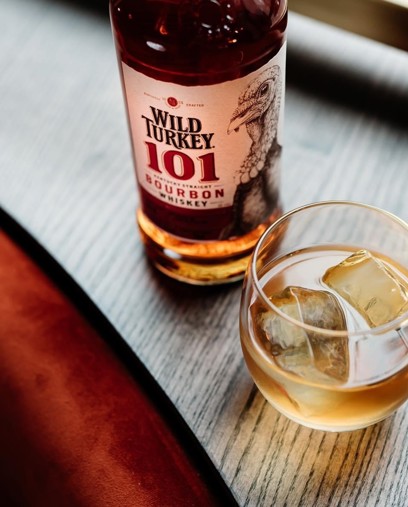 Wild Turkey Kentucky Straight Bourbon
The Kentucky Straight was launched in 2011 under the label '81 Proof', as a tribute to Eddie Russell's 30th year at the distillery. A blend of 6-8 year old whiskey, the mash bill contains a large amount of corn (around 75%), with 13% of rye bringing a peppery spiciness. Light honey to the eye, it has an oily palate of caramel, corn syrup, vanilla fudge and cinnamon, rounded by complex wood and spice notes from ageing in new American white oak barrels, with a deep 'alligator' char. Emblematic of Eddie's unique style and craftsmanship, its light, pleasing character makes it a dream bottle for bartenders and home cocktail aficionados alike.
Notable for being bottled at a higher proof than many commercial bourbons, the Wild Turkey 101 is a 7-8 year old blended bourbon, and the brainchild of master distiller Jimmy Russell, whose signature is displayed on the bottle - as Eddie's is on the Kentucky Straight. With one of the cleanest finishes available, the Wild Turkey 101 has a notably high rye mash bill, resulting in extra spice flavours that work perfectly with the heat from the 51% ABV, complementing without overwhelming the flavour. A solid orange colour, the Wild Turkey 101 displays a fragrant nose of cinnamon, oak, orange and honey, with a soft and sweet entry to the palate. Underneath the peppermint spice of the rye, it displays a moderate caramel sweetness, with grassy and floral notes, light hints of cherry, and sweet corn mash alongside musty wood. Its deep, complex character stems from ageing in highly-charred barrels. 
You may also like: