One cocktail, please... from the tap
In a market where trends are ever-changing and consumers are always on the hunt for something new, cocktails certainly seem to have found their niche.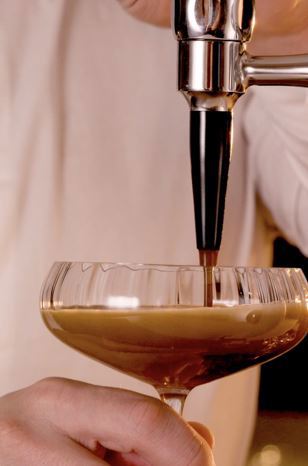 Year on year growth sits at 9.5%, with the category bringing in over £587m in total throughout 2019. But, unlike wine or beer, cocktails require a specific bar setup, bartender knowledge, and a plethora of back-bar spirits, and just aren't feasible for many fast-service venues to do well - until now.
With Christmas on the horizon, and certain government restrictions likely to still be in place over the festive season, being able to tick boxes for consumers and deliver this key category will be vital for venues looking to boost cash flow.
Synonymous with celebration and a frequent choice for people looking to splash out and treat themselves, it's no wonder that cocktails are growing in popularity, and an increasing number of venues are attempting to build up their own mixed drink lists. But, for those sites where quick service is key, or hiring extra bar staff with mixologist skills is too much expense, a solution is needed - and that's where draught cocktails come in.
Cocktails for all
While BIB options may not provide the theatrical experience that dedicated cocktail bars and specialised mixologists can, what they do is open up this category and simplify it for venues where a quick, easy solution is needed. 
Pubs, restaurants and bars that don't want - or can't afford - to stock up on seventy different types of liqueur and syrup can now provide their customers with a simplified offering, ticking the box for cocktail-loving consumers, and providing another option for them to splash the cash on. On top of this, for venues without specialised mixologists on hand, draught cocktails ensure consistency of serves, eliminating any risk of messing up a category that can admittedly be less than forgiving to newcomer mixologists.
Speed is key 
With the average cocktail taking around a minute to make - and other stalwarts of the cocktail list such as Old Fashioned requiring much more time - this isn't a category renowned for going hand in hand with speedy service. Although groups may still be limited to 6 come Christmas, the festive season is still likely to be much busier than other times of the year, and efficient service will be essential to keep things moving. So, with quick-service venues not having the time in the day to crush ice, muddle mint and infuse syrups in a bar kitchen, draught cocktails are perfect. Taking just 10 seconds to pour, cocktails on tap are ideal for serving larger rounds and managing crowds who are looking to be served quickly, efficiently, and regularly.
How do you get started?
So, how difficult is it to get draught cocktails set up? Like any draught beer, they require installation with a line and a tap on your bar. After that, it's just a case of maintaining the line like any other draught product, and buying your BIB when you're running low. It's a much better option for venues where simple serves are key, than stocking up on endless spirits that will do little other than clog up a back bar, gather dust, and only be touched once in a blue moon. 
Meet the cocktails...
Smirnoff are leading the charge on the draught cocktail market, launching two new products aimed at fast-service venues in the UK:
Smirnoff Passion Fruit Martini

Passionfruit martinis are the most popular cocktail in the UK, holding 16.7% of the overall market. The Smirnoff take on this classic is a mouthwatering combination of exotic fruit, smooth French vanilla, and soft marshmallow, all served with a creamy top. 

Smirnoff Espresso Martini 

Espresso martinis are undeniably the most popular and well known coffee cocktail on the market, sitting at 4.9% of the overall category share, and are a steadfast favourite in bars across the UK. Smirnoff's take on it is a sumptuous sipper, rich and smooth, that mixes dark roast coffee with velvety notes of cocoa and maple.
You may also like: