Make mine a Cosmo: the incredible staying power of the Cosmopolitan
Pretty, pink and glamorous, few drinks are as ingrained in cocktail culture as the Cosmopolitan. Even if you think it's old-fashioned or retro, it seems the Cosmo is here to stay.
First crafted by legendary bartender Tony Cecchini in the 1980s, its popularity soon spanned the globe. But what is it about this simple drink that proved so appealing to so many? From its link to the eternally popular 'Sex and the City', to offering drinkers a sense of the suave, sophisticated and stylish - there are many reasons why the Cosmo has managed to stand the test of time. 
The 'behind-the-bar' take 
We caught up with Jake O'Brien-Murphy, formerly of Callooh Callay and Three Sheets fame, co-owner of Liverpool's Present Company and newly-appointed Senior Bartender at The Savoy, to find out his thoughts on the staying power of the Cosmopolitan. 
Why do you think the Cosmopolitan took the UK by storm?
The Cosmopolitan is interesting and often overlooked as 'just another pink drink'. While in actual fact, the DNA of the drink follows a similar path to other classics like the Margarita or Sidecar, which manages to strike a balance between sweet, dry and tart. The genius is the inclusion of a flamed orange zest, which is pretty eye-catching in a packed-out bar, but also cleverly touches our flavour perceptions in a fundamental way. The drink has stepped across the bar and into popular culture.
Why has it had staying power beyond so many other drinks?
The Cosmo has the wonderful advantage of a defined identity. It is part of a canon of classic vodka cocktails, and doesn't seem to be going anywhere. It's a striking drink when made right, and has all of the theatrical hallmarks of a cocktail. A lot of it comes down to accessibility - it has a few integral moving parts that make something pretty special.
Those ingredients do all of the work. Cranberry, triple sec, citrus and vodka, it's as simple as that. It can be made without specialist equipment and without any previous knowledge of drinks-making. That's the staying power bit. You can order it everywhere, you can make it at home, and when done right, it's beyond delicious.
Do you think it could have a resurgence?
A resurgence would suggest it's gone away! The Cosmo is a silver bullet in any bartender's arsenal. It's what I think of as a 'leveling' drink. I've served it to students, bankers, actors, nans and they all loved it. You can see its popularity in bars like Three Sheets, who have added their own particular style to the drink currently on their menu. Same goes for Superlyan, with their Bay Leaf Cosmo. Long live the Cosmo!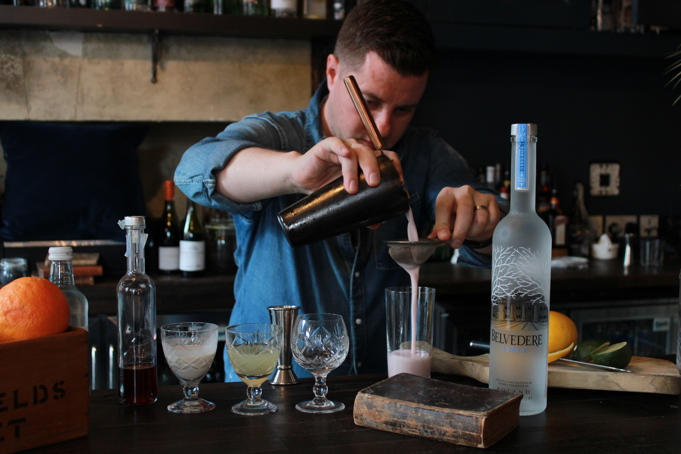 Mark Tracey, UK Brand Ambassador for Belvedere Vodka
Getting crafty: expert tips on keeping the Cosmo fresh
Of course, differentiation is key. We asked Mark Tracey, Belvedere Ambassador, 17-year-veteran of the industry, and former owner of Glasgow's Booly Mardys, what his three favourite takes on a Cosmo are - and what his top tips are for serving them up when bars are busy.
Mark's favourite Cosmos
Straight Up: The Cosmopolitan
35ml Belvedere Citrus

25ml Combier Triple Sec

35ml cranberry juice 

10ml fresh lime juice 

Add all ingredients to an ice-filled shaker. Shake for 10-12 seconds, and fine strain into a pre-chilled cocktail glass. 
With a Twist: The Cosmo Fizz
50ml Belvedere vodka 

12.5ml Merlet Triple Sec

20ml cranberry juice reduction 

12.5ml fresh lime juice 

12.5ml fresh lemon juice 

25ml double cream

1 full egg white 

Method: Add all ingredients except soda to a shaker. Shake without ice to emulsify egg white. Then shake over ice for 30 seconds (a la Ramos Gin Fizz). Fine strain into a pre-chilled Collins glass. Crown with soda and serve without ice.

For the reduction: Take 1 litre of cranberry juice, add 100g of organic caster sugar and reduce to half the volume over heat. Cool before bottling.
Showstopper: The CCC - Clear Cosmopolitan Cocktail
40ml Belvedere Lake Bartezek

10ml Merlet Triple Sec 

20ml Provencal rosé wine 

5ml lemon verbena sherbet

20ml white cranberry juice 

Method: Stir all over ice in mixing glass for 8-10 seconds. Julep strain over a block of ice in an old-fashioned glass. 

For the sherbet: "I use a sweetened solution of sugars, citric and malic acid, still mineral water and fresh British lemon verbena for the sherbet," Mark says. "For an easier version, you can make it using freshly squeezed lemon juice and sugar, although it will come out a little cloudy." 
You may also like: