London Cocktail Week 2019 live
As London Cocktail Week 2019 kicks off today, we're taking you through a live journey where we explore what's hot in the spirits world.  
Follow us on Instagram and Twitter to see what's happening - or check out our live updates below!
__________________________________________________________________________________
Wednesday 9th October - Dubliner Whiskey, Bloom Gin and Opihr Gin
It's hump day - so we're treating ourselves and heading down to the London Cocktail Week Village. All in the name of work, obviously!
There's an incredible amount going on down here - from the magical Schweppes garden, to a bar so secret that the door doesn't have handles (you use a bar blade to get in - but we're sworn to secrecy beyond that...). So safe to say, we'll be back for the rest of the week. But to get started, these were our top picks of the day...
Opihr Gin 
Opihr are going big this year and launching a whopping three new variations on its original gin at LCW 2019 - including the very special, umami-centric 'Eastern Smoke & Mirrors', flavoured with almond milk and truffle. But, it had to be the spiced negroni that really blew us away, whipped up by the Opihr Global Champion, Charley Carrington. 
Other highlights: a genuine Land Rover that used to drive the spice routes, and the chance to win a free cocktail at the bar by solving an ancient riddle (we fell short. Next time, maybe).
Bloom Gin 
We came across the Bloom Gin stand while losing ourselves in the beautifully sensorial Schweppes Garden (petition to make this a permanent installation, anyone?). There are a lot of gins on offer there, but the Bloom always stands out for us - particularly their new Jasmine and Rose variation. Never has there been a gin that fit its floral surroundings more...
Dubliner Whisky
Dubliner have gone all out this year, serving up cocktails with a literal balloon of smoke to really create a drink with a bang. Not only that, but their expert mixologists have the technology to - quite literally - serve you a drink with your own selfie on it (we refrained...this time, anyway).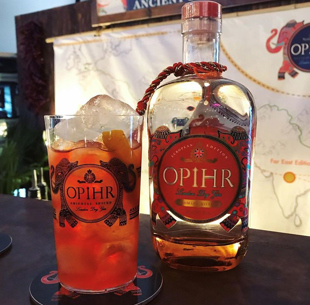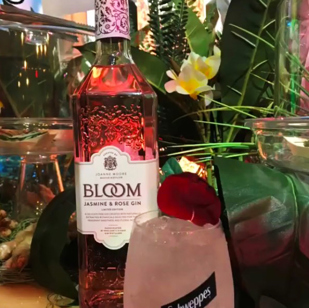 __________________________________________________________________________________
Another day, another cocktail...or two! And they're award-winning ones to boot. 
We have a serious thing for rum. So when we heard that one of the world's most famous rum brands was doing a pop-up at Rum Kitchen in Soho all week, we knew where we were heading.
Bacardi and Tails Cocktails have paired up for London Cocktail Week this year, to show the power of pre-batching. They've picked two of the winning cocktail serves from this year's Bacardi Legacy competition (if you haven't heard of it - check it out, it's seriously good stuff) - and re-formatted them into premade bottles. Revolutionary, right?
We gave them both a go, while getting very, very excited by how quickly these drinks could be served up...
First up, the 'Pink Me Up'
Who would have thought that tomato, lemon, almonds, olive and basil would be flavours that would go together? Any preconceptions we had were blown out of the water by this refreshing take on the 'Pick Me Up. 
Next - the 'Rum Reverie'
A slightly more classic one, here - but still unbelievably delicious. Cream sherry and apricot, what's not to love?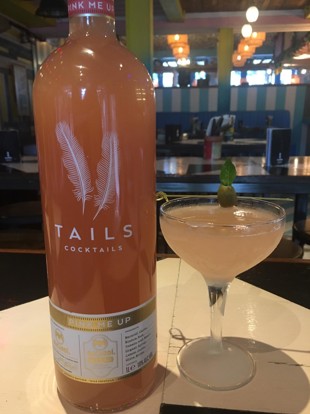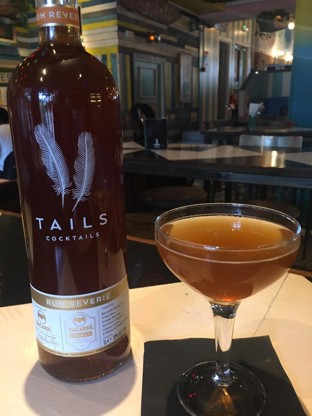 __________________________________________________________________________________
It's the first day of LCW 2019, and we're kicking everything off at the ELLC bar in Mile End! 
East London Liquor Company are celebrating their own 5th anniversary this year, alongside London Cocktail Week's 10th birthday. In honour of these two milestones, they've put together something very special...
Their 2019 cocktails are made for everyone. And by that, we mean everyone. Everyone in the industry has been talking about 'drinking less but better' movement for what feels like aeons. So, in true trend-conscious style, ELLC have created three drinks from one - merely by adjusting the amount of alcohol in each.
Presenting...
1) The Hi-biscus 
2) The Lo-biscus
3) The No-biscus 
The wonderful Jasmine was on hand to whip us up examples of each, and we have to say - they were truly delicious! 
Check out our IGTV video to see Jasmine in action, and to find out more about the serves.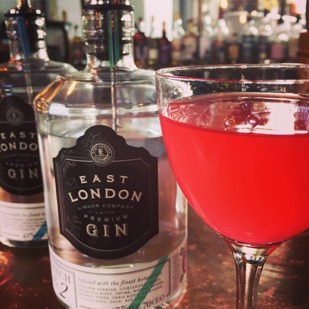 You may also like: