Gin beyond the juniper: a question of distillation
There's no denying that the gin craze has hit London once again, only now bathtub gin is the height of fashion rather than a crude corn spirit. Where in the noughties bottles of vodka stood proud on the back bar, now we see hundreds of craft gins ranging from small batch to strange flavours and liqueurs.
We know that gin must be juniper led, and can probably name one or two of the key botanicals in our favourite bottle. But what else differentiates one gin from the next? This is where the distillation methods come in. To some the holy grail, to others a mere gin-making requirement, distillation methods vary wildly from producer to producer. We take a closer look at three:
Steeping
This is the traditional and most widely-used method of gin distillation. It involves steeping the botanicals in a highly rectified spirit, otherwise known as the base spirit. Some steep, or macerate, the botanicals before distillation, which helps to fix the flavours in the liquid and give a higher intensity of flavour. This is said to help the liquid retain these flavours throughout the distillation process.
Vapour infusion
Spearheaded by Bombay Sapphire in the 80s, and now used by the likes of Sipsmith, this method uses a carter head still – a pot still with a copper 'basket' suspended inside near the neck. The base spirit is heated, and as it evaporates the vapour passes through the basket on its way out through the neck, only picking up delicate flavours from the botanicals.
"The key idea behind vapour infusion was that it could form a bridge into the gin category for historical vodka lovers," says Bibendum wine and spirits educator Emily Humphreys. "This method produces a lighter, more refined flavour profile, which was more appealing to those not accustomed to big, bold botanical-heavy gins."
Vacuum or cold distillation
The unique thing about this method is that the presence of a vacuum lowers the boiling temperature of alcohol, meaning distillation can take place at a lower temperature than in a pot still. This preserves the oils and delicate flavours of distillates, meaning fresher ingredients can be used without being ruined by heat.
The first to pioneer the method on the London Dry distilling scene was Highgate's Sacred Gin, founded in 2008 by Ian Hart and Hilary Whitney. "Vacuum distillation gives our liquid a unique taste and freshness as the botanicals are distilled separately and have not been affected by heat," says Ian.
"Another key advantage of vacuum distillation is that botanicals are distilled individually, stopping one element from absorbing the flavours and aromas of its neighbouring botanical and impacting the taste of the entire gin," he says.
Taking things one step further is Hepple Gin, whose founders include Walter Riddell, Valentine Warner and worldrenowned barman Nick Strangeway. Hepple Gin uses three different distilling techniques and apparatuses: a copper pot, a vacuum still and a supercritical CO2 extraction system, normally found in perfume production. The vacuum captures the freshness of the green (unripe) juniper and other fresh ingredients, while the latter adds extra depth of flavour.
Distiller's battle: recipe vs still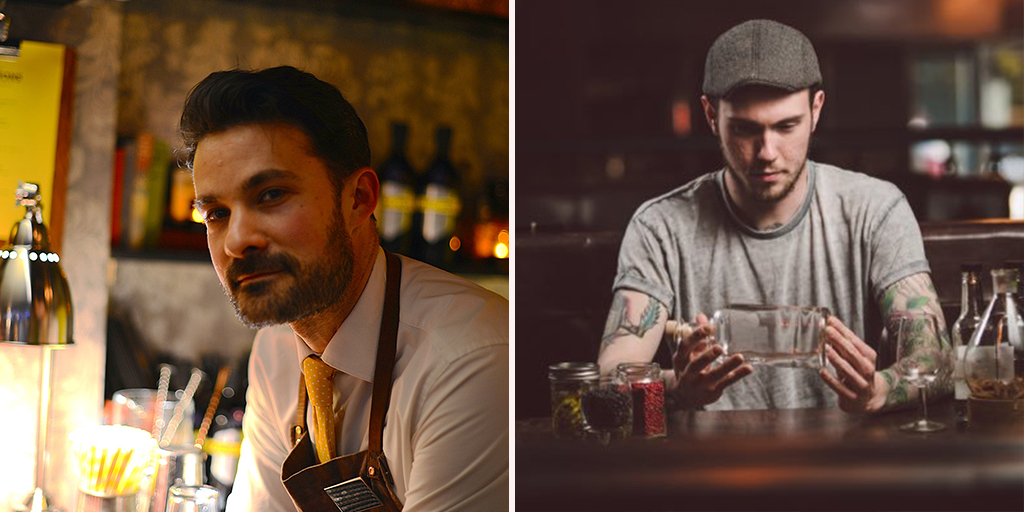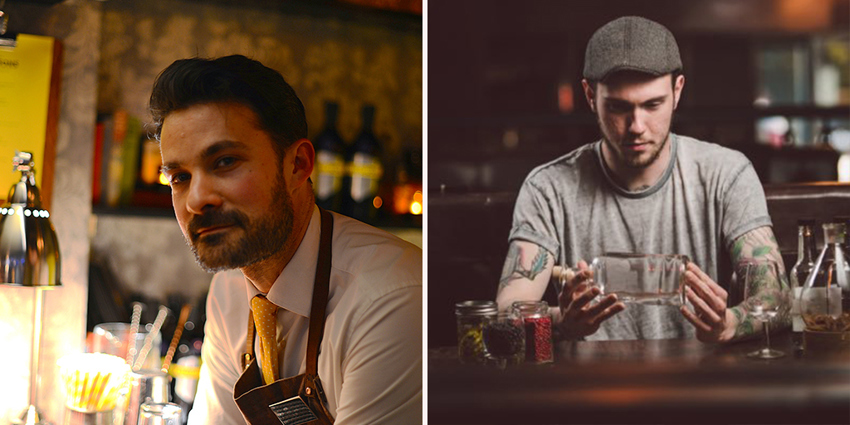 Alex Kammering (left): It's all about the recipe
You may know Alex as the creator of Kamm & Sons British Aperitif. Alex has been working in the drinks industry for over 22 years, and now he's turned his creative hand to making gin (in his kitchen, of course). For Alex, recipe is everything.
"I've never noticed a difference between distillation methods. 95% of gin is the recipe and the biggest difference for me is using dry versus fresh botanicals.
"The recipe is not just about botanical ratios, but the total weight of botanicals versus the amount of alcohol and water, how long they macerate for and at what temperature. Juniper is really important, but you need to balance it. The flavour of gin is just a combination of four key botanicals – juniper, coriander, citrus and liquorice – and how they work together."
Alex Lawrence (right): You've got to distil it right
Alex is the head bartender at London's Dandelyan bar, and founder of Porter's gin. As part of the new wave of gin-making mad scientists, he is a cold-distillation convert. For Alex, it's all about experimenting with the still – so long as you do it right.
"I've always done cold distillation," he says. "The differences between a pot still and rota-vap are amazing: If you distil camomile in a pot still you get robust, earthy camomile, but in a rota-vap it tastes like peach. However, if you put some botanicals through a pot still the result will taste dirty, muddy, bitter and horrible. These are the ones you have to treat very gently.
"I'm sure vapour distillation is probably a lot nicer for some botanicals that don't work in a pot still, but I'm not convinced that it delivers that full flavour – or even uses every part of the botanical you can. It's all very subjective!"
You may also like: