Discover Burgenland with Weingut Nittnaus
Next up in our 'Discover' series, we're traversing through a region dubbed 'one of the most remarkable places on earth' by Oz Clarke: Burgenland.
This marshy corner of Austria lies just on the Hungarian border, around an hour's drive from Vienna. Despite its deceptively damp mornings, Burgenland is also known as 'Sunshine Country' thanks to its 300 days of sunshine a year – which, coincidentally, also make it the warmest region in Austria.
So much sunshine inevitably means that a whole range of fresh delicacies are on offer here, which you won't find elsewhere in the country. Fruit grows in abundance, and Kittsee, at the northernmost tip of the region, offers the 'best apricot in Austria'. Rosalid Nature Park is world-renowned for its strawberries; Leithaberger its cherries (or 'Edelkirsche'); and Kukmirn, near Neustift bei Gussing, is a paradise for apple lovers.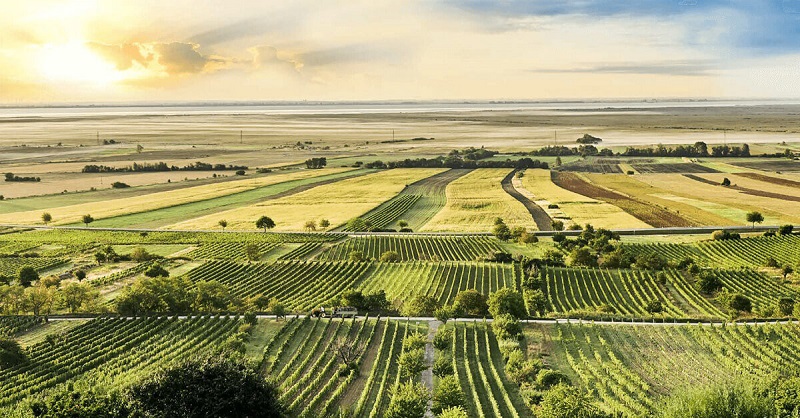 Tradition runs strong in this area of Austria. Roman thermal baths, quarries and countless ancient castles exist side by side, making up a rich landscape of history. These time-honoured traditions run deep in the culinary world, too. Bakers in Burgenland claim to use old artisan techniques, traditional recipes and local grain; many of the bakeries here offer baked goods that have long died out across the rest of Austria. Butchers also pride themselves on retaining traditions; both Hungarian steppe cattle and Zickental fen bulls graze happily throughout the region and give rise to excellent sausages and ham – produced only in limited amounts, due to conservation of these species.
But, despite the wonderful offerings emerging from this region, on paper it hardly looks like an ideal area for vine growing at all. 'Flat as a topographically-challenged pancake' is how Lonely Planet describes it; instead, climatic influences stem from the shallow Lake Neusiedl, a UNESCO World Heritage Site, which covers an enormous 59 square miles.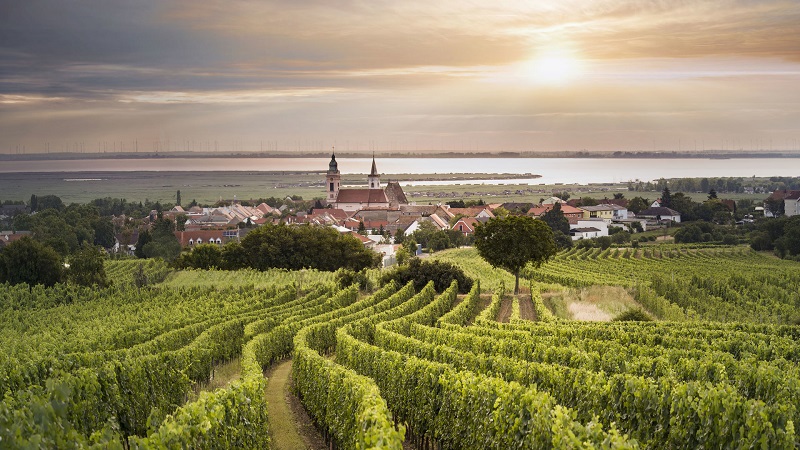 Morning mists from this lake, alongside Burgenland's warm and sunny afternoons, mean that botrytis here can be guaranteed on an annual basis – often attacking the grapes with such ferocity that they look like they have been dipped in ash. While quality of sweet winemaking – primarily from native Welschriesling - has surged, Burgenland is yet to rise to the heights of Sauternes and the like. The region's chequered history is to blame; lying within Hungarian borders until 1921, it was crushed by economic hardships, world wars and Russian occupation, that left Burgenland the realm of little other than cattle farming. Even when investment did come, it was in the form of bulk wine planting. Experiments with Gruner Veltliner and Muller-Thurgau proved largely fruitless and produced nothing particularly remarkable at all.
Luckily, this is no longer the case. Burgenland is fast emerging as a hub of red winemaking in Austria, as well as an ideal region for aromatic whites. The Mittelburgenland region sees the majority of red wine production, largely from the Blaufrankisch grape varietal, although some Zweigelt and international varieties are beginning to crop up, too. Red grapes can be trusted to ripen reliably, while the characteristic morning mists – so good at developing botrytis on white grapes – helps to retain acidity and keep everything in balance. In fact, red wines from Burgenland have become so popular that – for the first time ever – the total area under vine for black grapes has overtaken that of white.
Weingut Nittnaus
The Pannobile winegrowers' association was founded in 1994, by seven winegrowers from Burgenland – including Weingut Nittnaus. Their aim was to solidify in the public mindset what wines from Burgenland should be, using only indigenous grapes from the area, at full physiological ripeness and highly controlled yields to ensure quality. Hans and Anita Nittnaus, the brains behind Weingut Nittnaus, have been involved since the start – and among the group, are widely recognised as standard-bearers for red wines from their Burgenland sub-region of Neusiedlersee.

Biodynamic farming, with concentration on organic practices, is also a key belief of the winery, with winemaker Martin believing this allows the indigenous grapes to best shine. "We discovered that our grapes tended to be healthier, different in aromas, more versatile," he says. "The things you'd want to take into your own body, that you want to eat or drink, that's also what you give your grapes. I think it's just a natural way of looking at life."
You may also like: