Explore Liqueur
For our fourth Explorer Series event, we lined up a whole load of liqueurs for our panel of expert bar tenders. In blind flights of aperitivo, maraschino, orange liqueur, herbal liqueur and coffee, we pitched well-known brands against some of their lesser-known counterparts. Want to know how they fared?
In charge of our tasting experience was Bibendum ambassador (and cocktail pro) Christina Schneider, who took us to Soho's much-loved Milk & Honey to get stuck into the world of liqueurs.
The idea behind our Explorer Series is to challenge preconceptions by stripping away packaging, brands and marketing, leaving just what's in the bottle: the good stuff! The panel were presented with a series of blind flights, which they judged on aroma, palate and mixing potential, before coming up with a score out of 10.
The first half of the event involved tasting a series of neat liqueurs, which were then mixed into classic cocktails for tasting in round two.
Here's what happened.

Round 1: Pretty neat
First up was the aperitivo round, which included seven examples of this summer staple for spritzes and negronis. The competition was close, but Londinio and Galliano Aperitivo came out joint first, with Yeshua Garcia (Rotunda Bar @ 4 Seasons Ten Trinity Square) impressed with Londinio's heady blend of spicy notes including "black pepper, cinnamon, cloves and bark,".
Round two was the maraschino round, which involved four examples of this tasty cherry-flavoured liqueur. Here, the fragrant Maraska came out on top.
Next up was the orange liqueur round, featuring six sweet and zesty French liqueurs. Pierre Ferrand stole the crown, followed by Briottet and Grand Marnier. Milk & Honey's Zita Tari was particularly impressed with the winner, describing it as "Christmas Day in a glass, packed with spices and nutmeg, and an impressive finish".
In the battle of the herbal liqueurs, Chartreuse championed twice, with yellow in first place and green in third. Our panellists were glad to get the opportunity to re-discover these classics and be reminded of just how good they taste. Matt Reynolds (Rotunda Bar @ 4 Seasons Ten Trinity Square) loved the combination of "vanilla, leather and anise", which he got from the yellow Chartreuse.
And finally, like the end of a long lunch, we ended with coffee. Our panel tasted six different coffee liqueurs, with Borghetti the clear overall winner. Bibendum's Christina Schneider loved its "edgy" side and said it "really packed a punch".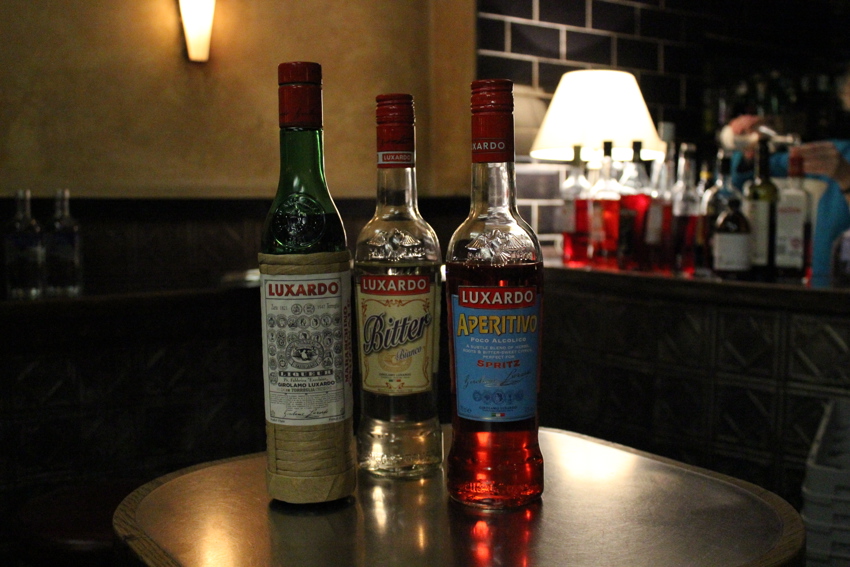 Round 2: Cocktail time!
In round two, the panellists had the pleasure of tasting the liqueurs again, this time in flights of sidecars, negronis, hemingways and espresso martinis. It's a tough job, but someone's got to do it.
The clear winner in the sidecar round was Merlet, which didn't feature in the medals board for round one, so was a surprise for all!
For the negronis, it was Martini Bitter that came out on top. A great result for this lesser-known bitter liqueur. Many of our panellists were impressed with its herbaceous freshness, depth of flavour, bitterness and tannin. New kid on the block Londinio was a close second, with Dan McIntosh from Som Saa enjoying its "delicious blend of citrus and spice, including cloves, anise, mandarin and orange".
Next up came the hemmingways flight, and there wasn't too much of a surprise here. Briottet, which came second in round one, took the top spot.
And the final drink of the day? The espresso martini of course. Once again there were no surprises on who won here, with the judges' favourite from round one, Borghetti, ruling supreme. Pierre-Marie Bisson from Milk & Honey was impressed with its "good length, notes of chocolate and just a dash of tannins".
Delve into the full results below!
| | | | |
| --- | --- | --- | --- |
| Round 1 | Gold | Silver | Bronze |
| Aperitivo | Londinio & Galliano Aperitivo | Martini Bitter | Campari |
| Maraschino | Maraska | Briottet | Luxardo |
| Orange | Pierre Ferrand | Broittet | Grand Marnier |
| Herbal | Chartreuse yellow | Beneditctine | Green chartreuse |
| Coffee | Borghetti Caffe Liqueur | Bepi Tosolini | Galliano & Kahlua |
| | | | |
| --- | --- | --- | --- |
| Round 2 | Gold | Silver | Bronze |
| Sidecar (orange) | Merlet | Briottet | Combier |
| Negroni (aperitivo) | Martini Bitter | Londinio | Galliano |
| Hemingway (maraschino) | Briottet | Luxardo | Marasca |
| Espresso Martini (coffee) | Borghetti | Galliano | Bepi Tosolini |
A huge thank you to our fantastic panel for joining us! Our next Explorer Series will be on vodka, so keep a look out for more information…
In the meantime, check out Christina's guide on liqueurs here.