Seriously cool: the allure of cool-climate wine
Joe Fattorini tells us why cool-climate wine is, well... cool. 
Changing temperatures and rising levels of carbon dioxide are gently moving the best, most interesting, coolest vineyards further north – in the north – and south – in the south.
Climate change has affected wine enough that if you answered exam questions today with the answers I gave 25 years ago, you'd fail. Harvest dates in the classic regions of France have shifted from late October to mid-September. Carbon dioxide in the atmosphere has increased too. Vines consume more of it, turning it into sugar, which we turn into alcohol. Together this means where you grow grapes, and how you grow grapes, is changing.
"Viticulture is everything," says Paul Pujol of Prophet's Rock in New Zealand's Central Otago, the world's most southerly wine region. For Paul a cool-climate region is one "where successful ripening of the grape varieties you grow is not guaranteed. Viticulture is where you win or lose as a cool-climate producer. Every season is totally different and this requires a very responsive approach in the vineyard."
Carolyn Martin at Creation Wines in Hemel-en-Aarde in South Africa agrees. "Viticultural practices have to be exceptional," she says. "This is particularly relevant to cooler-climate vineyards where ripening can happen up to 121 days rather than 100 days after flowering." A ripening period familiar to producers in classic regions in the 1970s and 80s. But less so to their children today.
Risky business
Growing in cooler sites isn't always easy. But the rewards are huge. Paul describes the benefits of cool-climate winemaking as "bright, vibrant, concentrated wines with good freshness, complexity and longevity. Personally, I've always chosen to work in cool-climate regions," he says. "It's much more exciting and stimulating for me to be in a place where there is significant vintage variation and success is not guaranteed. When you consider the top examples of most classic grape varieties, they seem to do best in areas that are on the edge of achieving successful ripeness."
Carolyn talks gratefully about the Antarctic-cooled breezes that keep temperatures down in her vineyard. But wind is also their nemesis. "The wind factor means that we sucker to compensate for wind damage and pass through the vineyards an extra time once the shoots are in the wires. Bush vines would not work in our area due to the proximity to the sea and sea mist."
Cool-climate winemaking means being bold. In Argentina, looking for cool-climate sites meant going south to Patagonia or up into the mountains. One person who's done both is Laura Catena. Catena's Patagonian Pasarisa wines face one of the same challenges Carolyn and the Creation team face – fierce winds. Landing at Neuquen Airport, visitors are aware of the slow approach speed as the plane descends joltingly into a keen headwind. Below, the tree-lined vineyards protect delicate vine shoots from the worst of the winds.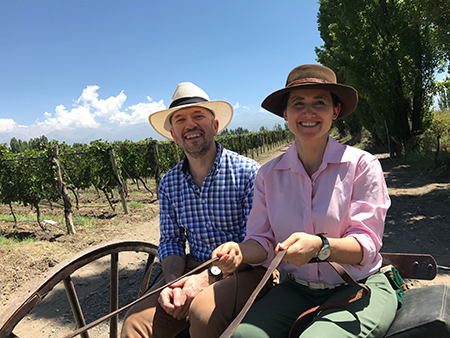 Getting high
Back north in the Valle de Uco, near Mendoza, Laura took me on a tour of Catena's Adrianna vineyard in a sulki, a small horse-drawn carriage. This is among Argentina's most celebrated vineyards. Yet it lies a mile high, in an area that on earliest maps of farms in the valley is simply marked "salvajes", or savages.
"My father knew the slopes of Burgundy and Bordeaux as particularly good terroirs," says Laura as we trotted beside the vineyard. She describes how he had settled on this site in the early 1990s, even though it was generally considered impossible to grow grapes here, with its punishing winter frosts. "Everyone else was planting on flat lands in Mendoza. But my father decided that the French theory of how slopes provide a balance between water and nutrients might be right." And he was. Even though in the early days they had to struggle through deep winter snow to get to the vineyards.
But it was worth it. The wines were immediately more mineral with a greater acid freshness. The Cabernet Sauvignon had more pepper. The Malbecs had denser tannin. The Chardonnay a mineral tang as well as fruit weight. Adrianna's wines have become some of Argentina's most awarded, and noted for their food-friendly style.
Elegant and vibrant
In South Africa, Carolyn agrees. "Cool-climate wines tend to be fresher in line with the food we are enjoying the world over. Food trends are about lightness and freshness with intensity and balance. Cool-climate wines mirror this palate." In New Zealand Paul says "more and more the market is seeking wines with freshness and vibrancy that work well with food and deliver elegance and complexity, rather than just weight and concentration".
"Cool-climate wines tend to be sly chameleon wines," says Carolyn while pouring a Creation Pinot Noir. "They tend to have higher natural acidity and more elegant fruit flavour and intensity, lower alcohol and softer, gentler tannins." And as we head into a light lunch, she says with a smile, "this makes them easier to pair with food."

Three cool-climate wines to try:
Prophet's Rock Cuvee Aux Antipodes Pinot Noir 2015
An inaugural collaboration between Paul Pujol of Prophet's Rock and Francois Millet of Domaine Comte George de Vogue in Burgundy, this Pinot is available in very limited quantities. Grapes were sourced from one small block in Prophet's Rock's Home Vineyard, located on a high-elevation, steep glacial terrace in the Bendigo sub-region of Central Otago.
Catena Appellation Vista Flores Malbec 2015
Grapes are grown in the Vista Flores vineyard of Mendoza's Uco Valley, 1,100m above sea level. 30-year-old vines and the influence of cold nights lead to bright, yet concentrated Malbec with flavours of plums, dark chocolate and blackberries, as well as spice and pepper.
Grown high up in the Hemel-en-Aarde valley, grapes were fermented in stainless steel tanks and matured on its fine lees for five months. A superbly balanced Sauvignon Blanc with aromas of tropical fruit, elegant elderflower and mineral notes. It's full-bodied, with a crisp, yet lingering finish.
To find out more about our cool-climate wines, contact us or your Account Manager.