Ripe for discovery: The all new Bombay Bramble
Flavoured gin is here to stay. A third of total gin value is now accounted for by flavoured gins, a staggering percentage given that this burgeoning category has only been around for the past few years.
Our annual trend report predicted big things for flavoured gins this year - and despite the unprecedented challenges the market has faced in the past few months, their popularity is far from waning. 
Bombay Bramble marks the first foray into the world of flavoured gins for legendary distiller Bombay Sapphire. Their namesake product, with its distinctive blue bottle and delicate, refined flavour profile, was a fundamental driving force behind the gin boom of the last few decades, helping coax the masses away from the previous 'champion of spirits', vodka.
Given the distillery's illustrious history, it's perhaps surprising that they haven't branched out into this newer category before. Yet, as followers of the 'flavoured debate' would agree upon comparing Bombay Bramble to some of the mass-produced, saccharine-sweet options on the market, it was very much a case of waiting until the product was completely right.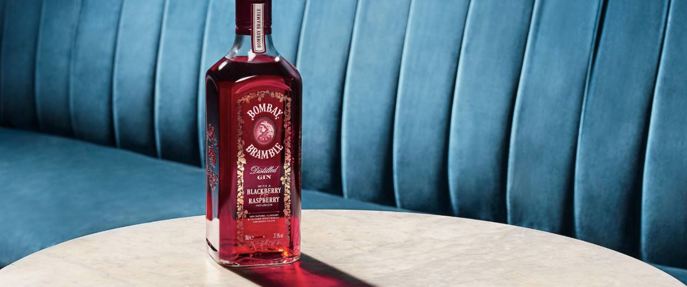 A twist on the familiar
So, what makes Bombay Bramble stand out from the crowd? First off, forget any notion of this being seen as a 'lowbrow' drink. Strikingly crimson in colour, appearance alone dismisses any chance of its falling into league with the lighter, frivolous styles of 'pink drink' that are looked down on by some gin loyalists for prizing novelty over quality.
Bombay Sapphire's aim while creating Bramble was to challenge exactly what was possible for a flavoured, coloured gin. Crafted entirely using natural ingredients - hence, no added sugars, sweeteners, artificial flavourings or colourings - it's a far cry from the almost chemical sweetness prevalent in many low-quality flavoured gins, which has been responsible for turning many against the burgeoning category.
A classic redone
Secondly, rather than opting for a more common, sugary-strawberry flavour profile, Bombay Sapphire have opted instead to make their first flavoured gin an homage to the classic Bramble cocktail, created by legendary bartender Dick Bradsell (of Espresso Martini fame). Just as the original was inspired by the time Bradsell spent foraging for blackberries in his childhood, Bombay Bramble's flavour profile is heavily reminiscent of blackberries and raspberries, both of which were naturally infused into the gin during distillation.
The distillery's choice to  use only natural fruit to flavour their gin has some remarkable effects. The berries balance perfectly against the distinctive Bombay Sapphire flavours of juniper, angelica and lemon, without obscuring any of the original's famed delicateness or subtlety. Here, only the natural sugar from the fruit is in place to balance the dryness of the gin, while the tart-sweet combination from the raspberries works alongside the gin's floral, earthy notes to create a pleasant warming sensation, perfect for any summer drink.
A new league of flavours
Basing a flavoured gin on a cocktail may be a novel idea, but it's a genius one. In today's 'new normal', amateur cocktail fans are less likely to want to spend time in supermarkets searching for a complex list of drinks ingredients. Many also still remain uncomfortable with the idea of returning to cocktail bars to order drinks just yet. Bombay Bramble provides the perfect solution for those still looking to get their cocktail fix; the interpretation of a cocktail into gin flavouring offers consumers the option of a simple yet effective serve that's easy to recreate at home.
And, as the brand proudly state, this 'recreated cocktail' concept also opens up a whole world of experimentation. In particular, the lack of any artificial sweetener in Bombay Bramble means keen cocktail creators have far more control over the taste profiles in their drinks, and are able to tailor serves more effectively. Given the brand's core mission is to 'stir creativity', Bombay Bramble may just be the perfect product to help get people mixing.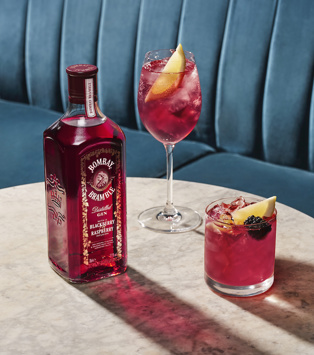 We've picked our two favourite Bombay Bramble serves below, both perfect for the summer season. Time to get creative...
#1 - The Perfect Serve
50ml Bombay Bramble
100ml premium tonic 
Cubed ice 
Lemon slice
Pour the Bombay Bramble into a highball glass over ice. Add the premium tonic, stir, and garnish with a lemon slice.
#2 - The Bramble
50ml Bombay Bramble
25ml freshly squeezed lemon
15ml sugar syrup
Mix all ingredients together, and serve in a rocks glass over ice. Garnish with a blackberry or raspberry, and slice of lemon.
You may also like: