How the perfect food and wine pairing can help your customers fall in love with Riesling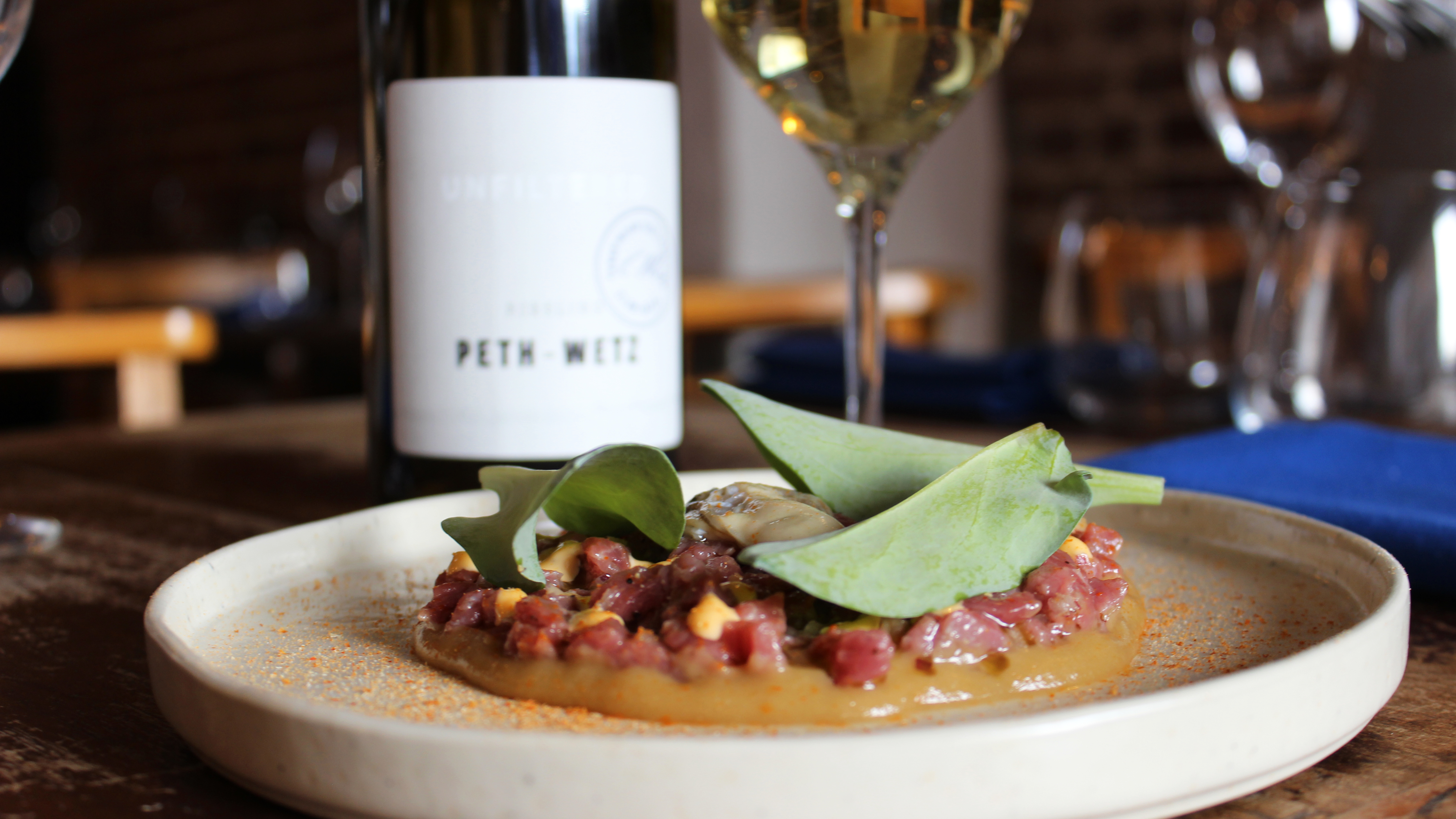 Riesling is well known for its versatility. But can this very characteristic, that makes it so exciting to people in the wine trade, make it a 'risk' to the consumer? Lara Nardon asked sommeliers and chefs around London to pair a selection of Rieslings with a dish of their choice as part of 31 Days of German Riesling.
Riesling is incredible. Just a single grape has the capability to develop so many expressions, from aromas and flavours to sweetness and freshness, making it a super hero among grapes! Yet, it's exactly its versatility that can make some consumers feel like it's a 'risk' to order it off the list, without knowing whether it's going to be bone-dry and citrussy, or lush and exotic. 
So this is where food pairing comes in. When you pair amazing Riesling with equally amazing food you can't help but order a second glass! We asked five sommeliers and chefs to pair this versatile wine with a dish of their choice, in order to celebrate the king of German grapes.
1. Joh. Bapt. Schafer Kabinett 2016 with Thai food
    Rachael Martin – Som Saa
I started my sensory journey at Som Saa with general manager Rachael Martin, who really enjoys drinking German wine and is lucky enough to work with a lot of Rieslings at the restaurant, so she's well versed in pairing it with food. "Thai cuisine is complex, sometimes sweet and sour, sometimes spicy, and there is always a lot going on in your mouth" Rachael explains "The level of sweetness and the intensity of flavour in the wine are the most important factors when pairing it with Thai food. There needs to be a balancing act".
With this in mind, Rachael opted to pair the Schafer Kabinett with a classic Thai dish, the Som Tam Salad. Although Rachael explained that there are infinite versions, Som Saa's take on this celebrated dish was brilliant. Taking you through a sweet and sour taste explosion, combining ripe and unripe papaya with peaches, lime and chillies, and dried prawns adding a delightful crunch. It was a bold dish, which needed a bold wine to match. The kind of wine that cleanses the palate and makes it ask for another mouthful of Sam Tam joy.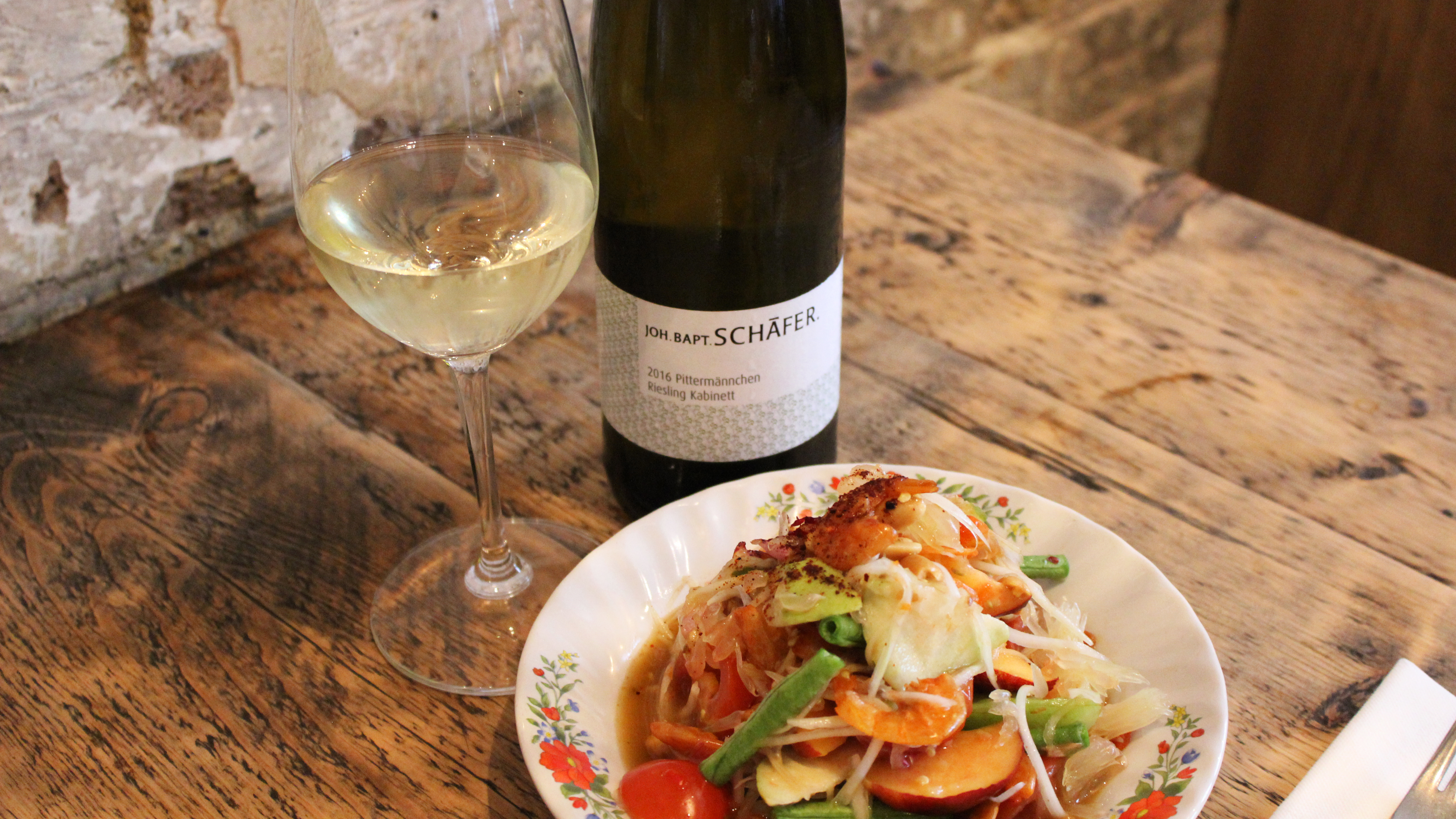 The Schafer Kabinett was just the perfect pair, as there was quite a lot happening on both the plate and the glass. The wine was luscious in the mouth, which got on well with the sweetness of the dish, but it also had a refreshing lightness that complemented the zingy lime and spicy characteristics. The residual sugar on the wine also accentuated the fruitiness of the dish, and vice versa.
2. Peth-Wetz Unfiltered Riesling 2018 with modern European food
    Carolina Seibel - Moio
The second appointment on my agenda was with Carolina Seibel, owner and sommelier at Moio. After discussing why she loves discovering German producers (and not only because she's from Germany, if you're wondering!), we went into more detail about Peth Wetz's Unfiltered Riesling: "It has a gorgeous texture and weight in your mouth, you can properly feel it. The wine is a bit funky, as it's unfiltered, and not mainstream. Yet, it's so expressive, almost as if it has more to say. Let's put it like that: it's a wine without make-up added, not polished, but much more exciting for it!".
Chef João Ferreira Pinto and Carolina decided to serve this fantastic wine with an equally fantastic dish, a lamb tartare with oysters and margherita onion puree, creating a pairing made in heaven. The lamb tartare went perfectly with the onion puree at the base, while the oyster seasoning made everything become a bit more savoury, adding that maritime flavour which is so characteristic of oysters.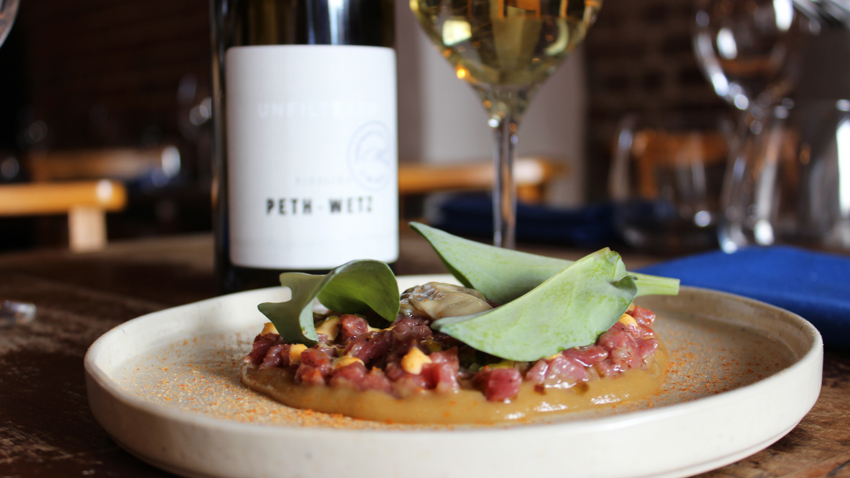 The Unfiltered complemented the dish brilliantly. The concentrated aromas of white peach, citrus and honey notes enhanced, and were enhanced by, the salinity of the dish, while the crisp and refreshing mouthfeel was counter-balanced by the dish's subtle lemony acidity. After every mouthful, you were just ready for the next one. And the next one!
3. Markus Molitor Haus Klosterberg 2017 with British food
    Heath Ball - Red Lion and Sun Tavern
Next on my list was The Red Lion & Sun with owner Heath Ball, who is a proper Riesling lover and enjoys Rieslings from all over the world. "I love Riesling, and I drink it frequently," he explained. "I think it's one of those wines that always gives you great value for money. As a restaurateur, I think it can pair very well with a lot of dishes because of its versatility, and there are so many different variations that it's almost impossible not to find a good pairing! When you create a combination which works well, the character of the wine is enhanced and the result is just amazing".
His food choice took a slightly different approach, as he decided to pair the Haus Klosterberg with a finger-licking classic British dish, with a twist: crispy fried chicken wings covered in a spicy Korean sauce. "I could've paired this wine with some fish, but instead I've decided to approach it differently and show how this fantastic, off-dry wine can go also very well with a classic dish like chicken wings", he said.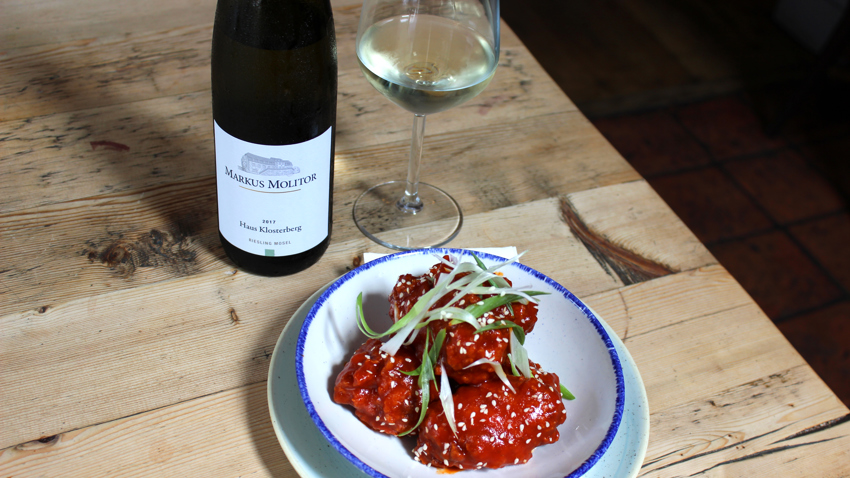 The result was incredible: the chicken wings were deep-fried for a perfect crunch, rich and spicy. The spiciness of the dish was balanced perfectly by the residual sugar of the wine, which is off-dry. The weight and texture of the chicken was nicely cut by the fresh mouthfeel of the wine, while the pear and citrus notes were enhanced by the dish. This balancing freshness instantly made you want another sip. And another bite!
4. Robert Weil Trocken 2017 with Japanese food
    Sam Heathcote - Hotel Café Royal
Last, but not least, was my appointment with Sam Heathcote, head sommelier at Hotel Café Royal. He also likes drinking Riesling and he thinks it's the 'go-to' variety because of its versatility. "There is a whole spectrum of different expressions, and not only from Germany," he said. "If you taste a lot of Rieslings, you understand the complexity and intensity of this variety and the fact that they can be completely different from one another. It's a mysterious variety, and it's not always easy for consumers to order Rieslings. But, the role of the sommelier is exactly to encourage consumers to try wines which otherwise they wouldn't order, and to make them fall in love.".
He decided to pair the Weil Trocken with a Japanese-style taco, an exclusive recipe from the Green Bar called Takosu, with king salmon, cucumber, tomato, chilli garlic and tobico. The combination of flavours was delicious: the salmon was fatty, slightly spicy and creamy thanks to the chilli garlic mayo, but, at the same time, it left a very fresh mouthfeel thanks to the tomato, cucumber, tobico and lime. The taco was made with deep-fried gyoza 'skin', which added a crunchy texture to the plate.
The Weil perfectly complemented the dish. Its outstanding weight and texture went very well with those of the salmon, while the fruity character was enhanced, leaving you with a citrus, zingy-lime mouthfeel which balanced the dish's fresh character. The spiciness of the dish played well with the residual sugar of the wine too, and it added weight to the whole composition. It was a very vibrant combination of flavours, and your taste buds were simply happy to take more in!
But, what do these people think about '31 Days of German Riesling'?
Well, not surprisingly, they all agreed that this campaign is very useful because it helps to raise Riesling's reputation, educating consumers to this wine's great variety of different expressions. They were all confident that, by proposing good food and wine pairings on their menus, consumers would order more Rieslings and would change their mind about this grape.
You may also like: