Charles Smith Wines: Wine by Design
Quintessentially Washington, Charles Smith Wines aren't traditional or complicated – they are there to be shared and enjoyed.
Based on old world techniques coupled with an understanding of current wine trends, these varietal wines are unique, interesting, and accessible.
With warm days, cool nights, and a 200-day growing season, the grapes have the ideal conditions to take their time ripening, making it a slow and steady race to intense and full flavours. All of the wines are sustainably crafted with very little interference in the process, managed by head winemaker Megan Schofield.
Quirky and cool
But there's more to Charles Smith than what's inside the bottle. Their labels are instantly recognizable – they're gutsy, monochromatic, and quirky.
The labels were created by Danish artist Rikkie Korff, a longtime friend of the founder Charles Smith. Taking inspiration from a rock n roll background, she wanted the labels to be future icons of a cult brand. "My style of design has always been and is always rooted in the pure perspective of functionality, timelessness and simplicity," she says.
The range consists of a collection of six wines, but each wine (and its matching label) certainly packs a punch. The creative labels also represent the brand's fiercely independent approach. In the their own words, the wines are "irreverent, unconventional, straight shooting, and indie".
In black and white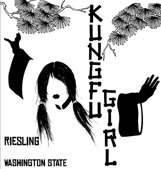 Simply looking at the labels will already give you quite a good idea of what to expect from the wine. A Syrah called Boom Boom! can't be anything but punchy, and Kung Fu Girl Riesling was clearly made to be paired with Asian food.
Kung Fu Girl was inspired by a casual evening, many years ago, of Chinese food and Martial Arts movies, when the need arose for a fantastic white that could be paired with any Asian food. The result was this Riesling, made from the best Washington grapes. Think of Thai or Chinese food, five spice pork or duck, and fresh seafood as potential pairings.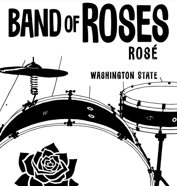 Band of Roses rosé is inspired by the beat. "Which beat?" you may ask. Well, any beat you like! Think of the pulsing energy in music anywhere. The wine is made from Washington's finest Pinot Gris, and apparently, just like any band, "does its own thing". A simple pairing suggestion: "Just chill the bottle and chill out with your latest playlist, your favorite guest list, or both."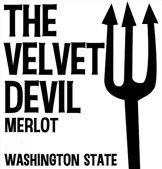 Borne from the Hollywood hit Sideways, which prompted some anti-Merlot sentiment, the Velvet Devil Merlot was created. This wine is also a favourite of winemaker Megan. "It's the one we drink the most of at home! This Merlot is extremely versatile; it's light enough to not overpower food, and is delicious with anything from burgers and pizza, to hearty, saucy pastas."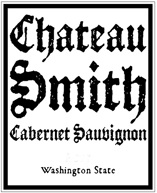 Although not actually made at a chateau, Chateau Smith stays true to the old world winemaking style from Bordeaux with the Chateau Smith. It helps that this 100% Cabernet Sauvignon tastes just like the real deal: intense flavour, depth, and complexity.
With Washington being known as 'the apple state', Eve Chardonnay is all about its origins. The label prominently features the fruit, which hints at a fresh, crisp and cool wine . The name is inspired by Adam & Eve, which is also a nod to the purity of the wine.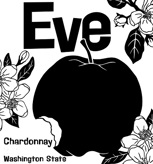 And, ending with a bang, Boom Boom! Syrah is a tribute to a long-lost first love, nicknamed Boom Boom O'Brien. This wine is big and bold, as the label depicts, and the wine has a generous and explosive character.
You may also like: