Bibendum's Homegrown Heroes: Part 3
As we count down the days to English Wine Week, at Bibendum we've been taking the month to celebrate our diverse, pioneering and quality-driven range of English producers.
In the final part of our Homegrown Heroes series, we take a stroll through some of England's best vineyard sites, from Kent to Sussex, and meet three more producers who are breaking down walls when it comes to expectations of English wine. Meet them below...
For anyone thinking that the English wine industry is all old-time tradition, country houses, and stiff upper lips, Chapel Down is set to prove them wrong. Not only has this trailblazing winery been featured in LSE's '1000 Companies to Inspire Britain' and 'Cool Brands' (an antithesis to the traditionalists if we ever saw one), but its Curious Grape label also encompasses varieties that no-one else is talking about - think Schonburger and Ortega - and its press releases are more likely to feature rappers and international sports stars than country gentlemen in tweed. Anything to get people talking, right?
Well, that was exactly CEO Frazer Thompson's intention. As far back as 2002, he was predicting that English Bacchus would reach the heights of Marlborough Sauvignon, and quickly realised that grabbing attention was going to be key for success. It's paid off; now producing over 2 million bottles a year, Chapel Down are the official suppliers to 10 Downing Street, Ascot, and even the Oxbridge Boat Race. Their popularity is testament to the quality of the wines. Chapel Down's Kentish winery spans one of the world's greatest new viticultural areas, rich in pale chalk slopes and carefully cultivated vineyards. 
Where you have great wineries, award-winning wines and picturesque locations, visitors will follow. And while some classically boutique, small-scale operations in England may not yet have fully taken advantage of wine tourism, Denbies has embraced it with gusto. Over 350,000 people head to this Surrey winery annually, whether it be to try some fantastic sparkling, stay at the carbon-neutral hotel, eat in its award-winning restaurant, or run a quick marathon in aid of the Drinks Trust. As we said - it's a real wine cellar operation, and just a quick drive from London. 
Of course, no-one would bother if the wines weren't good - and at the start, all the way back in 1986, they weren't. Luckily, winemaker John Worontschak was brought on in 2001 - and this talented visionary set things to rights with aplomb. Denbies had over 100ha of chaotic, overgrown vineyards of every variety imaginable - some of them truly awful - planted on what was more akin to dirt tracks than the potential-packed, south-facing chalk slopes of the region. John didn't wait around. In the past two decades, Denbies' vineyards have been transformed to some of the best in southern England - just taste the wines, and the results of his efforts are obvious. 

Strip back England's frills, and you're left with diverse wildlife, rolling green fields, and some very vine-friendly soils. These are what Albourne Estate, one of England's leading hubs of sustainable viticulture, focus on - even down to depicting surrounding wildlife on their labels. Nestled deep in the English countryside, overlooking the picturesque South Downs, this boutique and family-owned winery may be small, but is making significant waves when it comes to sustainability.
The winery uses 100% green energy, and utilises solar panels and green compost to bolster its credentials - as well as orphan lambs to roam the vineyards and control ground cover. In the midst of all this green thinking, the grapes grown are pure, distinctive, and reflective of the winery's unique Sussex terroir.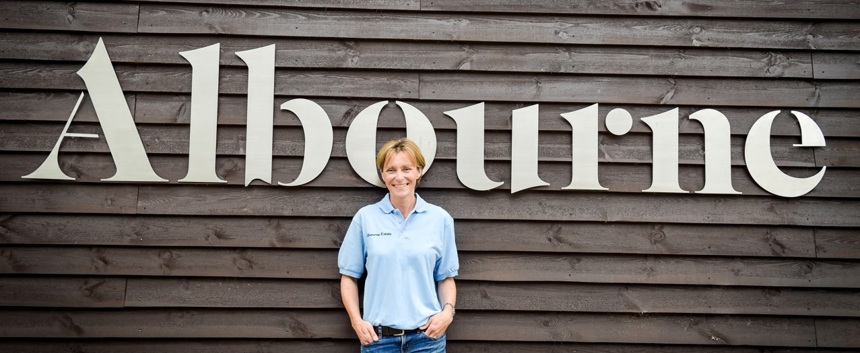 You may also like: