A Riesling road trip
Intensely fruity, mouth-tinglingly acidic, and about as aromatic a grape as you can get - is there really anything better than a Riesling?
Well, how about a whole 31 days dedicated to celebrating it? Wines of Germany have returned this July with their fantastic 31 Days of Riesling campaign, and - though we hardly need an excuse - we're raising a toast in celebration to this most diverse and Marmite-esque of white grapes. Read on to meet some of our favourites that we'll be enjoying this July, from the grape's native Germany, and beyond...
The homeland classic 
Riesling rules supreme at Weingut Robert Weil. Owning many of the Rheingau's top quality vineyards, the Weil family has historically been mentioned in the same breath as some of the best Bordeaux chateaux, having been suppliers to the courts of Kaiser Bill, Queen Victoria, and Csar Nicholas II of Russia. This 'real Riesling Chateau' produce fantastically textured wines, full of explosive flavours of pear and apple skin, with diamond-sharp acidity. Their Kiedrich Grafenberg Riesling Trocken is the finest dry wine the estate offers: a weighty powerhouse with provocative fruits and profound depth, that stands testament to its excellent terroir.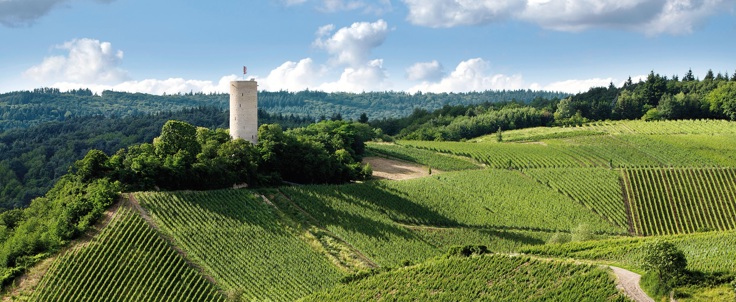 Weingut Robert Weil's estate spans some of the most beautiful vineyards in the region
A very French affair 
Alsace: a French region, located in the Greater Rhine Valley that meanders through Germany, and one of Europe's greatest locations for Riesling-growing. Despite its proximity to Germany, Alsace's fairly cold, dry climate gives rise to fresh, aromatic, and bone-dry Rieslings that are notably un-Germanic in style, when compared to their creamier counterparts from across the border. 'Fresh', however, doesn't mean light - these are big wines that pack a punch on the palate. The Jean Biecher et Fils Riesling is a great example: fine and elegant, with subtle fruit rounded by aniseed, cumin, liquorice, and fennel seed.

The picturesque region of Alsace gives rise to some of the world's finest Rieslings
United States of Riesling
Often overlooked in favour of California or Oregon, New York's Finger Lakes region is one of the most beautiful wine landscapes in the USA. Carved by glaciers, the lakes moderate nearby air temperatures during summer, and give rise to desperately cold winters. Many of the Rieslings here are bone-dry and taut, sometimes needing bottle ageing to mellow them, while others can be fruitier and milder - although residual sugar and alcohol levels are almost always low. The Forge Cellars Finger Lakes Riesling, in true cold-climate fashion, offers up aromas of mango, jasmine, and flint, with some notes of quince paste and ginger.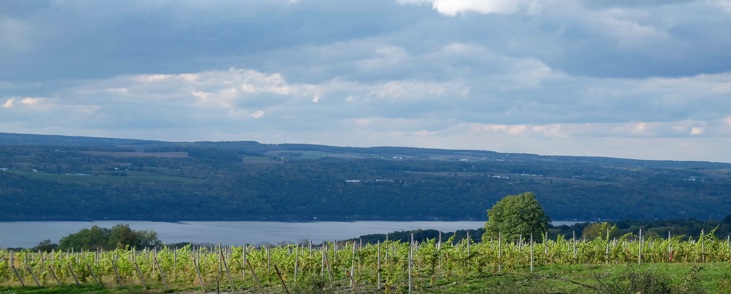 The Finger Lakes moderate air temperatures in nearby vineyards
Ice, ice, baby
Riesling's petrol notes and aromatic intensity can be somewhat divisive amongst wine lovers, but not so for Icewine Rieslings, which are about as far from a classic Riesling as you can get. For these incredibly sweet dessert wines, grapes are harvested only when frozen - usually overnight - and pressed immediately to remove the ice. You're left with a concentrated, flavoursome juice that really packs a punch on the palate. The Stratus Riesling Icewine, crafted in Niagara, Canada, is one of our favourites: overflowing with lime, grapefruit, honey, and stone fruit. Serve searingly cold, and enjoy.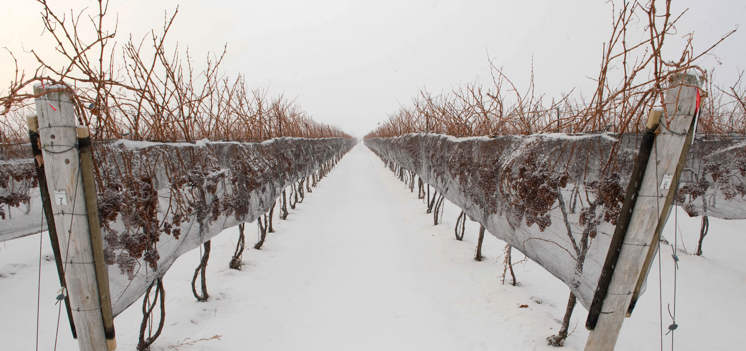 Vines in Niagara, Canada regularly freeze - creating perfect conditions for icewine production
Getting freaky down under
We could hardly talk about Riesling without mentioning Australia's self-proclaimed 'Rieslingfreak', John Hughes. As his winery's name suggests, he's passionate about Riesling and the variety of styles that can be produced, crafting a range in different areas of Australia to showcase the effects of terroir on the grape. His off-dry No.55 Clare Riesling is produced in one of the country's best-suited regions for the grape, and it's truly delicious: vibrant and intensely perfumed, with apple blossom, nectarine, freshly-sliced grapefruit, and lemon meringue pie.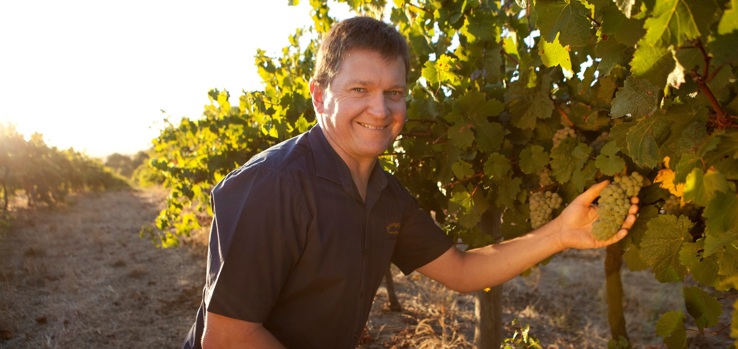 John Hughes, Australia's self-proclaimed 'Rieslingfreak'
You may also like: