Quickfire questions with... The Queen's Head
When the government announced that only outdoor drinking and dining was allowed last Autumn, many thought that the cold weather and gloomy skies would put customers off.
Not so. The public proved resilient, and innovative solutions like tents, tipis and heaters became all the rage as venues worked out ways to keep their customers warm, fed and watered - and, with outdoor dining imminently poised to make its long-awaited comeback, we can't wait to see what they come up with next.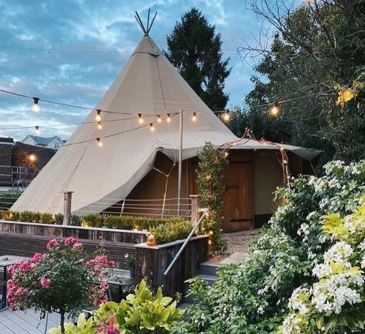 We caught up with The Queen's Head in Dorking, who have been well ahead of the outdoor-drinking-game for a while now, creating everything from a winter wonderland to a Provence-themed spring fest. Find out more below...
What was it that inspired you to start adapting your outdoor space?
Using our outside space all year round was something we'd had in mind since we opened the pub in February 2020. However, with coronavirus and national lockdowns, outside space became vital. 
We had to think fast about how to transform our beer garden into a cosy winter garden. After extensive research, we decided that building giant tipis was the solution in line with our vision for the pub, that allowed us to observe social distancing rules and was cost-effective... and they became an attraction not only in Dorking, but neighbouring towns as well! They're a place that can be easily transformed depending on the season, and they opened up so that the space could be used for events, parties, and much more. It was great to hear positive feedback from our guests about them.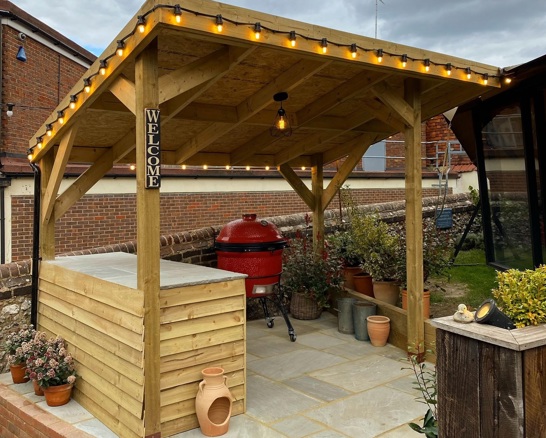 The pub also offers an outdoor BBQ area
How did you go about setting them up?
We worked with Stunning Tents, who built the tipis back in October. They're experts in the field, and it only took them a day to put them up. Then, we entrusted our vision for the decorations to local florists - Marion from Kingfisher Farms, and Alison from Mad Lilies. Floral decorations made the interior of the tipis look extra special - we began by creating an autumnal look, before transforming them into a winter wonderland. It was vital to get the aesthetics right!
We also partnered with Surrey's local gin distillery, Silent Pool, and now we have a dedicated gin bar where we will be hosting special events and gin tastings. 
Apart from the all the decorations, we also had to think about the practicalities of running tipis in autumn and winter, such as incorporating heating in a tasteful way, and creating a passageway with a cover, to ensure seamless service in cold, rainy weather.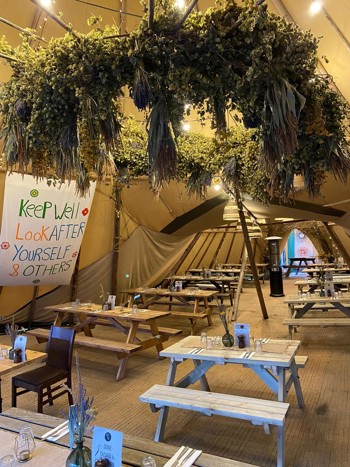 Will the tipis be staying in the summer, or were they an autumn-winter special?
With them being such a success with our locals, and with social distancing rules continuing, they're here to stay! They surprise and delight all the guests that join us, and we're currently busy getting them ready for spring. We have opened up the sides of the tipis, so they'll have glass panelling to let light in, and give that glass house feel. And, of course, we're working with our amazing florists to give them the spring fix - we're going for Provence themed decor. 
You have a bar and BBQ area outside your venue as well - do you generally offer full menus both inside and out, or do you have different areas of the venue reserved for different things?
We are currently building an outdoor kitchen, which will have a Kamado BBQ and a woodfired oven, and its own garden menu. All menus will be offered across the site, and we're working on some incredible new dishes for our reopening, to reflect the season. We are also developing a special drinks menu for reopening, which will have the likes of frozen margaritas, pina coladas, and various versions of spritz.
Do you see clever adaptations of outside space continuing to be important in the future?
It seems a waste to have such a large space, that can only be used for a small amount of the year! Creating an interactive activation in outdoor spaces is the way forward, and allowed us to add another revenue stream throughout the year. Tipis and our new outdoor kitchen will become a permanent feature of the pub.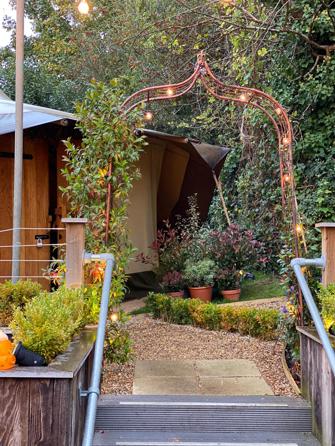 What other initiatives have you come up with over lockdown?
Keeping busy during lockdown was important for us. During the very first lockdown, we started the 'Cooking Club' - a series of cook-along videos for anyone to prepare at home. We hope our Instagram followers found them useful, as we had such fun making them! We have also done some live cooking classes with locals, and some Instagram lives where people could ask any cooking related questions. 
We recently also had a go at 'finish-at-home' boxes. Our very first one for Mother's Day was a great success, and we got lovely feedback from the people who bought it. So, we decided to offer an Easter menu as well. We'll also be launching 'The Locals' Club' shortly, to engage more with our guests, and reward them for their continuous support!
You may also like: