mytaste with Will Beckett
Bibendum partnered up with Jazz FM to launch a monthly series of conversations with restaurateurs and chefs.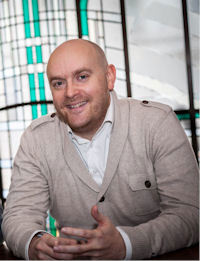 In the first programme, we meet Will Beckett, one half of the founding partners of the successful London steakhouse group, Hawksmoor. Will tells Jazz FM's Nigel Williams about growing up in a foodie family and discusses his love of pink fizz or "brosé".
While other kids were out stealing hubcaps or honing their skills in pool halls, Will accompanied his mother, food and wine author and restaurant critic, Fiona Beckett, to Michelin-starred restaurants. From the badlands of the Roux brothers' restaurants, he decided that his dedication to endless eating and drinking could only mean one thing – he had to open his own restaurant.
Will met business partner, Huw Gott, at school at the age of 11 and they opened The Redchurch, a late night bar in Shoreditch, in 2003. By 2007 they opened 3 more venues: Green & Red, a Mexican restaurant and tequila bar (awarded Evening Standard Bar of the Year); the Marquess Tavern, a gastropub focusing on well sourced British produce (awarded Time Out Gastropub of the Year); and Hawksmoor, which opened in 2006 in Spitalfields and became instantly successful, rekindling Londoners' love affair with steak.
Other notable industry figures featured in the series are: Thomasina Miers, co-founder of Wahaca; Xavier Rousset, owner of Texture and 28-50 and Sam and Eddie Hart, owners of Fino, Barrafina and Quo Vadis.
You may also like: