Getting back to business: The Ivy Soho Brasserie
It's been a month since bars, pubs and restaurants across the UK were given the green light to reopen by the government, after being ordered to shut their doors in April. 
Despite being able to welcome the public back, a host of new legislation and safety guidelines from the government meant many venues had to adapt, and fast, to make sure they met the requirements of the 'new normal'. We headed to The Ivy Soho Brasserie, to catch up with General Manager Lorne Hendry Martin, and find out how business has been for them over the past four weeks.
What were the main steps you had to take to prepare for reopening?
For us, the most important thing about reopening was making sure that both our guests and staff would feel confident and comfortable in coming back to the restaurant. The layout is a little bit different to how it was before; social distancing was the most important aspect for us in reopening, so we removed quite a lot of the tables to keep that space between them. Where we haven't been able to do that, in between the banquettes, we've installed screens.
We have also introduced a really rigorous cleaning schedule. We've assigned an extra person per shift, whose job it is to go round sanitising all the frequent contact points and guest areas. It's key to build confidence: guests want to see that you're taking the situation seriously, and see extra measures happening in action.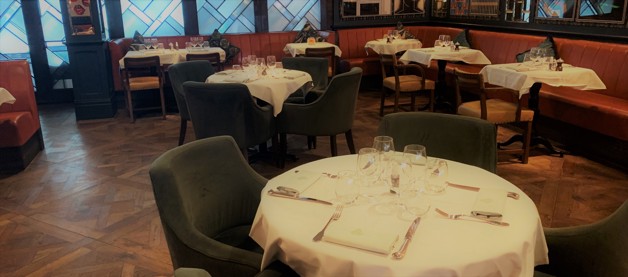 The new social-distance-friendly layout at The Ivy Soho Brasserie 
What extra measures do you have in place now, to ensure the safety of your team and customers?
We've introduced temperature checks at reception. We do these checks for all our guests on arrival, alongside the government track and trace programme, and the staff go through a very similar process every day. They also do a rigorous health questionnaire screening every time they come on shift.
We've tried to minimise the contact between staff and guests, so we've adapted our steps of service to remove some areas which brought us close to guests. We've introduced things like QR codes to reduce that contact, so that you don't have items like menus that are being handed around, although they are still available on request. 
With our staff, we've put everyone into work teams, so they're not coming into contact with so many people while on shift. For them, there were obviously concerns around coming back to work and in being around so many people, so we've made the effort to try and minimise those concerns as much as possible.
What have been the highlights of reopening?
The best thing was seeing the team again, without a doubt. Hospitality can be a hard business to work in, it's rewarding but quite demanding, and at the end of the day it comes down to the people you work with - they can make or break your working day. We're really lucky here. We've got a very close-knit team where everyone is very professional and hard-working, and we genuinely missed them all during lockdown, so it was really nice to see them again.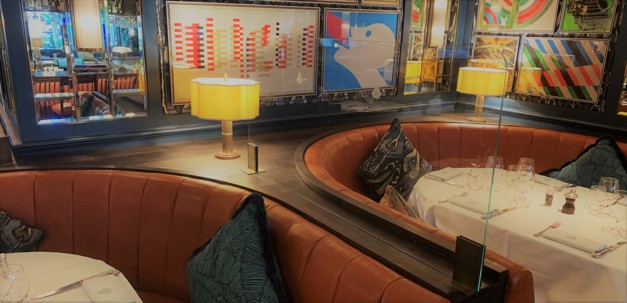 Where tables can't be moved, screens have been put in place
What have been the key occasions for guests visiting The Ivy Soho Brasserie, and how much has this changed compared to pre-lockdown?
We have seen a bit of a shift. In Soho, we had a lot of corporate businesses that would visit before. There are a lot of offices around this area, but obviously all their employees are still working from home, so aren't coming in.
While we're not seeing them, we are getting a lot of guests who are visiting us to celebrate occasions that they missed during lockdown. For example, we're seeing a lot of birthday celebrations that were missed in previous months. A lot of our guests now are people who are getting back in touch, who haven't seen each other for a long time. We've gone from a mix of corporate and leisure, to very much a leisure-destination restaurant. 
How does that translate into behaviour while they're at the venue?
In terms of dwell time during the week, people are staying longer, especially at lunchtime. Now, guests will stay until around 6 o'clock, after long lunches. We're lucky we've got a great bar and a great cocktail menu, so people are looking to spend more time here and treat themselves. We've seen a lot of guests who are coming in, telling us it's their first time out, and that they want to enjoy it. They haven't been able to have that great in-venue experience for a while.
Have there been any changes in what people are drinking?
Cocktails! We're definitely seeing a lot of cocktails. We've seen a big increase in premium wine orders as well, which is great.
Are people tending to order by the bottle, rather than by the glass?
We are seeing that, yes. Our bottle sales are definitely up, and we've seen more of a shift towards spending on drink than we had before.
On a more general basis, we know there has been lots of noise in the press around customer no-shows. Has this been an issue for you?
Luckily, so far, no. We've avoided that, although I've read about it, and know a lot of people are having issues with it at the minute. We're very stringent; we double check everything 24 hours in advance and reconfirm all of our bookings. But, generally, I would say our guests just seem very excited to get out and come to see us, so they're turning up! 
Finally, will the group be participating in the 'Eat Out To Help Out' scheme in August?
Yes, we are. We have a special set menu that we're starting on August 1, which is £30 or £35 before the discount, so we're looking forward to seeing how it goes! Hopefully, it's really going to pick up some trade on those days at the beginning of the week, so I think it could be a good thing for the industry. 
To read more about The Ivy Soho Brasserie's participation in the 'Eat Out To Help Out' scheme, and see the menus on offer, click here.