5 indispensable beer and snack pairing ideas
When it comes to refreshment at the end of a long day, nothing beats a cold beer and a salty snack. But you don't have to settle for cheese and onion crisps. We've undertaken lengthy and painstaking research (it's fine, you don't need to thank us) into an infinite range of beer and snack combinations, to bring you our ultimate pairing guide.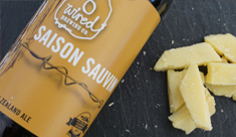 8 Wired Saison Sauvin with mature cheddar
'Saisons' were originally brewed by Belgian and French farmers to provide low-alcohol refreshment for seasonal harvest workers. This one from New Zealand brewer 8 Wired has been taken up a gear with the introduction of punchy Nelson Sauvin Hops and added malt for complexity.
The funky, earthy, rather Belgian flavours in this beer work perfectly with the salty, crumbly goodness of a well-matured cheddar.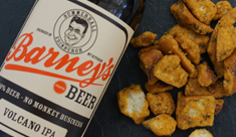 Barney's Volcano IPA with jalapeno pretzels
This multi-medal award-winning Volcano IPA is brewed by the only microbrewery within Edinburgh's city limits. It's an easy-drinking American-style IPA that erupts with hoppy, citrus aromas and has a pleasantly bitter citrus finish.
The refreshing flavours of this beer make it perfect for enjoying with something just a little bit spicy. So try with a bag of jalapeno pretzels for an invigorating post-work pick-me-up.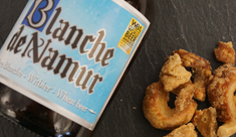 Blanche de Namur Belgian Wheat Beer with pork scratchings
Blanche de Namur is brewed by Brasserie du Boq, which was founded in 1858 and is still run by the sixth generation of the same family. This classic Belgian wheat beer has aromas of coriander and bitter orange, which are used in the brewing process.
The thirst-quenching, but smooth and slightly acidic flavours of this beer, make it perfect for cutting through the richness of classic pork scratchings. Just watch out for the hairy ones.
Howling Hops Bohemian Lager with olives
Howling Hops started out in 2011 in the basement of Hackney's first brewpub, the Cock Tavern. Their classic Pilsner-style Bohemian Lager is golden in colour with comforting malty biscuit flavours and floral overtones.
A classic pilsner needs something salty. And a handful of briny olives are just the ticket.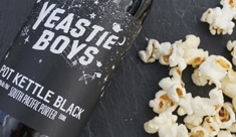 Yeastie Boys Pot Kettle Black Porter with sweet & salty popcorn
Made by award-winning Wellington-based brewers the Yeastie Boys, this traditional rich, black porter is lifted by an exhilarating hoppy twist.
The juxtaposition of dark, malty flavours and a crisp, fresh finish make it the perfect match for sweet and salty popcorn. Something for everyone!
You may also like: