Burgundy: Understanding the climate change challenge
April 2021 was a devastating month for French vineyards. This year's spring frost has arguably been the worst ever. Frost has wreaked havoc all over France and the effects have even been felt as far south as Tuscany in Italy.
While it is too soon to tell just how destructive it has been, Burgundy has been particularly badly hit with crop losses estimated at 80- 90% in some areas. Worsening spring frosts are just one symptom of the wider challenge climate change is bringing to the region…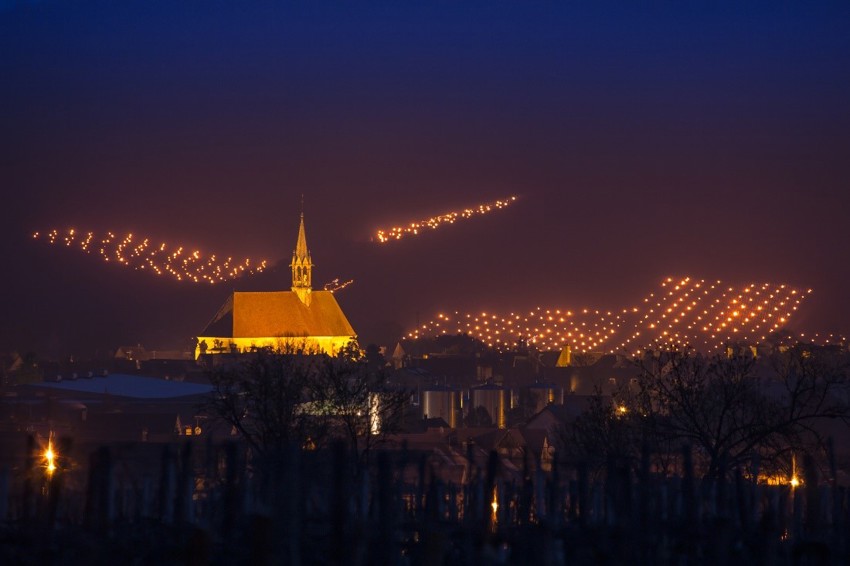 Fires lit in Chablis, Burgundy in an effort to protect the vines from frost.
Burgundy is famous the world over among wine lovers. Yet its prestige offers little protection from the effects of climate change. Arguably, it is what makes it so revered that puts it at risk:
Sophisticated styles
Burgundy is renowned for producing elegant wines and this is largely thanks to its cool to moderate northerly climate. But with summer temperatures rising the grapes are at risk of losing their delicate flavours. Light, refreshing wines are giving way to fuller bodied, riper, richer examples with alcohol levels pushing 14%. That is not to say that bigger is bad, but it does mean Burgundy stands to lose its je ne sais quoi in a sea of new world Chardonnay and Pinot Noir. It also runs counter to current consumer trends for lower alcohol fresher styles.
Pernickety Pinot
Burgundy puts all its eggs in two baskets, varietally speaking: Chardonnay and Pinot Noir. Grape varieties can all cope very differently with changing climate and weather stresses, and while Chardonnay can adapt reasonably well, Pinot Noir is a fussy fellow. When too hot Pinot Noir can become one-dimensional and jammy in style. Its thin skins put it at greater risk of sun burn, and it is also more at risk from disease pressures brought on by more rain (another symptom of climate change). Arguably Chardonnay is more at risk of spring frost than Pinot Noir, but as both vines bud early in the season their delicate new season's growth are both vulnerable.  
Historic hierarchy
Historically the best sites in Burgundy were those that offered grapes the best chance of ripening; south facing slopes with maximum sun exposure. It is on this principle that the region's hierarchical "Cru" system was based. The irony is that now those sites are most at risk. It raises some interesting questions: Could the future of Burgundy be less about terroir? Will it improve the quality of wine from traditionally lesser regions? Will climate change forever disrupt the hierarchy of the classification system?
Future proofing
In the short-term, winemakers have options. They possess a vast array of viticultural and winemaking tools that can be employed to mitigate the damage wreaked by climate change. But as this year's frost has proved, they are by no means fool proof and as the effects of climate change become more extreme, these tools will become less effective.
Long term, more drastic action is required; from restructuring the Cru system to exploring the potential of other grape varieties. Neither of which are easy decisions to make for an area tied to tradition. But wine regions have reinvented themselves before, in responses to Phylloxera for example. There is also more recent precedent with Bordeaux having made concessions to climate change by expanding the list of authorised grapes to include more heat tolerant varieties such as the Portuguese Touriga Nacional.
How they do it is still up for discussion but what is certain is that climate change is on track to challenge and alter Burgundy in the years to come.
You may also like: