We're Sustainability Champions at Harpers Sustainability Charter!
We're proud to have signed onto Harpers Sustainability Charter, as a 'Sustainability Champion'.

Championing drinks organizations which are demonstrably advancing sustainable best practices across their businesses, the Harpers Sustainability Charter is an initiative working to drive positive change across carbon footprint, energy efficiency, social responsibility and circularity, amongst others. 
Stay tuned, as we'll be updating this page with our progress, webinars and more!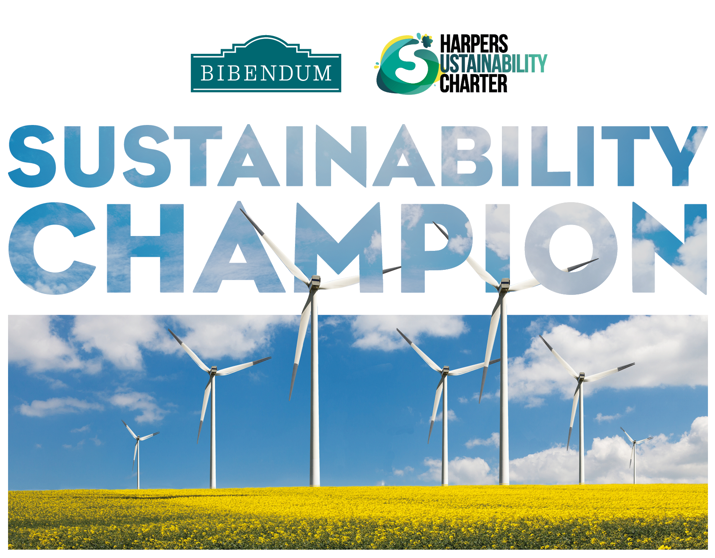 Putting things into perspective
It is no secret that our sustainability agenda is ingrained in our culture, driving decisions both big and small towards a more sustainable future.
Our Vivid charter was founded in 2008, and as part of the C&C Group since 2018, our drive towards sustainability has become even more important and impactful in recent years.
At C&C we have set ambitious targets validated by the Science Based Targets initiative (SBTi) to reduce our Scope 1 and 2 emissions by 35%, and Scope 3 emissions by 25% by 2030 compared to 2019/2020 levels. We were also one of the few UK drinks businesses with ISO14001 accreditation, first awarded in 2011!
Additionally, we aim to achieve carbon neutrality by 2050.
Sustainability Charter webinar: Integrating sustainability into the boardroom DNA
George Kyle, our Head of ESG, recently joined a webinar discussion hosted by Harpers. This discussion delved into effective methods for incorporating sustainable practices into your business, with the aim of making a substantial positive impact on both the environment and society. The Sustainability Charter Champions at Harpers contributed their valuable insights on integrating sustainability into all aspects of their companies, from top-level decision-making to everyday operations, to ensure that it becomes a shared philosophy rather than a mere afterthought.
Ethical and Sustainable Procurement 
We are working with our supply chain to reduce Scope 3 emissions. The majority of our emissions sit within the supply chain, affected by purchased goods, transportation and distribution.
In light of broader societal and ethical concerns such as climate change, our approach involves several actions, including requesting our partners to disclose their emissions data through CDP, motivating them to establish emissions reduction targets based on scientific principles, and involving the supply chain to comprehend their management of climate change risks and their ethical standpoint. 
"The world is changing, and we need to change with it. It's about how we do business and approach procurement. It's a cultural and behavioural change, and not just a tick box exercise," explains George Kyle, Head of ESG for the C&C Group. "Bibendum works with some amazing producers, many of whom strive to improve their communities and reduce their impact on our planet."
Big targets and numbers aside...
... being a sustainable business is about getting employees on board for the journey – ensuring sustainability becomes part of the everyday operations.
What this means in practice is everything from sourcing renewable energy for the office and distribution centres, a commitment to reducing waste and improving recycling rates, through to the way we execute tastings and events.
Employee welfare and engagement are top priorities, with a focus on mental and physical wellbeing, as well as support for working parents. This year, we aim to have one Mental Health First Aider (MHFA) for every 20 colleagues and have already trained an additional 100 MHFAs. We have also established a Diversity, Equity & Inclusion Advisory Group and partnered with the Big Issue Group for three years to support the wider community.
"For us, sustainability isn't about doing good things in isolation," says George. "It's about how these efforts come together to create a more wholly sustainable business, community and planet."