Harvest 2022: New Zealand
For New Zealand's wine producers, 2022 was a year where attention to detail, moderate crop levels and ruthless picking decisions were paramount to achieving high-quality wine. But according to the country's industry body, New Zealand's grape growers and winemakers are breathing a sigh of relief following an improved vintage in 2022. One that will help the industry rebuild stocks and sales.
Following a good flowering period and steady rainfall throughout the winter, even crops and healthy canopies brilliantly ripened the fruit. Now, wines are expected to have great purity and superb fruit concentration.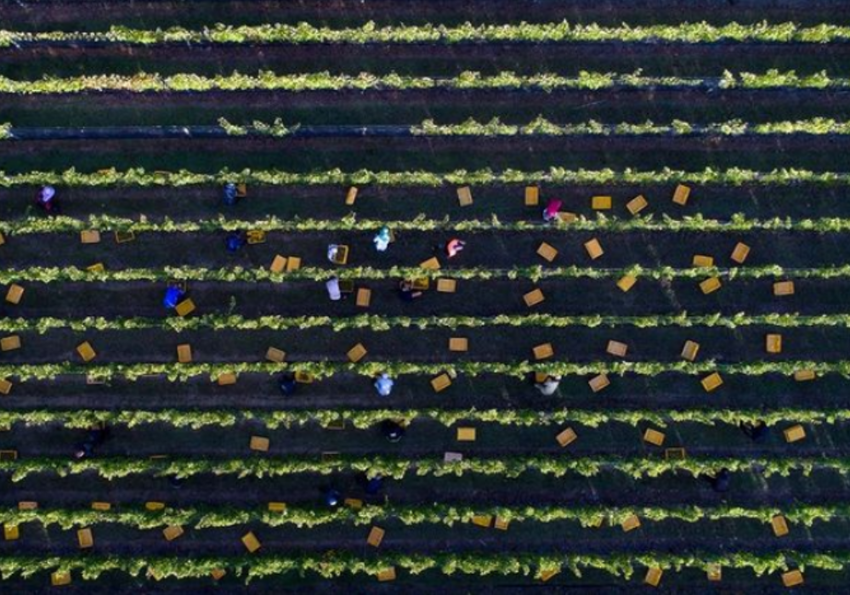 Covid may now feel like a thing of the past – but it still made itself noticeable during Spy Valley's 2022 vintage. But despite the challenges that it represented, this was their largest vintage for several years, closing at about 2.5 tonnes.
The New Zealand producer reported good flowering period and steady rainfall throughout the season resulted in even crops and healthy canopies to ripen the fruit. The season allowed the fruit to have longer "hang time", which gifted the producer with a variety of flavour profiles, ranging from lighter, fruit driven wines to those with deeper and darker, more intense flavours.
With harvest stretching to about two months, the first grapes harvested were naturally Sauvignon Blanc for their low alcohol wine, and Chardonnay for their sparkling – Echelon Méthode Traditionnelle, followed by Pinot Noir and Malbec and, with a small parcel of Riesling left on vine for a late harvest hand pick.
Chief Winemaker, Wendy Stuckey, gave us an insight on what the wines are looking like:
"Our Sauvignon Blanc fruit sourced within the Waihopai Valley and the Wairau Valley, provides us with plenty of different flavour profiles for our blends. This year the season has produced wines in the more citrus end of the spectrum, reflecting the weather patterns for the season.
Our Pinot Noir cellar was a very busy place this vintage – every 'open top fermenter' was full, and with punch downs and pump overs taking place twice a day, the team had a strenuous daily work out. We have certainly come out at this end of harvest fitter than ever!
The Chardonnay from 2022 was harvested just before all Sauvignon Blanc started to roll in. The wine has lovely balance, fruit intensity and acidity giving the wine a line of purity and freshness.
Our aromatic varieties this year are again the stars that we always wish for. Riesling, Gewürztraminer and Pinot Gris - they all have a beautiful purity of fruit.
Our Rosé comes from the Pinot Noir block directly outside Wendy's window at the winery. Each year it showcases the harvest, and the colour can often vary from year to year based on the season. This year the wine has a paler colour compared to the 2021 Rosé."

Craggy Range, Hawke's Bay and Martinborough
Craggy Range was having an average year until December, where a considerable temperature spike in the  month that followed accelerated the vine growth and, most importantly, physiological ripeness. And thankfully so, as with rainfall events during February and March, the value of the producer's soils free-draining nature shined through.
"Compared with the last three vintages, the dry period in Hawke's Bay was shortened, reducing stress on the vines and maintaining ideal canopies," said chief winemaker, Julian Grounds. 2022 produced outstanding Chardonnay, of great purity and with superb fruit concentration. When it comes to reds, while the potential alcohol was lower, the early development that occurred during the warm spring, resulted in delicious ripe flavours and soft, mature tannins.
Further south, on the east coast of New Zealand's north island, Martinborough was subjected to significantly less wind, which reduced water pressure on the vines and required minimal irrigation. And thanks to the expertise of the viticultural team, who did multiple passes to fine-tune crop load and canopy structure to ensure maximum ripeness, white varieties could be picked early, with good sugar levels and intense flavours.
The early spring weather in the Gisborne region of Manutuke brought a balance of mild temperatures and just the perfect amount of rain to start the season – perfect for their Millton Vineyards' dry-farmed vineyards. December's very hot days, with blue skies and intense sun, were occasionally cooled by the sporadic southeast change, allowing the producer to achieve a lovely balanced crop, with an open canopy and everything trimmed.

But after a smooth growing season, February and March came with grey and rainy days, which affected the ripening and sugar levels of the fruit at Millton Vineyards. But despite climatic challenges, Annie is hailing Chardonnay as the star of the 2022 vintage, alongside Viognier, which produced beautiful ripe fruit with flavours of peach, pear and a mineral note.
"The 2022 Vintage was very compact," explained Annie, "we did have a rain event that gave us some pressure, but we had picked a lot of our fruit before this event. All grapes were handpicked and again labour was a big issue, but we managed to bring in all the fruit."
What can we expect from the Millton Vineyards' 2022 wines? According to Annie, lovely delicate fruit flavours with great brightness and minerality. "Our yields from the 2022 vintage were lower than last vintage," she said, "but we are happy with what we have tucked up in the cellar."
Thanks to a warmer than average winter, 2022 vintage started earlier than previous years at Neudorf, and lasted three short yet intense weeks.  With warmer temperatures throughout seasons and a well stocked ground moisture due to a wet start to spring, flowering was fantastic and moderate sized bunches ensued.
Despite having two rain events that raised disease pressure during summer, a warm and dry period into harvest allowed the fruit's integrity to be maintained.
What can we expect from Neudorf's 2022 wines? The warmer season has naturally produced riper flavours and moderate acidities, and the producer is particularly excited about the quality of white wines. At this early stage, Pinot Noirs are softer and broader, showing elegance and approachability early on.